Jashore Rape: Fourth accused yet to be identified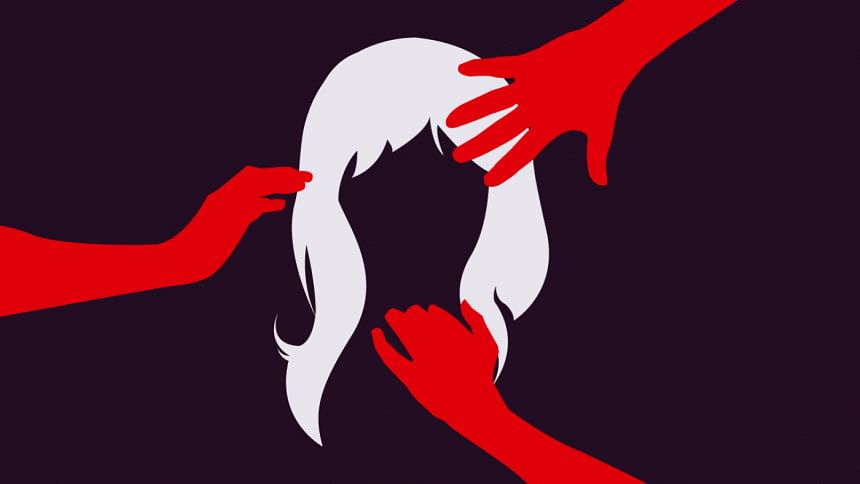 Police are yet to determine if the unnamed accused in a case filed over raping a woman in Jashore on early Tuesday is SI Khairul.
Four people were accused in the case filed by the woman. Police arrested three named accused -- Kamrul, Abdul Latif and Omar Ali -- and are still looking for the unnamed suspect.
Several police officers who are involved with the investigation said they would be able to identify the person after interrogating the three arrested accused in remand. 
Police have already appealed to a Jashore court seeking remand for the arrested accused. 
The court is scheduled to hear the appeal today. 
By the time the interrogations start, the investigators are expecting to complete some other investigations with the help of technology to determine whether SI Khairul had gone to the victim's house on early Tuesday, said a police official involved with the investigation. 
The victim, a mother of two, has been claiming that the fourth accused, who was not named in the case statement, is sub-inspector Khairul Alam, in-charge of Gorpara Police Camp under Sharsha Police Station in Jashore. 
Though the victim initially alleged that the police officer and his "source" had raped her, senior police officers said Khairul was not named in the case as the victim could not recognise him when he was produced before her on Tuesday night. 
The victim a day later claimed that she did not name Khairul fearing backlash.  
Evidence of rape has been found in the medical test and specimens of the victim and the three accused have already been sent to Criminal Investigation Department in Dhaka for DNA test. 
Local police, however, could not say how long it will take to complete the test. 
Meanwhile, Police Bureau of Investigation (PBI), a specialised investigation unit of police, will start formal investigation into the case from today. 
"We have been handed over the charge of the investigation, but we are yet to get the case documents from the investigation officer," said Jahangir Hossain, Additional Superintendent of Police in Jashore, adding that they were expecting to get the documents by today.  
In another development, Sharsha Police Station OC Mashiur Rahman was transferred to the office of superintendent of police in Jashore, said Salahuddin Shikder, additional superintendent of police in Jashore.
"He [the OC] was transferred as he has already served two years in the police station," he said.