Hunger, not virus, is their biggest worry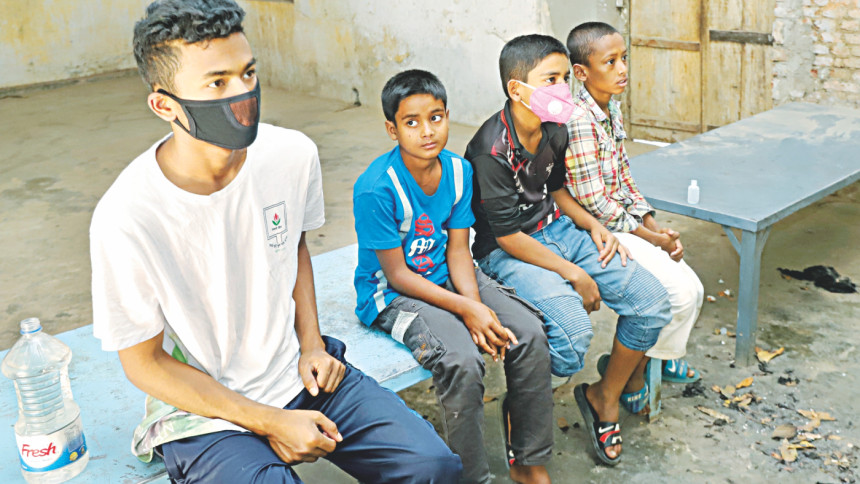 "Have you brought food for us?"
This was what 10-year-old Sohana asked these correspondents at the beginning of this conversation at Kamalapur Railway Station on Sunday noon.
"We had biriyani last night, given by some men. Since then, we haven't got anything to eat."
On a usual day, she and the other children sell bottled water, collect empty water bottles, and work as porters at the station.
From their meagre earnings, they would buy their food for the day.
As the government is enforcing a shutdown to contain the spread of COVID-19 in the country, street children are facing potential starvation.
Yasin Arafat, 11, said they sleep in a group on the footpath. His father is dead and his mother begs on the streets.
"Even if the tea shops remained open, we could get something to eat," said Yasin. Even if the stalls are open, they often have to fight with older vagrants for the food.
Near the AGB Colony kitchen market, 13-year-old Rajib was carrying a bag with five brinjals and four shrivelled tomatoes. In another bag, he carried about a kilo of rice. The rice was mixed with dirt, clearly visible through the plastic bag.
"I begged from a shop owner and he gave me this," said Rajib, who was accompanied by his 12-year-old friend Russel.
While the rest of the nation, gripped with the fear of the virus, is largely confined to homes, these floating people are wondering where their next meal will come from.
"Can I really do anything if the virus attacks? Hunger is bigger problem than the virus," said Rajib.
BEGGARS SUFFER SIMILARLY
During the conversation with Rajib, The Daily Star correspondents were surrounded by some elderly women who said they previously lived on alms.
"But now there is no scope to go to people's houses and beg for alms," said Mazeda Bibi. She has a son in Jamalpur but he does not provide for her.
"The situation is so grave that people even refuse to give drinking water now."
In her small polythene hut on the footpath adjacent to Motijheel Model School, all she had in the way of food was some chopped potato in a pot.
Vision-impaired Morium said her husband is also disabled. "We get food but not regularly."
WHAT AUTHORITIES THINKING?
AS Mahmood, director of Bangladesh Shishu Adhikar Forum (BSAF), "We are asking people to stay inside their homes as a protective measure against the virus but we are not thinking about those who have no homes at all.
"Street children are among the most vulnerable groups and if one or two are already infected, then a big disaster awaits us.
"It may not yet be too late and the government should take immediate steps to bring these children under observation as we do not know about their health condition."
Meanwhile, the Department of Social Services is planning to provide temporary accommodation facilities for street children at primary schools for their safety.
Sayda Akhtar, deputy director of the vagrancy programme of the social services department, told The Daily Star yesterday that they have accommodation facilities for street children referred by mobile courts and other organisations.
However, the present situation is not ideal and there are a large number of children living outside the shelter home, she said.
"We held an emergency meeting on Saturday to ensure street children's safety, she added.
"As the shelter homes have no capacity to provide accommodation to a large number of street children, we planned to write to the education ministry for primary schools to be temporarily allocate as accommodation for street children during this time."
The social services department also plans to build some temporary tents in vacant spaces at the shelter homes for the children's accommodation, she added.
"We have already sent the meeting outcome to the [education] ministry and it is working on it," she said, adding the Unicef has also agreed to partially help with the initiatives.
The department is providing hotchpotch (khichuri) or biriyani to street children once a day and also in slums around the city with the help of NGOs, she said.
State Minister of the Ministry of Social Welfare Md Ashraf Ali Khan Khasru told The Daily Star yesterday that the social services department has shelter homes for street children but a large number of the children do not want to stay in the homes and live on the streets.
The ministry has already taken initiatives and allocated Tk 60.56 crore to ensure their food and safety, said Khasru.
"We are also providing food in different areas of the country daily."