Graft Allegations against JU VC: Teachers, students call for probe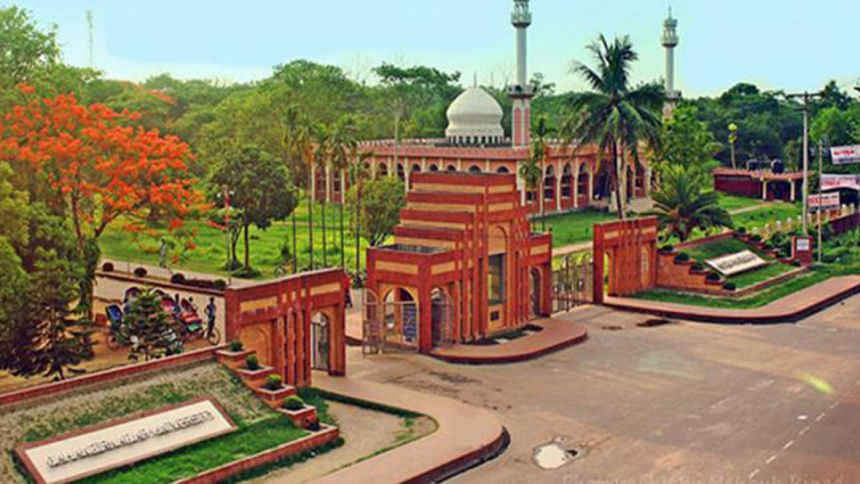 A platform of teachers and students of Jahangirnagar University yesterday expressed frustration over what it said was the authorities' indifference to allegations of corruption against Vice-chancellor Prof Farzana Islam and JU BCL unit.
There are numerous allegations of tender manipulation, bribery, and embezzlement of funds against the VC and JU unit BCL leaders, said the teachers and students.
Last month, Golam Rabbani, then general secretary of Bangladesh Chhatra League, said the VC and her family members gave Tk 1.6 crore to the JU Chhatra League so that they did not get in the way of a development project on campus.
A JU BCL faction publicly claimed that it had received Tk 25 lakh as per a settlement reached at an August 9 meeting at the VC's residence.
An audio clip that went viral also indicated that an exchange of money involving the VC's family and JU BCL top brass took place.
At yesterday's press conference at Dhaka Reporters' Unity, the platform under the banner of Durneetir Biruddhe Jahangirnagar (Jahangirnagar against corruption), said the VC made administrative decisions without transparency and assigned her chosen people at the top posts.
The platform has been demonstrating on the campus since August. VC Prof Farzana Islam denies any wrongdoing.
The speakers yesterday urged President Abdul Hamid to form a probe committee to look into the allegations immediately.
Rayhan Rhyne, convenor of the platform, said although the evidence of the VC's involvement in corruption had been published in the media in recent weeks, the government had not paid any heed.
"It is a matter of shame that not only the VC, but also her family members are involved in corruption," said the associate professor.
"Nobody can remain at the post of a VC after their involvement in such crimes."
Rayhan also said that the platform had submitted a written complaint to the chancellor, but received no reply.
Economics professor Anu Muhammad pointed out that they have been protesting against corruption for weeks.
The government and the University Grants Commission are supposed to look into such allegations since the university operates with taxpayers' money, he added.
"When an institution lacks transparency and accountability, corruption holds sway," he said.
If the government wants to establish its dominance on campuses, then it will pick those who will patronise corruption, hooliganism, and irregularities as the VCs.
"It depends on whether the government wants the institutions to operate as proper universities or wants hooligans and musclemen to run them," Anu Muhammad said.
He also stressed the need for creating a democratic environment on campus.
Ariful Islam, joint convenor of JU Chhatra Adhikar Parishad, said the evidence of corruption against the VC was clear. If the government needs more proof, it should investigate.
The VC could not be reached for comments yesterday.