'Gang rape' again at Subarnachar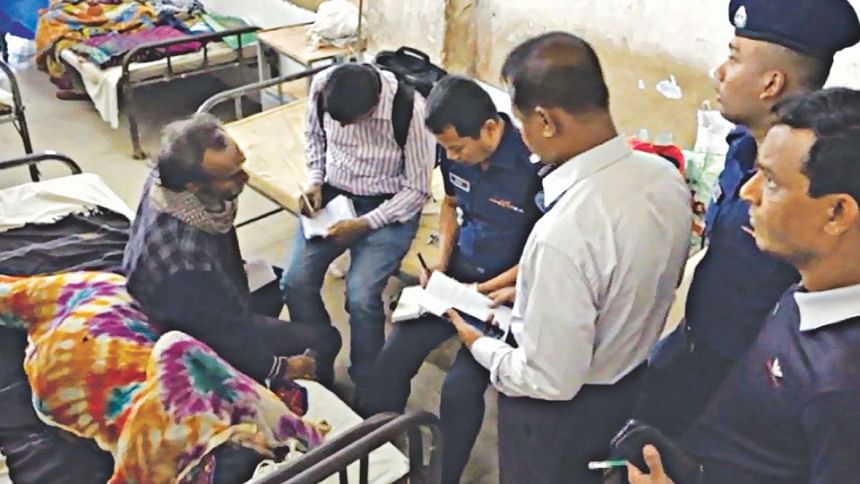 A mother of six, aged about 48, was allegedly gang-raped in Noakhali's Subarnachar upazila on Sunday evening over "campaigning for an upazila vice chairman candidate".
The incident happened barely three months after a mother of four was gang-raped by 10-12 people in the same area allegedly for voting for "sheaf of paddy" in the December 30 national election.
Police arrested two people yesterday after the victim's husband had filed a case with Char Jabbar Police Station, accusing 12 people, including four unnamed. The arrestees are Abul Basher and Bechu Majhi, both accused in the case.
Talking to The Daily Star at Noakhali General Hospital, the woman said, "During the polling hours on Sunday, a group of supporters of vice chairman candidate Farhad Hossain Chowdhury Bahar threatened me and my husband with dire consequences as we campaigned for his rival candidate Tajuddin Babar." 
Fearing an attack, the couple took shelter at a relative's house in Bagga village after casting their votes.
But they became worried about their children as a storm hit the village in the evening. The couple decided to go home, about five kilometres away from there, on a motorbike.
As they travelled around half of the distance, 10-12 supporters of vice-chairman candidate Farhad, including Yusuf Majhi, Arman, Helal, Bechu Majhi, Fazal, Abul Bashar, Rubel, Bazlu and Raihan, intercepted them around 7:30pm and beat them severely, the couple alleged.
At one stage, Bechu Majhi, Bazlu and Abul Bashar took the victim to a banana orchard inside the fish farm of Ruhul Amin, the alleged mastermind behind the gang-rape of the mother of four, and violated her.
Hearing screams for help, locals rushed to the spot and sent the victim to Noakhali General Hospital. The "rapists" managed to escape.
Farhad and Tajuddin, both supporters of ruling Awami League, said the rapists were criminals and didn't belong to any political party.
Claiming that the woman was violated for voting for him, Tajuddin demanded exemplary punishments for the rapists.
Farhad, winner of the Sunday's polls, had contested with the electoral symbol "padlock" while his contender Tajuddin with "spectacle".
Syed Mohiuddin Azim, resident physician of Noakhali General Hospital, said the woman and her husband were admitted to the hospital.
The women's body bore injury marks and a medical test would be conducted on her to ascertain whether she was raped, he added.
Police later visited the spot.
Shahed Uddin, OC of Char Jabbar Police Station, claimed the gang rape had no links with the polls. "We have learned primarily that the incident took place over a family feud."
According to Ain o Salish Kendra (ASK), a total of 189 women and children were raped in the last three months. Of them, 15 were killed and three others died by suicide after being raped.
The rights body in its report, published on Sunday, also said 34 women became victim of attempted rape during the same period.