Rape victim's husband attacked
Criminals beat him up for refusing to withdraw case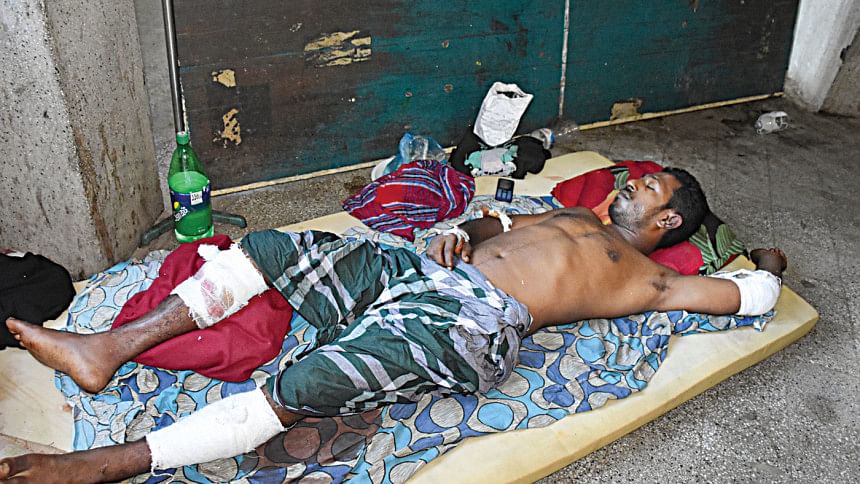 The husband of a gang-rape victim was attacked in Patuakhali on Tuesday night for what he said was refusing to withdraw a case filed over the rape.
The 36-year-old man suffered serious injuries to his legs and one hand, and he was being treated at Sher-e-Bangla Medical College Hospital in Barishal, said the hospital's Director Bakir Hossain.
"The victim was admitted to the hospital early yesterday [Wednesday] and his condition is critical," he said.
Relatives of the man, a day labourer, said some 10 to 12 men, armed with iron rods and sticks, swooped on him around 8:30pm on Tuesday when he was having tea at a tea stall in Chapli Bazaar area of Patuakhali's Kalapara upazila.
After the attackers left, locals and family members took him to Kalapara Health Complex and then to the hospital in Barishal.
The family members alleged the attackers also tried to obstruct them from taking the injured to hospital.
On April 15, some 10 to 12 youths stormed into the victim's house in a village in the upazila and gang-raped his wife after tying him to a pole. The rapists had previous enmity with the family, according to the case document.
The next day, the man filed the case against 12, seven named and five unnamed, with the Women and Children Repression Prevention Tribunal in Patuakhali.
The seven named accused were sent to jail after they had surrendered before the court. They, however, secured bail recently, said the family members of the victims.
Quoting the injured, the family members said the "rapists" had been threatening him to withdraw the case lately. The attack was carried out as the victim did not pay heed to the threats, they said.
Md Sohel Ahmed, officer-in-charge of Mohipur Police Station, said the suspects were on the run and that they were trying to arrest them.