Roanu takes 23 lives
13 more missing; around 100 injured; properties damaged; storm crosses Bangladesh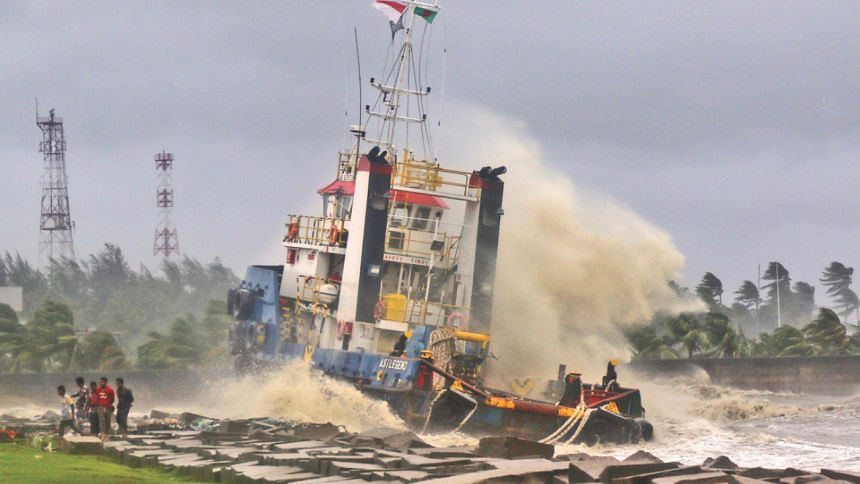 At least 23 people were killed and 13 others were missing after Cyclone Roanu made landfall yesterday afternoon on Chittagong-Noakhali coast.
The storm knocked down homes and toppled trees, causing the casualties in Chittagong, Cox's Bazar, Bhola, Noakhali, Patuakhali and Laxmipur. The death toll may rise as many are missing and critically injured.
Tens of thousands of people left their homes in the coastal areas for safety ahead of the storm and afterwards amid high tides, wind gusts and incessant rain.
As Roanu weakened, turned into a low and headed towards India last night, all maritime ports were asked to lower their cautionary signals to "3".
"Now it is over Feni, Khagrachhari, Sitakunda [of Chittagong] and the Indian state of Tripura," Muhammad Mohiuddin, an observer at the Dhaka Met Office, told The Daily Star around 7:45pm.
Mesbahuddin, deputy commissioner of Chittagong, at a press conference yesterday evening confirmed the reports of deaths of two people in the port city, two more in Sitakunda and seven in Banshkhali, the worst-hit upazila in terms of casualties.
One person was missing in the city and three more in Banshkhali, the DC said.
In Sitakunda, mother and son died when their house came crashing down on them, said the Agrabad Fire Service and Civil Defence office.
The DC said two lakh homes were damaged and crops worth Tk 15 crore and fish, poultry and cattle worth another Tk 100 crore were destroyed by the storm.
At least 15,000 cattle were washed away in Sandwip alone, he claimed.
In other districts, people died due to houses or trees collapsing on them in the storm or by waves sweeping them away.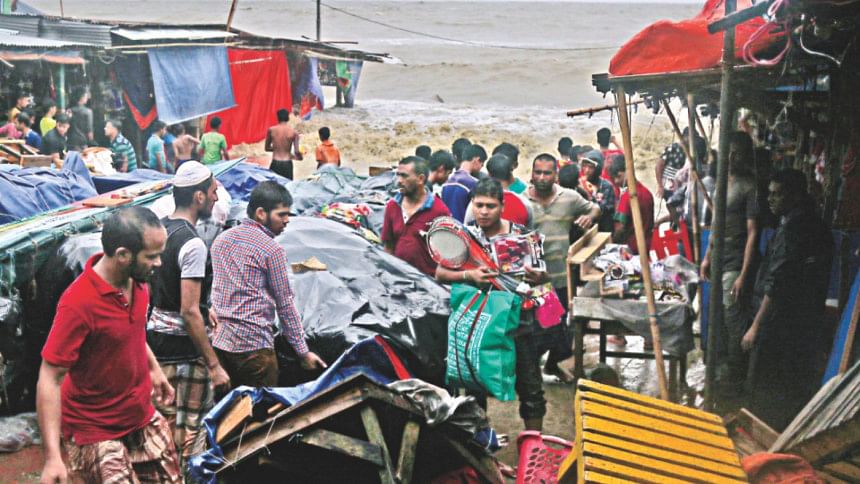 At least three people killed in Cox's Bazar, three in Noakhali, three in Bhola, and one each in Patuakhali, Laxmipur, and Feni.
In Feni, four people were reported missing. In Bhola, a cargo vessel with four crew members went missing in the Meghna.
The storm also left hundreds of people injured. At least 20 people were admitted to Chittagong Medical College Hospital alone.
The number of injured was increasing with time in Tajumuddin upazila of Bhola, said Tajumuddin Police Station officer-in-charge, who himself got injured during rescue operations.
At least 41 people were injured as Roanu uprooted trees and flattened homes in Cox's Bazar's Moheshkhali, Kutubdia and Ramu upazilas.
Damage to properties was extensive.
Several hundred shops of Jhinuk Market in Patenga of Chittagong were swept away, said witnesses.
Around 500 shacks were damaged in Banshkahli.
Sea water entered the shops and warehouses in Khatungaj, Chaktai, Asadganj and Korbaniganj areas in Chittagong city during the storm.
In Tajumuddin of Bhola, around 1,200 homes were damaged.
Roanu forced tens of thousands of people to leave their homes.
Over 80 villages in Patuakhali and Barguna were flooded as a dam broke forcing people to move out.
Fish worth several lakh taka were washed away there.
Patuakhali Met office recorded a total 214.5mm rainfall between Friday and yesterday noon.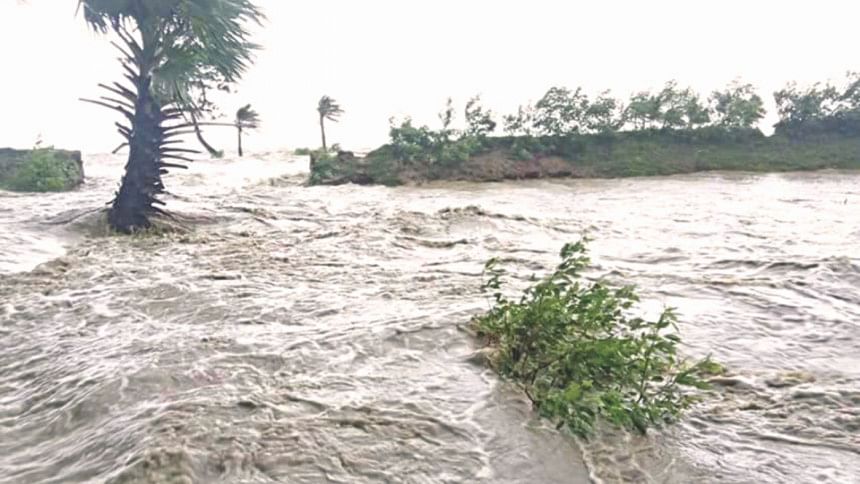 Power supply was cut in all seven upazilas of Patuakhali since Friday evening, said sources in Patuakhali Polli Biduyt Samity. There were power cuts in Barisal and in Pirojpur and even in Chittagong city.
"At least 5.38 lakh people took refuge in 3,554 storm shelters in different coastal districts of the country," said Shah Kamal, secretary of the Ministry of Disaster Management and Relief. 
"We have arranged power supply, sanitation, medical assistance and enough dry food at the shelters," he told the media.
Almost all places of the country witnessed rain and thunder showers accompanied by temporary gusty winds since early morning.
Operations of all sorts of river transport had remained suspended during the storm but three vessels at Chittagong port ran aground. 
Flight operations from Chittagong airport remained suspended. 
The Met office had issued cautionary signal-7 for Chittagong, Mongla and Payra ports, while maritime port at Cox's Bazar was asked to hoist cautionary signal-6.
After around a 24-hour halt, launch and ferry services resumed across the country yesterday evening, said authorities concerned.
Ferry and launch services were suspended Friday evening due to the rough weather.
Restriction on the movement of small launches, with lengths below 65 feet, remains in the costal districts.
Holidays of all civil servants in the coastal districts had been cancelled. Officials of Roads and Highways Department in the coastal districts had been asked to stay put and be ready to clear the roads once the storm passed.
The name of the cyclone came from the Maldives and it means "rope made by coir".
Our correspondents in Chittagong, Cox's Bazar, Barisal, Jhalakathi, Patuakhali, Pirojpur, and Noakhali contributed to this report.