Old town sends out an SOS
Urban planners call for redevelopment to save it from disaster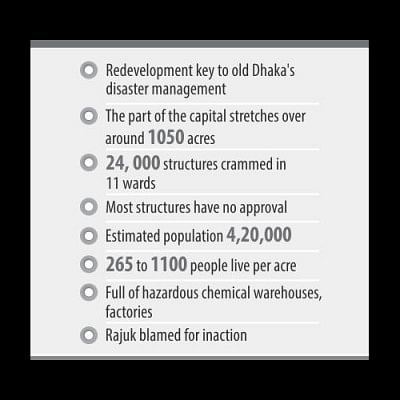 "Afflicted with high density structures, narrow lanes, heavy 

commercialisation and lacking open space, the overcrowded old 

city is sitting on a valley of impending death."  
Project Director of Dhaka city's revised Detailed Area Plan Md Ashraful Islam ​
Old Dhaka will remain vulnerable to disasters like the ones in Nimtoli and Chawkbazar unless it undergoes redevelopment, say urban planners.
The densely populated area, stretching over around 1,050 acres, is crammed with unplanned structures and many of them have chemical warehouses. Also, almost all the roads there are narrow and the place lacks fire hydrants and open spaces like playgrounds.
These increase the risks of disasters and make the firefighters' job difficult in case of a fire.
Talking to The Daily Star, Ashraful Islam, project director of the capital city's revised Detailed Area Plan (DAP), said setting up underground water reservoirs, creating open spaces and widening the roads can minimise loss of lives during times of tragedies.
He said firefighters faced trouble to douse the fire in Chawkbazar on Wednesday night due to inaccessible alleys and a lack of fire hydrants.
"Didn't it give rise to the number of lives lost?" Ashraful asked.
Unless the hazardous chemical stores are relocated and the area is redeveloped, the danger will not go, he said. "Afflicted with high density structures, narrow lanes, heavy commercialisation and lacking open space, the overcrowded old city is sitting on a valley of impending death."
At least 67 people were killed as the fire ripped through several buildings in the Chawkbazar neighbourhood.
The incident brings to mind the Nimtoli fire that killed 124 in 2010. It had sparked a public outcry, demanding relocation of chemical warehouses and stores from the area, but little has been done in the last nine years.
Many victims of Wednesday's fire were in rickshaws and vehicles stuck in traffic on narrow roads in the area.
Talking to The Daily Star, Maj AKM Shakil Newaz, operations director of the Fire Service and Civil Defense, said firefighters could not reach the fire site with their large vehicles as the roads were too narrow.
"We faced trouble also for a lack of hydrants in the area," he said. "Air Force helicopters had to be called in to carry water from the Buriganga river and spray it on the fire," he said.
Talking about the unplanned development in old Dhaka, Ashraful said many owners did not have permission for their buildings.
Citing the Urban Redevelopment Study of the ongoing DAP review, Ashraful said 24,000 structures cram the 11 wards of the part of the capital and most of the structures don't have the required Rajuk approval.
In such a situation, a redevelopment guideline has to be incorporated into the revised DAP, he said.
Redevelopment is an urban renewal with block-based cumulative development. It is done by merging available fragmented lands to build high-rise buildings but sparing open space for wider roads. It also ensures water reservoirs, greenery and all civic amenities.
This method dramatically improves the quality of life at any place keeping its existing land ownership and social character intact, Ashraful said, adding, it demonstrated success in countries like South Korea, Singapore and Japan.
Prof Adil Mohammed Khan, secretary general of Bangladesh Institute of Planners, echoed Ashraful's views.
He said redevelopment was necessary for "salvaging the old town by ensuring spacious roads, open spaces like parks and playgrounds".
Twelve percent of any urban area must be wetland but it is almost absent in old Dhaka, he said.
He also said if Rajdhani Unnayan Kartripakkha (Rajuk), the city's development authority, had played its role effectively, the disaster in Chawkbazar could have been averted.
Contacted, Md Shah Alam Chowdhury, Rajuk's zonal director concerned, said, "Rajuk alone cannot stop hazardous business at residential buildings if the city corporation gives trade licences and the others provide water, gas and electricity connections to them."
He said a lack of coordination among different government bodies was allowing the hazardous chemical businesses to continue even after the Nimtoli tragedy.
He also claimed to have served legal notices to many illegal businesses in residential buildings but cited manpower crisis as the reason for not evicting them.
Asked, he claimed he was not aware of the number of buildings without Rajuk approval in the old town.