Dengue taking its toll on kids
Over 5,500 reported cases so far this year; hundreds of them children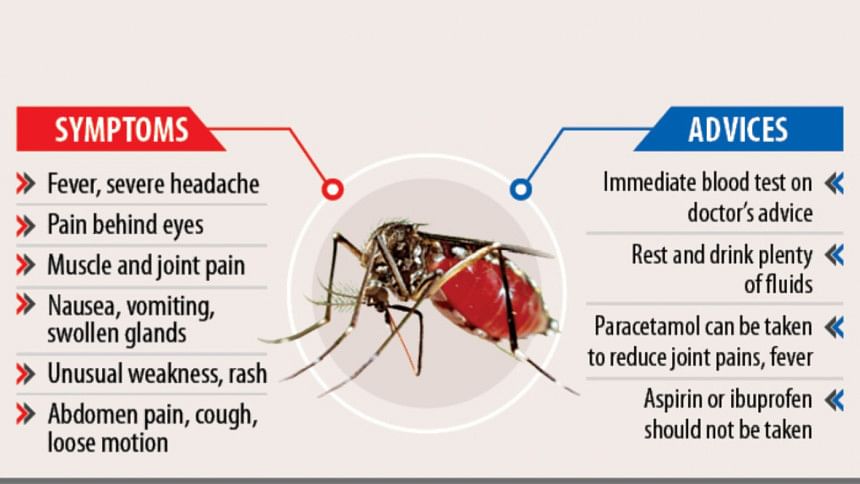 With dengue taking an alarming turn in the capital, Selina Begum did her best to protect her family members from the viral disease.
The mother of two applied sprays, used mosquito nets even during daytime, kept all her rooms clean and destroyed all the potential breeding sources at her home.
But still her son Tahsin Ibn Hasan, six and a half, got dengue fever. He was admitted to a city hospital on Wednesday.
"I was on alert. I was careful. Yet my son has dengue," a distressed Selina, a housewife, told this correspondent at the hospital yesterday.
She suspects her boy was bitten by mosquitoes that bred somewhere in an under-construction building near her rented flat in Tejgaon.
Tahsin is among some 80 child dengue patients who were being treated at the Holy Family Hospital in the city's Eskaton yesterday.
Talking to The Daily Star, Lutful Ehsan Fatmi, head of the hospital's Department of Child Health, said the number of dengue patients was increasing every day.
The scenario there suggests that children, with their weak immune systems, were vulnerable to the disease, the physician said, adding that they never had such a large number of dengue patients at a time.
He termed the situation a dengue epidemic.
He also said most children were suffering from haemorrhagic dengue which means they would bleed from their organs. "It is quite dangerous," he said.
On Wednesday, Dr Ezaz Ahmed, director of the private hospital, said they were treating 121 dengue patients that day. 
Experts said the number of dengue patients in the city was on the rise due to various reasons, including a lack of awareness about the disease and its prevention.
The common symptoms include high fever, vomiting and abdominal pain. Child patients show the same signs as the adults, they said.
Data from the Directorate General of Health Services (DGHS) show that some 5,546 people had been infected with the virus between January 1 and July 18.
Five of them died.
The DGHS has detailed information about 2,176 of the 5,546. Of them, 645 are children up to 11 years old, 857 adult men and 674 women, said Aysha Akhther, assistant director of the directorate's control room.
Doctors and hospital officials, however, said the actual numbers would be higher as many dengue cases go unreported. Besides, a large number of those patients are children, they added.
Asked about the issue, Prof Abdul Aziz, a former director of Shishu Hospital, urged all to stay alert.
"Every family needs to be extremely careful as Aedes mosquitoes breed in clean water. Mosquito sprays have to be applied on a regular basis," he said, stressing on the need for taking child patients to hospitals immediately as their immune systems are not that strong.
He also suggested giving them adequate liquid food.
Kinkar Ghosh, an epidemiologist at the public hospital, said 168 dengue patients had been admitted there since March and two of them died.
The DGHS, however, does not have any data on the two, according to its officials.
Kinkar said the pattern of dengue this year has been a little different from that in the past. He said the patients were becoming critical just after the first day of fever.
Earlier, doctors used to advise patients to come to hospitals three days after catching the flu.
This year, they have also found new symptoms and effects, including loose motion, pneumonia and renal failure, said Kinkar.
The serotype of the virus has apparently changed, he said, adding that they were yet to find why.
On Wednesday, the High Court said the dengue situation in the capital was nothing short of an epidemic and slammed the two city corporations in Dhaka for their failure to combat the mosquito menace.
A number of city dwellers also complained that they did not see any steps from the two city corporations in this regard.
"In recent times, I did not find any activity of the city corporation. Neither did I hear any sound of a fogging machine," said Nishad Sabera, a resident of Maghbazar.
Her daughter, Audrija Shampriti Joyeta, 14, has been undergoing treatment at the Holy Family Hospital since July 13.
"My daughter could not take a test due to dengue fever," she added.
Contacted, Chief Health Officer of Dhaka North City Corporation Mominur Rahman Mamun said they were planning to create some groups, which would encourage people to destroy Aedes larvae.
The groups would also supply medical kits to all the healthcare centres in DNCC areas to diagnose dengue fever quickly. "The move will help ensure treatment immediately," he said.
Dhaka South City Corporation Chief Health Officer Brig Gen Md Sharif Ahmed said they were emphasising on building awareness on dengue through campaigns involving educational institutions, NGOs and mosques.
He said they would soon form 57 committees in 57 wards of the city so that mosquito breeding grounds were destroyed.