Cops place flurry of demands
PM assures them of increasing compensation for death or injury while in action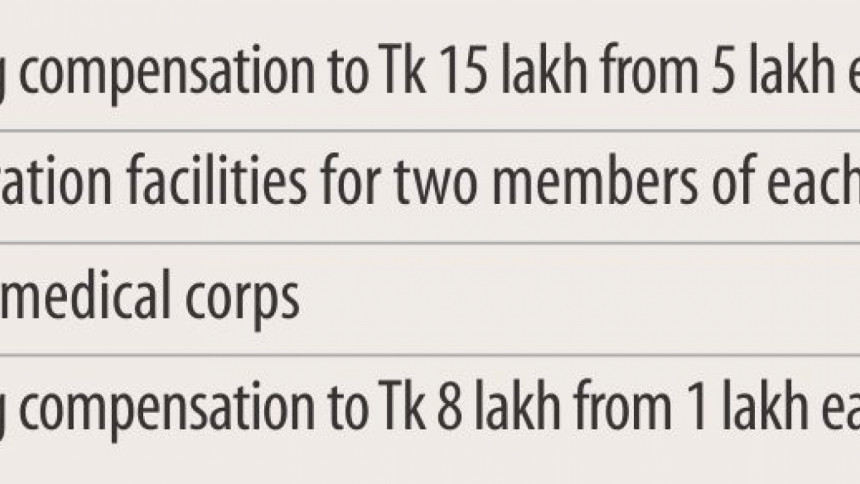 Prime Minister Sheikh Hasina yesterday responded positively to all the demands placed before her on the opening day of the Police Week yesterday.
She pledged to consider a rise in compensations -- from Tk 5 lakh to Tk 15 lakh if a policeman is killed while in action and from Tk 1 lakh to Tk 8 lakh for sustaining grievous injuries.
The PM also assured them of meeting the demands for lifelong rations for two family members after the retirement of a policeman, and a separate medical corps for the police force, said sources.
Police personnel with ranks ranging from constable to assistant superintendent of police made the demands at the Welfare Parade held at the Rajarbagh Police Auditorium after Hasina inaugurated the Police Week 2019.
They also pressed for construction of a modern sports complex for police, costs for maintenance and fuel of motorbikes and upgraded allowance for traffic policemen as per the latest pay scale.
The premier at the programme lauded the police, saying the force had to work a lot to ensure holding of a participatory election on December 30, said sources. Hasina won a third consecutive term in a row as the Awami League bagged 257 seats alone in the election.
During the police week, the police high-ups are also likely to demand recruiting 70,000 to 75,000 more members, upgrading the rank badge of inspector general of police to four stars and forming a separate division for police at the home ministry.
A conference of the police high-ups with Hasina is scheduled to be held at the International Conference Centre at the Prime Minister's Office today. Later, they will hold two separate meetings with the home minister and different other members of the cabinet.
President Abdul Hamid will address high officials of police at the Bangabhaban tomorrow.
The police week will end on February 8.
DEMANDS PLACED
Abdul Ahad Khan, officer-in-charge of Gafargaon Police Station in Mymensingh, said the compensation for a civil official while in service is Tk 8 lakh if they die or get killed and Tk 4 lakh for grievous injuries.
But a police official gets Tk 5 lakh if they die and Tk 1 lakh for severe injuries.
He pressed for increased compensations for policemen.
Ahad further demanded that Tk 15 lakh in compensation if a policeman is killed in action and Tk 8 lakh for grievously injuries.
Md Safi, an assistant superintendent of police of DMP, called for a separate medical corps for the police force. He said doctors from outside are brought in for treating patients at police hospitals but they do not want to continue.
Presently, there is a separate medical corps in Bangladesh Army.
Mahbubur Rahman, an assistant sub-inspector from Kurigram, demanded rations for at least two persons of the family until the death of the policeman.
Every policeman now gets 35kg rice, 30kg flour, 8kg lentil, 8-litre oil and 5kg sugar every month for a four-member family. It varies if the number of family members is less than four, but if a family has five or more members, the quantity would still be the same.
Silvia Ferdous, a traffic sergeant of DMP, pressed for increase in their allowances.
They now get Tk 50 as driving and nursing allowances and Tk 15 for tailoring every month. She proposed increasing the allowance to Tk 150 for nursing, Tk 300 for driving and Tk 75 for tailoring.
Silvia further said the traffic officials receive 30 percent of their basic as allowance. But it is given as per the 2009 pay scale though they get salary as per the 2015 scale.
Sub-inspector Kamrul Alam said they don't have a sufficient number of motorbikes in the police force. "So we have to buy motorbikes and use it for government work," he said.
Kamrul also demanded maintenance and fuel allowances for their motorbikes.