Relocate chemicals now from old town
Experts at The Daily Star roundtable ask authorities, suggest actions to prevent further disaster like in Chawkbazar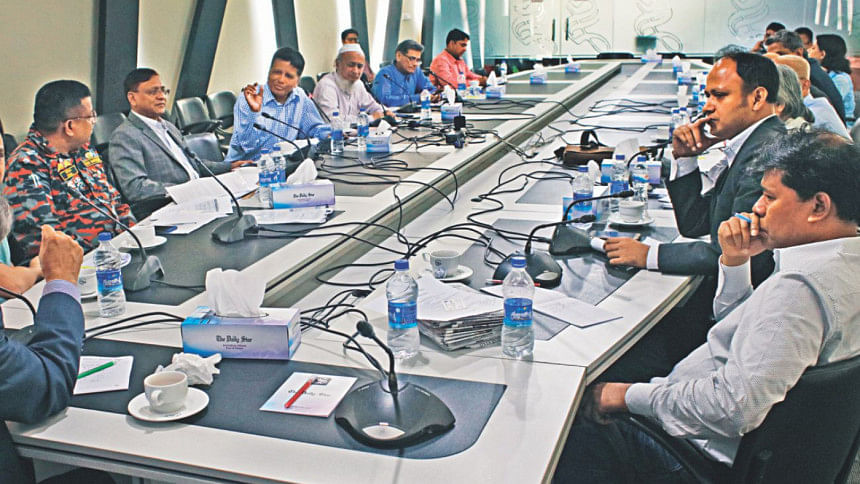 To prevent any further fire-related human catastrophe like what occurred in Chawkbazar, officials and experts have suggested immediate temporary relocation of highly combustible chemicals from densely-populated Old Dhaka, as a permanent relocation across the Buriganga would take years.
"On a priority basis, a total of 29 extremely hazardous chemicals should be shifted to some isolated places under supervision of the Department of Explosives," Prof Maksud Helali of Buet's mechanical engineering department said at a roundtable discussion in the capital. 
The Daily Star organised the event, titled "Chawkbazar Tragedy: Way Forward", at The Daily Star Centre yesterday in the wake of the February 20 fire that killed at least 69 people in Chawkbazar.
"Chemicals should not be relocated haphazardly because unplanned relocations will create risks of similar accidents in other areas of the city," Helali said.
At the discussion, chemical merchants and other stakeholders said there was no bar on the limit of chemical import and that no one was monitoring the storage either.
Besides, there is no single authority to oversee the import, transportation and storage of the hazardous chemicals and Rajdhani Unnayan Kartripakkha (Rajuk), tasked with ensuring implementation of building codes, was turning a blind eye to the illegal use of residential houses for chemical storage and business, they said.
Though the Department of Explosives and the fire service authority stopped issuing licence to chemical business, both of them remained silent on the issue, they added.
Anayet Hossain Maruf, adviser to Bangladesh Chemical and Perfumery Merchant Association, said, "We can import any amount of chemical and there is no problem in storing them at the address against which the city corporation issues trade licence, commerce ministry gives import registration certificate and NBR [National Board of Revenue] tax identification number.
"We are ready to move to a safer place … just designate the area," he said, adding, "In the old town, 15,000 residential houses have commercial businesses on the ground floors."          
Syeda Rizwana Hasan, chief executive of Bangladesh Environmental Lawyers Association (Bela), said the government must find out some administrative ways for ensuring that only the required amount of chemical is imported and stored in compliance with the safety guidelines.   
Prof Syeda Razia Sultana, head of chemical engineering department at Buet, said it has never been an active consideration that chemical safety is an integral part of fire safety.
"One must not forget that chemical not only turns a fire devastating but also silently kills people with its toxicity," she said. 
Maj AKM Shakil Newaz, operations director of the Fire Service and Civil Defense, said all chemicals turn dangerous in high temperature.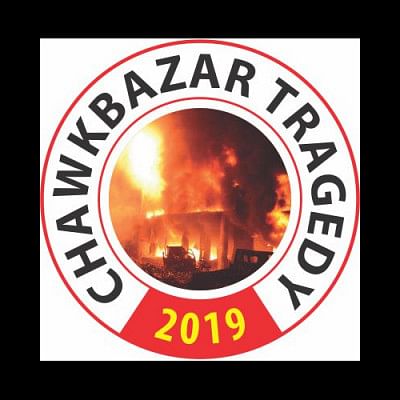 "If we look at the situation in Chawkbazar, there were cylinders, chemicals, plastic, cosmetics, nail polish, rubbers, cars, electric transformers, car petrol -- making it a perfect situation that only needed a trigger for a blast. Exactly that's what has happened.
"It created a chain of fire in 30 seconds," he said.
Maj Shakil said the fire service did not issue any licence to such businesses since 2010.
"We launched [an] eviction drive led by the city corporation, but the local traders prevented it. Fire workers were even beaten," he said, stressing the need for mobilisation of public opinion in Old Dhaka for the relocation of the warehouses.
He suggested that there should be chemical warehouses in various industrial zones based on the requirements. For example, the chemicals required for garment factories should be kept in areas crammed with garment factories.
Similar should be the case for the chemicals required for leather industries so that the businesses have easy access to them.
New economic zones are being established and each zone could have a chemical zone with all required safety measures in place, he said.
He further said there were import and storage guidelines for chemicals but those were not being followed. Besides, he said, the businessmen need to be trained.
Maj Shakil further said trucks carrying chemicals and even LPG (liquefied petroleum gas) enter the Dhaka city, which is dangerous. Movements of such vehicles must be made restricted for public safety, he added.
Neaz Rahman, deputy team leader of the consultants on the ongoing revision of Dhaka's detailed area plan, said, "Rajdhani Unnayan Kartripakkha is supposed to manage Dhaka city's development but has failed to do its duty."
Prof Adil Mohammed Khan, secretary general of Bangladesh Institute of Planners (BIP), said fire hazard could be resolved in a month if the designated authorities played their roles effectively.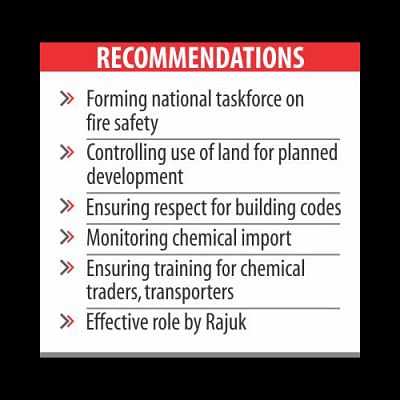 Mixed land use, as is the case in the old town, does not mean allowing hazardous chemical storages and industries at residential houses, he said, adding that as per a provision of the town improvement act, a neighbourhood could be redeveloped for public safety.  
Khondaker Md Ansar Hossain, former secretary general of the BIP, said Dhaka's Detailed Area Plan has earmarked red and orange category industrial zones and chemicals should be stocked accordingly.
Jalal Ahmed, president of Institute of Architects Bangladesh, said both building construction rules for Dhaka city and Bangladesh National Building Code have chapters on fire safety but those rules are not enforced while constructing buildings.
Following the Nimtoli tragedy in 2010, a government-formed probe body came up with a 17-point recommendations and one of the major one was to relocate the chemical warehouses from the old town.
The chemical-fuelled disaster had left 124 people dead.
"It's sad that the set of fire safety recommendations made in the wake of that incident has not been implemented yet," said Md Habibur Rahman, a director of Bangladesh Small and Cottage Industries Corporation (BSCIC).
"Execution of this kind of recommendations requires political will," he said.
Following the recommendations, it took seven years until May 2017 to sign a memorandum of understanding with three associations of paint, perfume and acid merchants, he said, and added that it took eight years to get a Tk 201 crore relocation project approved in July last year.
The BSCIC is now preparing for acquisition of 50 acres land in Keraniganj for setting up a designated chemical village and it would take them until 2021 to complete the project, Rahman said.
About the immediate temporary relocation, Rahman said that this authority had not yet taken any decision in this regard.
Brig Gen (retd) Abu Nayeem Md Shahidullah, former director general of Bangladesh Fire service and Civil defense, said the second, third and fourth of the 17-point recommendations involved implementation of the country's national building code, amendment to the fire safety law and also mobile court raids against breach of the relevant laws. 
Different ministries were supposed to implement those recommendations, added Nayeem, who was a member of the committee.
Md Belayet Hossain, former president of Bangladesh Chemical and Perfumery Merchants Association, said that Rajuk has "basically harmed" the Old Dhaka where 80 percent of the buildings have no approval from it. Still, the authority is earning revenue from them and also without creating civic facilities, he added.
He proposed building a block-wise planned residential areas in Old Dhaka and the land owners are provided with flats based on their land size.
He then said many of the chemical warehouses have moved to various parts of the city in an unplanned way and that putting pressure on them [for immediate relocation] may turn counter-productive.
The discussion was moderated by Mahfuz Anam, editor and publisher of The Daily Star.