Mother taken on remand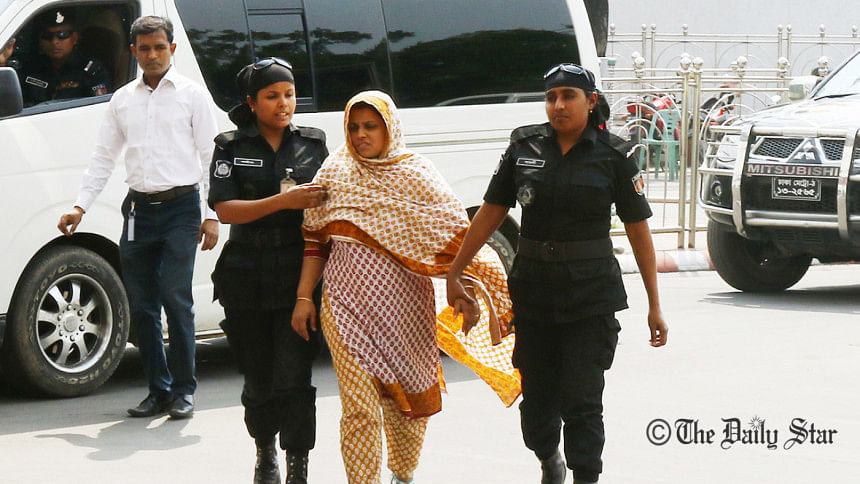 A Dhaka court yesterday placed Mahfuza Malek Jasmine on a five-day remand in a case filed over the killing of her two kids in the capital's Banasree area on Monday.
Metropolitan Magistrate Snigdha Rani Chakraborty passed the order after police produced Mahfuza with a 10-day remand prayer, rejecting a bail petition by the defence lawyer.
Inspector (Operations) of Rampura Police Station Mustafizur Rahman, also the investigation officer of the case, in his remand prayer said the accused, in primary interrogation, admitted that she killed the kids being worried about their study. She, however, kept mum when she was asked how did she actually strangle them and why.
The primary confession of the accused is not enough to know who the beneficiaries of the murders are, read the statement.  The accused needs to be intensively interrogated to find out who else were involved, it added. 
Nusrat Aman Aroni, 14, and her brother Alvi Aman, 6, were found unconscious at their apartment and declared dead at Dhaka Medical College Hospital on Monday.
Three days later, Rapid Action Battalion told the press that they were killed by their mother out of her "concerns about their future." And Mahfuza made up a food-poisoning story to cover it up.
According to Rab, she first strangled her daughter Nusrat and then son Alvi. Following the revelation, the father of the siblings Amanullah filed a case against his wife.
On Wednesday, Rab brought the children's parents and an aunt, Mahfuza's sister Afroza Malek Mila, from their hometown in Jamalpur for quizzing.
Mila, however, said she does not believe that Mahfuza killed her kids.
"I will never believe it … It seems to me like a drama, a movie," she told reporters at her Banasree house yesterday.
Asked whether she suspects anyone, Mila replied in the negative. 
Mila added, "She [Mahfuza] never looked tense. After my daughter who stood second last time became fourth this year, she told me: 'Mila, let her study the way she has been studying. Do not put pressure on her.'"
The investigation officer of the case Mustafizur Rahman said during primary interrogation, Mahfuza claimed that Aroni on that day had failed to perform well during lessons with her house tutor.
Out of anger, she strangled the girl and then the boy faced his mother's wrath.  
Rafiqul Islam, officer-in-charge of Rampura Police Station, said they were investigating if there were any other reasons behind the murders.