Moon Ride on the cards
Rain, flood turn roads to home awfully rocky for Eid holidaymakers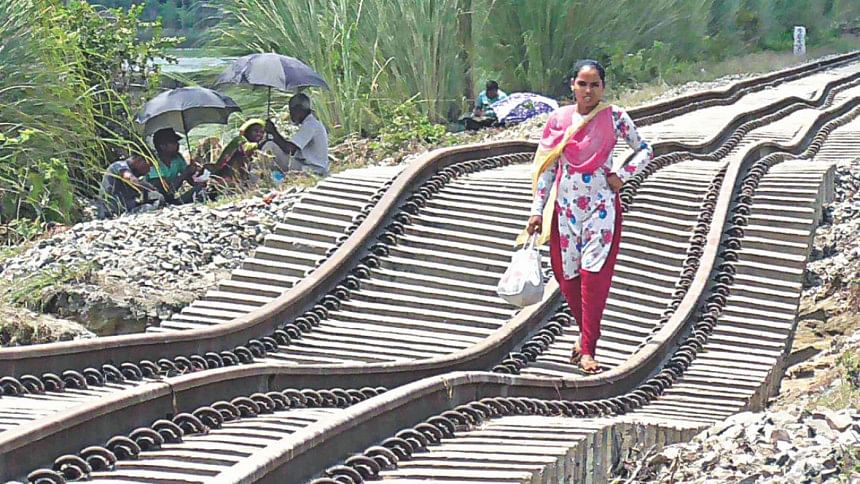 Excessive rains and flooding twice in just four months have left most of the roads in a miserable state, which could make people's journey home for Eid-ul-Azha a nightmare.
If rain continues and the flood situation doesn't improve shortly, the road networks will be further damaged, compounding woes of travellers. Many roads are currently under floodwater.
The condition of roads usually turns bad every rainy season. But the situation is more appalling this year due to heavy downpours and flooding. Many roads are in such a state that movement of vehicles is already very difficult.
Besides, floodwater has submerged rail tracks at some points in the northern region, suspending train operations.
If the rail communications on those routes don't become smooth in a few days, holidaymakers who usually depend on trains will be in trouble. The Eid is only two weeks away and all trains remain overcrowded ahead of the festival.
The journey on most of the country's national and regional highways and district roads are likely to be painful. On the newly expanded Dhaka-Chittagong and Dhaka-Mymensingh highways, it will be relatively easy though there will be hurdles at some points. 
Bus companies fear that many vehicles may have breakdowns on battered roads, causing tailbacks leaving holidaymakers stranded for hours.
Some major operators have already cut the number of trips in the northern and south-western routes as dilapidated roads are pushing up travel hours. Many owners are planning to reduce bus services during this Eid vacation.
"If I have 100 buses, I am selling tickets for 80, considering the road conditions," an owner of a top bus company told The Daily Star.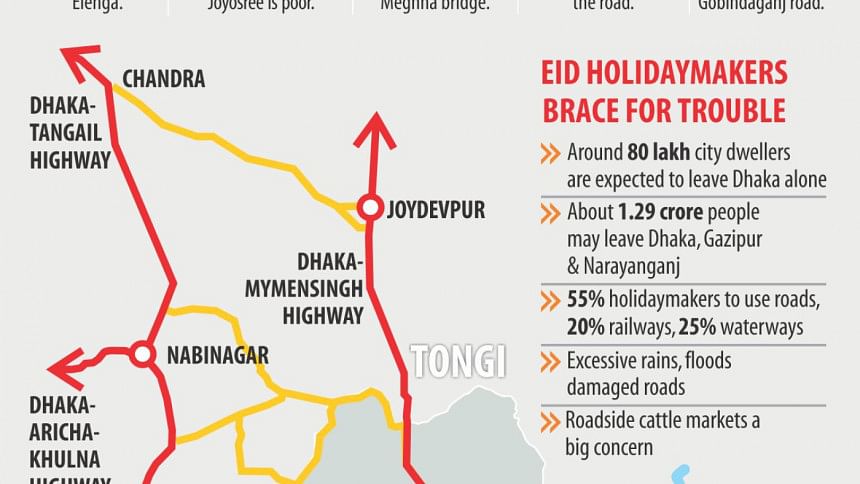 Ramesh Chandra Ghosh, managing director of Shyamoli Paribahan, said they were alerting passengers about the situation. "From the counters, we are asking passengers to remain prepared for possible changes in schedule," he told The Daily Star on Friday.
Buses are failing to maintain schedule as many roads are severely damaged and ferry services are hampered due to bad weather and the rise in water level of rivers, said Dulal, a counter master of Hanif Paribahan at Gabtoli.
According to reports from our correspondents in different districts, travelling to the northern and south-western parts of the country will be a real challenge this year.
Vehicles taking Dhaka-Tangail route to reach 26 districts of the two regions will face difficulties because of rains and expansion work of the two-lane highway, where congestion is common. Traffic movement will be disrupted at different points of the 50km stretch from Rasulpur of Chandra to Elenga.
Visiting the highway on August 9, Road Transport and Bridges Minister Obaidul Quader asked the Roads and Highways Department (RHD) officials to make the road ready for smooth traffic movement in 10 days. Parts of the road are still in bad shape.
Those heading to the port city may face traffic gridlock near the Kanchpur bridge. The road abruptly narrows down to just two lanes from eight lanes right before the bridge. There could be a similar situation near the two-lane Meghna bridge.
There will be congestions on the 12km stretch from Tongi bridge to Joydebpur Chourasta as the four-lane highway is reduced to two-lane there. Besides, haphazard parking of vehicles and dumping of waste along the highway further narrow down the road.
Buses bound for Kurigram, Dinajpur, Lalmonirhat, Gaibandha, Nilphamari, Panchagarh, Rangpur and Dinajpur will face troubles while crossing the dilapidated Hatikumrul-Bogra-Gobindaganj road.
The travel time between the northern region and Dhaka more than doubled due to rough roads. The situation may turn worse during the Eid rush.
A good number of passengers of Bogra, Rangpur and Dinajpur are preferring trains these days.
Dhaka-Pabna highway and Bogra-Nagarbari and Rajshahi-Kushtia roads have developed numerous potholes.
The 30km Hatikumrul-Ullapara road is also full of potholes. About 1km portion of Hatikumrul is almost unusable and the RHD is placing bricks as a stopgap measure. Several bus drivers said plying of vehicles here is not only difficult but also time-consuming.
About 116km stretch out of the total 164km in Dinajpur is rundown with damages at different points following rains and flooding. Floodwater receded from the roads but RHD will take two more days to begin repair.
Vehicles heading for south-western districts will encounter problems because of battered roads. The 173km Kushtia-Jessore-Khulna road is getting worse every month.
"At least a dozen of vehicles have breakdowns on this road every day," said bus driver Mansur Ali.
Locals allege the road has been in poor conditions for years but it has not been properly repaired as the government is planning to expand it to four-lane.
Contacted, RHD Executive Engineer in Kushtia Rafiqul Islam said, "We submit a proposal every year for the expansion job. The government allocates budget for repair of the road though the work will not be sustainable."
The journey of Sylhet-bound people from Dhaka will not be very troublesome though excessive rains have dented road surfaces at many points, said RHD Supervising Engineer in Sylhet Chandan Kumar Basak.
Sylhet-Tamabil highway and Sylhet-Companiganj, Sylhet-Gowainghat and Moulvibazar-Rajnagar-Kulaura-Barlekha-Beanibazar-Charkhai roads have been damaged by rains and floods.
Passengers will have a moon ride on Dhaka-Barisal highway's 30km stretch from Mostafapur to Joyosree area. "Potholes on the road are hampering traffic movement," a bus company owner said.
Over the years, RHD has been fixing potholes and damaged parts temporarily but that lasts only several months. It has even repaired one road twice or thrice a year.
To make the damaged roads usable ahead of this Eid-ul-Azha, the department has begun to dump bricks, brick chips and sand as before.
Road Transport and Bridges Division Secretary MAN Siddique said they would be able to make all the roads usable if there is no rain for five to seven days before the Eid.
"We made the Eid-ul-Fitr journey comfortable for holidaymakers. And we will try to do so during Eid-ul-Azha vacation. But it will be difficult if rain continues," he told The Daily Star.
About the road conditions, he said, "It's a fact that excessive rains and flood ravaged many roads and culverts, which will require massive repairs."
Road Transport and Highway Division, which surveyed 16,621km highway and road last year, found 79.6 percent of the national highways in fair or good state while the rest were in "poor, bad and very bad conditions".
The survey conducted between February and May also found 30.79 percent of regional highways in poor, bad or very bad state and 46 percent of the district roads in similar conditions.
Bus operators believe the percentage of roads in poor conditions would be much higher now.  
Besides, roadside cattle markets remain a big concern as those often create traffic congestion. 
The road transport and bridges ministry in its 34-point measures ahead of the Eid-ul-Azha said lease of cattle market must not be allowed on national and regional highways or in adjacent areas. It also said cattle markets cannot be set up at the entry and exit points of Dhaka city.
The ministry mentioned the names of Maligram cattle market in Faridpur's Bhanga upazila, Dania cattle market in the capital and Tongi cattle market near Biswa Ijtema ground in Gazipur, and said these markets should not be allowed to be expanded to nearby highways.
TROUBLE POINTS IDENTIFIED
On August 2, Road Transport and Highways Division asked its field officials to send reports on jam-prone intersections or parts of highways so that precautionary measures can be taken ahead of Eid-ul-Azha.
The division received a report on August 16, said an official. "We will write to the home ministry to take necessary action so that traffic congestion could be avoided at those points," he said.
As per the report, 43 points on different highways under Dhaka division usually see traffic congestion while 39 points in Chittagong, 12 points in Rajshahi, 11 points in Barisal, three in Sylhet and four each in Khulna and Rangpur divisions.
The report also identified 22 such points in Dhaka city.
TRAIN ROUTE
Currently, five intercity trains are failing to reach their original destinations as rail tracks are affected by flood, Sitangshu Chakrabarty, station master of Kamalapur Railway Station, told The Daily Star on Friday.
Ekota Express and Drutojan Express, which are supposed to reach Dinajpur, can go up to Parbotipur.
Tarakandi-bound Jamuna Express and Agnibina Express can't travel beyond Jamalpur Sadar upazila, he said.
Dewanganj Commuter's original destination is Dewanganj but it now operates up to Melanda Bazar, he added.
He, however, hoped the situation would be normal before the Eid.
Rail communications in Dinajpur, Lalmonirhat and Kurigram have remained suspended since August 13 as railway tracks were damaged at several points, Amjad Hossain, director general of Bangladesh Railway told this newspaper on Thursday.
The affected rail routes are Parbatipur-Dinajpur-Panchagarh, Lalmonirhat-Burimari and Teesta in Lalmonirhat to Ramna Bazar in Kurigram's Chilmari, he said.
[Our Pabna Correspondent Ahmed Humayun Kabir Tapu, Natore Correspondent Bulbul Ahmed, Kushtia Correspondent Amanur Aman, Tangail Correspondent Mirza Shakil, Dinajpur Correspondent Kangkan Karmakar and Sylhet Correspondent Dwoha Chowdhury also contributed the report]