Weighed down by age, anguish
As the sun's first light fell across the hills of Balukhali in Ukhia, a frailly built Mohammad Syed could be seen trying his best to walk quicker with the help of a wooden stick.
Barefoot and slightly stooped, the man in his late seventies made it to the muddy ground in front of the temporary shelters, which dot the lands as far as the eyes can see. There, he joined the queue for relief with several hundred other Rohingyas.  Amid the sweltering heat, Syed was profusely sweating and coughing.
"If I don't come here, I won't get any food," said the elderly man, a resident of Bolly Bazar of Maungdaw. After a while, he requested his fellow Rohingyas to allow him to sit ahead.
Syed took a pause and said, "My wife is sick. I have to go back to her." His sun-baked face, criss-crossed with wrinkles, slowly turned gloomy.
His ailing wife, Manjuara, 65, had stayed back at their tent where his seven-member family has been living for the last 15 days. An asthma patient, she fell sick during the perilous journey through jungles and hills of Myanmar. Four days ago, she caught a fever and has had a severe cough.
"She took medicine, but her condition has remained unchanged. I also had a fever seven days ago and am still weak," he said.
Elderly people like Syed and his wife are suffering immensely, living in squalid camps along with nearly half a million Rohingyas who have fled violence in Myanmar since the military crackdown began on August 25.
These people at the last stage of their lives had endured a terrible time while escaping the relentless persecution back home. Life here may well be better than the grim persecution they fled, although they are living in 10 feet by 10 feet huts on the hill slopes and collecting relief amid scorching heat and almost daily torrential rains. The conditions breed exhaustion and illnesses.
Scores of refugees are suffering from diarrhoea due to a lack of safe drinking water, toilets and hygiene facilities. Although government and non-government organisations have installed a number of tube wells at the shelters, there still remains a serious shortage of fresh water.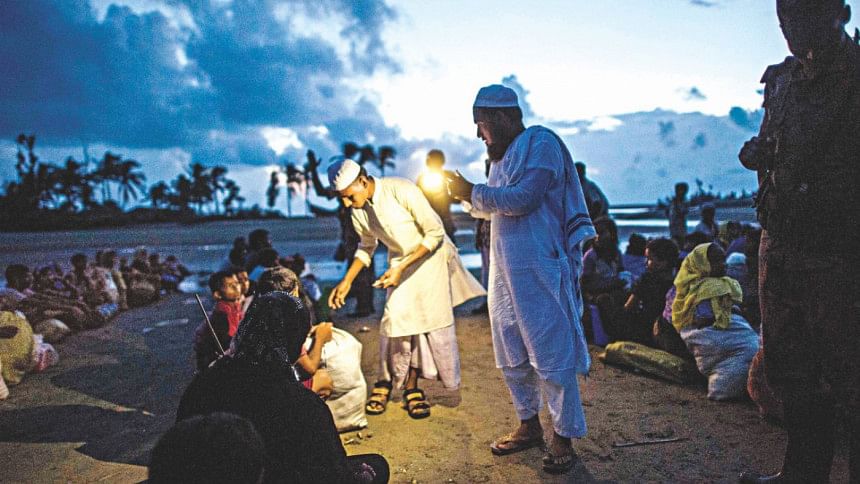 "Perhaps this is what was written in our fate," Syed said, as he finally received a bag of rice and lentil at Balukhali temporary camp.
Just beside the place, a long queue of Rohingyas was seen waiting to see the doctor at a temporary medical camp set up by the government.
Khodiza, 62, was one of many patients, waiting to seek treatment for diarrhoea and severe muscle pain. Her daughter, Asma, carried her on her shoulders.
"She vomited several times and has gone to the toilet frequently since early morning. Now she can barely stand on her feet," Asma said.
A female doctor at the camp said many children and elderly people were coming to the camp with water-borne illnesses. Another doctor feared that there was a presence of contagious diseases like tuberculosis and hepatitis-c. 
"The number of patients seeking treatment is increasing day by day. A majority of them are children and the elderly," she said, adding that they are sending people in critical condition to hospitals.
Some elderly people are receiving treatment at hospitals in Cox's Bazar and Ukhia.
Seventy-five-year-old Rabeya Khatun was referred by doctors at the temporary medical camp at Kutupalang to Cox's Bazar Sadar Hospital on Thursday.
A mother of four, she fled her home in Shahebbazar in Maungdaw with 12 family members a fortnight ago and entered Teknaf two days later.
"My mother fell ill while crossing the border. Along with high fever and cough, she has pain all over her body. She cannot stand without anyone's help," said her daughter, Amena.