Tragic
Four Rohingya refugees trampled to death by elephant in Ukhia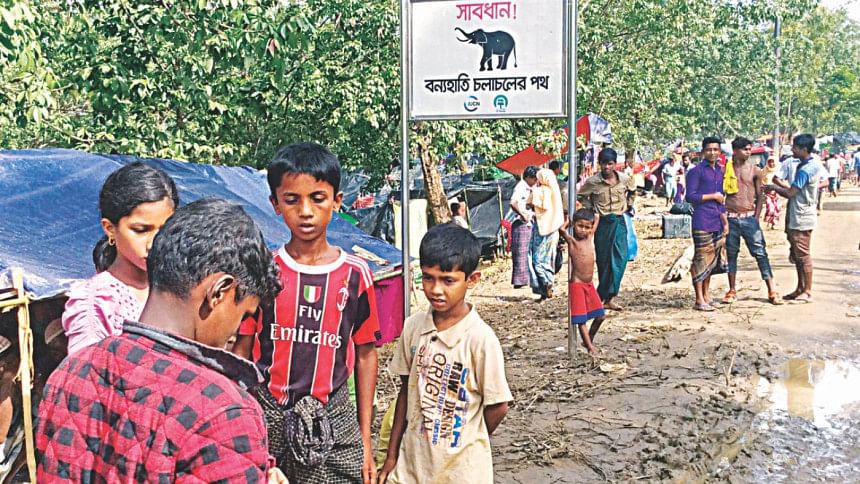 Four Rohingya refugees, including three children, were trampled to death by an elephant in Ukhia's reserve forest area.
The deceased were identified as Taslima, 32, Rumana, 11 and, siblings Salma, 7 and Safuna, 2.
The wild elephant was trying to cross Balukhali Refugee Camp-1 around 5:00am when the incident happened said Md Ali Kabir, divisional forest officer of Cox's Bazar South Forest Division.
Rumana and Salma died on the spot while Taslima and Safuna succumbed to their injuries on the way to Cox's Bazar Sadar Hospital, the forest official said.
Three others injured in the incident were also admitted to the hospital.
Two other people in the same upazila were killed in similar incidents recently.
Over 536,000 Rohingyas have fled to Bangladesh after violence broke out in their homeland in Myanmar's Rakhine.
Experts say many parts of the 30,000 acres of forest land in Ukhia have already been razed and the new Rohingya settlements could be the final nail in the coffin for large mammals in the forest.
Talking to The Daily Star on September 23, biodiversity expert Anisuzzaman, chief adviser of Isabella Foundation, pointed out that around 50 elephants in the forest, already in trouble due to the construction of Cox's Bazar-Teknaf highway, could face extinction if their migratory routes were blocked.
A survey published by the International Union for Conservation of Nature (IUCN) on March 21, 2017, after studying the total number of wild elephants in Bangladesh, gave an official estimate of 268 elephants, all residing in south-eastern forest areas of the country.
This initiative also mapped out the routes elephants follow around the year and managed to mark 12 crucial small passages, known as elephant corridors, which they use to travel between forests.
The study has also pointed out 57 elephant crossing-points on the international borders with India and Myanmar.