BOOK NEWS
Home-grown solutions for a global crisis: 'Rohingya Camp Narratives' launches at IUB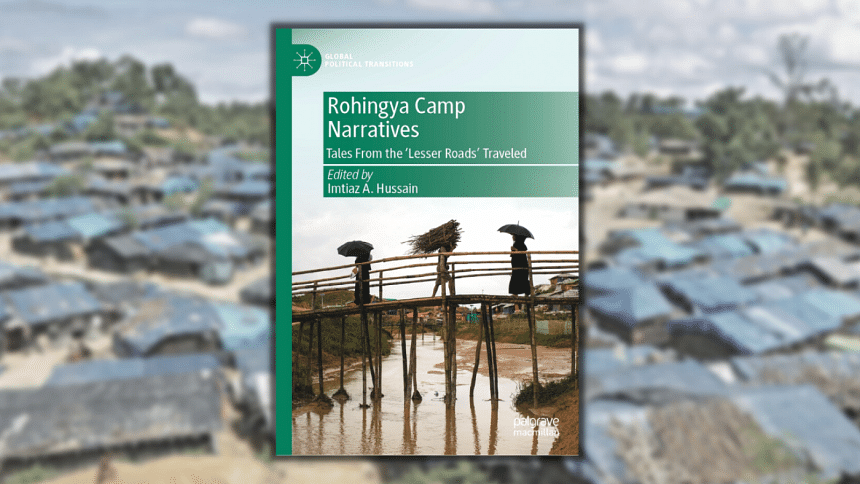 Independent University, Bangladesh's (IUB) Department of Global Studies & Governance (GSG) hosted a book-launching session on July 28 from 11am at their Multi-purpose Hall. The book, Rohingya Camp Narratives: Tales From the 'Lesser Roads' Traveled (2022) is the fourth internationally published volume in the 5-year GSG history. Edited by Professor Dr Imtiaz A Hussain, founder of the university's department of Global Studies & Governance (GSG), and published by the prestigious international publishing house Palgrave Macmillan, the book contains 13 chapters. 
Prof Taiabur Rahman, Dean of School of Liberal Arts and Social Sciences (SLASS), made the welcome remarks and moderated the event. Discussions opened with Professor Dr Imtiaz A Hussain's synopsis of the chapters and  introduction to the authors. 
"These are innovations that I personally believe can help civil society," he said.  He additionally thanked the GSG department students for their contributions into making the event successful. 
The book was reviewed by Prof Dr Meghna Guhathakurta, executive director of Research Initiative Bangladesh (RIB), and Dr Tasneem Siddiqui, professor and chairperson of  Department of Political Science, Dhaka University & Founding Chair of Refugee and Migratory Movements Research Unit (RMMRU). 
"We've seen many writings on the Rohingya population since 2017, but this book is unique. Here one will find on state policy analysis and societal dynamics–exploring grey areas and bringing multidimensional analysis to the refugee crisis", said Professor Dr Meghna Guhathakurta.
The Minister for Foreign Affairs, Dr A K Abdul Momen, MP, gave his remarks on the camp situation and Bangladesh's active response  as the chief guest. 
"The book has many important discussions on the Rohingya issue, which could serve as a way forward. I congratulate the writers, publishers and the editor Prof Imtiaz Hussain for his efforts," said the Foreign Minister. 
Ambassador Mr Shabbir Ahmed Chowdhury, Secretary (West), Ministry of Foreign Affairs and Mr Johannes van der Klaauw, UNHCR's Representative in Bangladesh enlightened the event as special guests. 
Honourable Chairman of the Board of Trustees of IUB, Mr Abdul Hai Sarkar and Vice Chancellor of the University, Professor Tanweer Hasan, PhD,  also gave valuable remarks. Ambassador (Retd) Tariq A Karim, director of the  Center for Bay of Bengal Studies, IUB, concluded the event with their closing remarks. 
Nazifa Raidah is the Sub-editor of City Desk at The Daily Star.