Reporter's Diary: Death, despair and destruction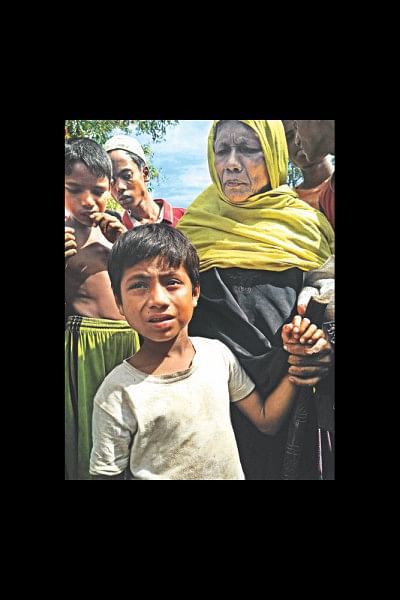 Six-year-old Hizbullah tightly grips his grandmother Shiriluk's hand.
He is wearing a dirty white tee-shirt and no pants. He seems clueless, his eyes searching the swarms of bodies for a familiar face. He wears a look of absolute puzzlement. He doesn't have the capacity to understand why he is here.
As I approach him, he looks up, a sudden shadow of fear falling across his face. It is evident that he has seen too much blood already.
"This is my grandson," his 70-year-old grandmother informs.
Where are his parents, I ask.
"They are dead. They cut his father and threw his body on the barbed wire fence. I saw my son's body draped across the fence with my own eyes," Shiriluk says.
She doesn't say this with tears in her eyes. She is all cried out. Her face is stony, shockingly impassive.
"When I saw this, I ran back and took Hizbullah. His mother went to get the body and they shot her. So we ran and came here. We arrived here today. We don't know anyone here," she says.
All Hizbullah is left with in this world is his grandmother.
While his grandmother was narrating the tale, Hizbullah looked up at her. His expression didn't change. He seemed almost irritated. From his expression, I could guess that he didn't believe what his grandmother was saying. He might have thought that his parents were still alive.
Hizbullah's father was a night guard. The military came for him at night when he was guarding the shops at the bazar. They slit his throat and left his body for all the village to see. A warning.
"He was bleeding from the throat. I saw it with my own eyes," Shiriluk said, repeating herself.
I asked if she wanted to go back for the body. She nods her head saying, "No. He is dead. But this one is alive. I have to protect him," she said, wrapping her wrinkled, weakened arms around Hizbullah.
We all think of the children and the women but those who have aged under the repressive regime are often an afterthought. For years, they have seen and lived what we are only now witnessing. They have hardened to a point of no return. They are stoic, statues of their former self, moulded by pain and suffering.
At Shah Porir Dwip in Cox's Bazar, I had met another such individual, 72-year-old Zafar. He came with his son Nazir Ahmed, his wife Rahima Khatun and his sister. For the first time, I had met an entire family that had made it safely to this side. But Zafar did not rejoice. Why would he?
Zafar was born and raised in a small village in the Rakhine State. He had two cows, five goats and two acres of land. But he had to leave those all behind. Today, he sat, dressed in a white Panjabi. His son informed me that they had travelled for seven days without eating.
Zafar sat, shaking uncontrollably. He was panting, non-stop. But it wasn't just fatigue. Zafar was angry. Someone gave him a loaf of bread and he slipped it inside his pocket. He was given water and he brushed it away, refusing to quench the thirst he was no doubt feeling.
"Throats of 25 men were slit before our eyes," his son Nazir said.
I asked Nazir why his father seemed so angry. "There is a Muslim man there, Ershadullah. The Burmese have given him the name "Soijah-Uh". He is a Myanmar informant and he tells them where the Muslims are," Nazir informed.
"He came to our house and asked us to leave or die. My father did not leave. So he kicked my father. He kicked him many times till he was forced out of his own home," he concluded.
Zafar's eyes were listless. His ego was bruised. He wouldn't eat. He wouldn't drink. He panted. He fumed, and he remembered the humiliation.
Zafar's pride reminded of something else. The Rohingyas aren't beggars. They do not know how to beg yet. They only look at you when your eyes meet and move their lips and raise their hands. A week ago, they had food, a home and clothes. Today they have nothing.
Today, I leave Cox's Bazar. Unlike before, I do not leave with fond memories of a sandy beach or pictures of riding horses and luxurious comfort. I leave draped in an invisible garb embroidered with words of death, despair and destruction.
There are hundreds of stories of torture and persecution here in Cox's Bazar. All they need now is an outlet where they can be told. But is there a man or woman alive capable of this soul-crushing documentation?
I know now, I will never look at Cox's Bazar the same again. But the Rohingyas will never look at the world the same again. One of my friends remarked that those who made it here were the lucky ones. It really made me wonder: how unlucky is unlucky then?