Is making profit BPC's only job?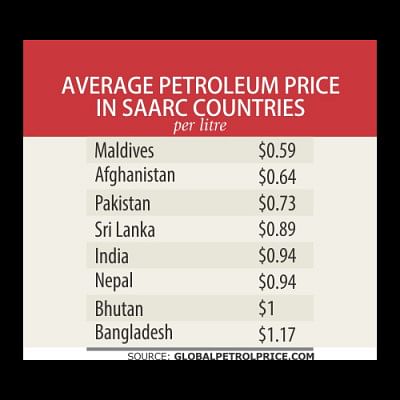 For around 15 years, Bangladesh had to struggle with import of oil because the price continued to climb from just $25 in1998 a barrel to $145 in 2008. The country's oil importing agency Bangladesh Petroleum Corporation (BPC) counted staggering losses from 1999 till mid 2014.
High prices made the oil producing countries richer by trillions of dollars. But things began to change when the USA started producing shale oil to largely meet its demands instead of depending on imports only.
The cost of producing shale oil is very high as it is located in very deep geological locations. To discourage America's shale oil production, the world's leading oil producer Saudi Arabia continues to keep its production high to keep oil price low. This has not only hit shale oil production negatively—but also hurt Saudi Arabia's own economy. The IMF estimated last year that Saudi Arabia needs a global oil price of around $106 a barrel to balance existing levels of expenditure with revenues.
The price of oil this week has hit a low of $25 dollars per barrel. While the oil producing countries would like to see the price go up, international analysts say the worst for them is yet to come.
According to reports from the British newspaper Telegraph, the price of oil is heading towards $10 a barrel. This prediction has been made by Standard Chartered, Goldman Sachs, RBS and Morgan Stanley.
Now Iran has entered the market, contributing to oil price drop. As sanctions on Iran were lifted, the country, that had been selling its oil to a handful of countries, would now be able to export worldwide.
British newspaper Independent reported Sunday that the Saudi Arabia stock market has crashed as sanctions on Iran were lifted. Iran's plan to ramp up daily exports from one million barrels currently to 3.4 million barrels in seven months' time will see a new glut of oil in a flooded market and threatens to drive the price to its lowest level in decades.
So what does it mean to our country?
The global oil price slump has made the government and the BPC very happy because the BPC is set to make Tk ten thousand crore profit this fiscal. It had also made good profit last fiscal year and cleared its cumulative losses of around Tk five thousand crore.
But the government owned BPC and the government are not lowering the high oil price any time soon. BPC argues that it has accumulated losses of Tk 44,528.99 crore between 2001 and 2015. At the same time, the government has also given hefty subsidy to oil based power generation. So if they have incurred so much loss, why not let them make some profit?
According to the BPC website, during this same period, BPC paid Tk 47,218 crore to the national exchequer as taxes and duties. We can surely argue that this profit (as payment to the national exchequer) and this loss are entirely matters of two different wings of the government. In real terms, the state did not incur any loss.
The funny thing about paying subsidy for oil based power generation is that part of it is contradictory. The government has fixed the oil price and the power tariff. To cover power plants' losses because of high cost of oil, the government gives the subsidy even when the oil price has dropped significantly. It's like the government is taking the money from its coat pocket and putting it in pant pocket.
The government could have taken financial measures while the BPC was incurring losses. For instance, why make the BPC pay duties or taxes for oil import when the price is too high? To pay this tax and to purchase oil, the BPC turned to borrowing from banks and it has not paid back its arrears completely. There are many organisations like Biman that had not paid BPC all its arrears. A financial chaos prevails and we see no measures being taken there.
Consider a financial measure the government took this year. Till this fiscal year, there was no import duty on rice. This year there is a tax to discourage rice import as we are now self-sufficient. The government on and off waives duties on sugar import because we do not produce enough sugar. So why does the government remain adamant on collecting import duties from oil which we do not produce?
But all things aside, the biggest issue here is whether the government policymakers see the deep impact of oil price on our everyday lives and our personal monthly budget and how a proper oil price adjustment can make our economy and individual lives even more vibrant.
The price of diesel—the dominant fuel used in the transport sector among others—was just Tk 15.65 per litre in 2000. Its price was hiked up to Tk 61 in 2012 to cover the loss incurred by Bangladesh Petroleum Corporation (BPC) due to costly imports.
This significant rise in price was felt immediately as the cost of transportation went up. The present rate of bus fare—which is supposed to be one of the cheapest means to commute—is Tk 1.70 per kilometre, and for minibuses Tk 1.60 per kilometre (plus there is a minimum charge). Commuting from Uttara to Farmgate can cost you Tk 20 minimum to Tk 40 maximum (on luxury buses). Just a few years back, this fare was just half.
Similarly if you took an inter-district bus ride to, say Mymensingh three years back, you could do it for Tk 150 maximum. Now you have to pay Tk 250.
Now just imagine the transport cost implications on everyone's life in our country. From commuting to office or school to doing your groceries, you are actually spending more money than you should be.
The vegetable, fish, rice or chicken that come to Dhaka from the producers everyday are all bearing the extra cost of an artificially bloated fuel price that is passed on to the consumers.
Just imagine, if these costs were slashed by half how productive our lives would have become. We would have more money to spend for other things—not just commuting between Uttara and Jatrabari.
According to the Centre for Policy Dialogue, fuel price cuts will have positive impacts on consumers, producers, investment and economic growth. Only the government's profit will go down. At a recent media briefing, the CPD also projected that a 10 percent reduction in fuel prices would help the GDP grow by 0.3 percent, and increase export by 0.4 percent and household consumption by 0.6 percent. And inflation will decline by 0.2 percent.
We do not want any government organisation to run on losses. But the BPC is making profits in such a ridiculous way that it would make the world's greediest corporations blush. The government's job is not to make profit—its job is to help people prosper.