It's all for money
Conflict over N'ganj hawker eviction has nothing to do with politics; hawkers pay AL men, police Tk 1.35cr a month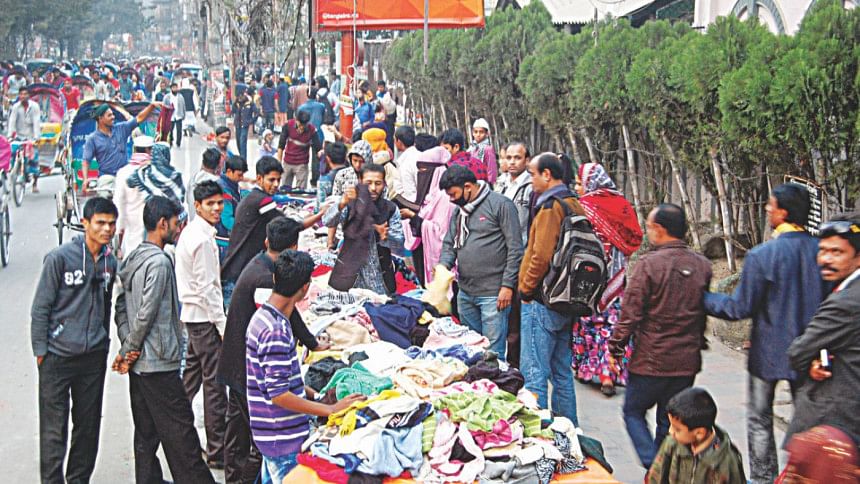 Tuesday's mayhem in Narayanganj was all about money.
A section of ruling party leaders loyal to local MP Shamim Osman and some unscrupulous police officials control the footpaths and collect tolls from the hawkers, generating around Tk 1.35 crore a month, claimed about 20 hawkers of Narayanganj city who talked to The Daily Star.
The feud between NCC Mayor Selina Hayat Ivy and AL MP Shamim Osman over the eviction of hawkers had nothing to do with politics; it is totally about the money paid by around 4,500 hawkers, they said.
The money collected is shared among the leaders of AL, AL-affiliate organisations and Chhatra League of Narayanganj and police officials of Chasara Police Camp and Narayanganj Sadar Police Station, the hawkers claimed.
The money is collected by 25 linemen on Bangabandhu Road alone, they said.
Talking to The Daily Star, a number of hawkers said they have to pay from Tk 20 to Tk 300 every day to "police and a section of local influential AL leaders who get a portion of the money".
The amount depends on the size and location of their makeshift stalls.
Hawker Narayan Chandra said the hawkers who sit around Zia Hall intersection, Shaheed Minar, in front of Khaja Market and on Bangabandhu Road have to pay from Tk 100 to Tk 300 per day.
Just paying the toll is not enough. He said the hawkers are forced to join rallies and processions of Shamim Osman in Narayanganj and Dhaka.
"You will see no hawkers or only a few hawkers on Narayanganj footpaths the day Shamim Osman holds a rally," Oli Ahmed, a hawker who sits on Bangabandhu Road, told The Daily Star.
A tea vendor on Bangabandhu Road said either a policeman or a lineman takes Tk 20 from him every day.
"The plainclothes policemen kicked me on several occasions when I failed to pay or haggled with them," he said, adding, "Even the homeless and beggars cannot escape the police and the linemen. I saw police take Tk 10 from them many times." 
"If they fail to pay, they are slapped," he said, requesting not to be named and declining to name the police personnel and linemen fearing repercussions.
Asad Mia, convener of Hawkers Sangram Parishad, said there were around 4,500 small cots or tables on city footpaths and three quarters of them were on Bangabandhu Road. 
Several hawkers claimed that for placing a two by three feet cot or table on the pavement, they have to pay Tk 5,000 to Tk 7,000 to local leaders close to Shamim Osman.
Narayanganj City Jubo League President Shahadat Hossain Bhuiyan Shajnu and Convener of Narayanganj City Chhatra League Habibur Rahman Riad, who are close to Shamim Osman, dealt with the hawkers, they claimed.
They mentioned a few other names of similar post holders in AL and Chhatra League but this paper could not get in touch with those leaders.
Refuting the allegations, Shahadat Hossain told The Daily Star that he had heard that some AL leaders took money from hawkers. "Several times I have pressed hawkers to know the names but they told me that no Awami League leaders took money from them."
Habibur Rahman Riad said they had asked the administration and the city corporation to take actions if anyone took money from the hawkers in the name of Chhatra League.
Several witnesses of Tuesday's mayhem claimed that these AL, AL-affiliate and Chhatra League men were in the front line during the attack on NCC Mayor Ivy. The Daily Star could not verify their claims.
Chashara Police Camp In-charge Gazi Mizanur Rahman said, "Hawkers' trade on footpaths had been stopped several weeks ago. So, the allegations of taking money against police personnel are not right."
Asked whether the policemen collected toll before, he said he had no idea about the matter.
Acting officer-in-charge Abdur Razzaq of Narayanganj Sadar Police Station told The Daily Star that the allegation against police was nothing but exaggeration. 
Asked to elaborate what he meant by exaggeration, Razzaq said after he took charge as the OC, he did not get any complaint that policemen collected tolls from hawkers. 
He, however, said his predecessor was closed to the police lines as he had not taken proper steps to evict hawkers.
"We have taken a hard line against hawkers after sir [his predecessor] was closed," Razzaq added.
On January 15, Shamim Osman at a rally of hawkers at Chashara said he had ordered, not requested, that hawkers would sit on footpaths from 5:00pm from January 16, if the city corporation did not take any measures for their rehabilitation.
Mayor Ivy had said that she would not allow hawkers to occupy footpaths causing city dwellers to suffer. She also said she would make alternative arrangements for the hawkers at the hawkers' markets.
Many city dwellers hailed the city corporation's move to free the footpaths from illegal occupation. They told The Daily Star yesterday that despite repeated attempts over the last one year, the authorities failed to evict the hawkers due to local influential Awami League leaders and a section of police officials who take money from them.
On Tuesday, NCC Mayor Ivy and around 50 others were injured as supporters of local AL lawmaker Shamim Osman attacked Ivy and her followers, leading to a clash on Bangabandhu Road.
No case was filed over the clash as of last night and police could not arrest Jubo League leader Niazul Islam, who was seen brandishing a firearm during the clash, even though he himself filed a general diary with Narayanganj Sadar Model Police Station in connection with attempt on his life and attempted snatching of his arms.
HOME BOSS
Home Minister Asaduzzaman Khan Kamal yesterday said action would be taken against those who had brandished firearms during Tuesday's clash.
"I give you assurance that no one will be spared. Those who have broken laws, will face the music," the home minister told journalists in Tejgaon.
"We are doing what is required. We have footages. We are looking into those who brandished firearms and took the law into their own hands," Asaduzzaman said, adding that they were enquiring into the "unfortunate incident".
The home minister said he personally talked to Shamim Osman and Selina Hayat Ivy after the incident on Tuesday and told them that the prime minister did not like what had happened.
"I told them if you don't stop, we have to take action," he added.
IVY HOSPITALISED
Ivy was admitted to LabAid Hospital in Dhaka after her blood pressure dropped yesterday afternoon. She is in the Coronary Care Unit of the hospital.
Ivy became sick when she was at the city corporation office around 4:00pm, reports our Narayanganj correspondent.
She had trouble breathing and had cardiac complications, said Narayanganj General Hospital Medical Officer Asaduzzaman.
Abul Hossain, Ivy's personal secretary, said Ivy visited the injured of Tuesday's clash at Narayanganj General Hospital after lunch yesterday.
She became sick around 20 minutes after she had returned to her office.
A doctor of LabAid said, "She will be kept under observation for the next 24 hours. Her condition is stable now."
Lawmaker Shamim Osman neither received phone calls nor texts of this paper.
Some hawkers yesterday opened up shops at Chashara on Bangabandhu Road defying the local administration. Police evicted the hawkers a few hours after they had sat there.