Every moment felt like hell
Victim tells her story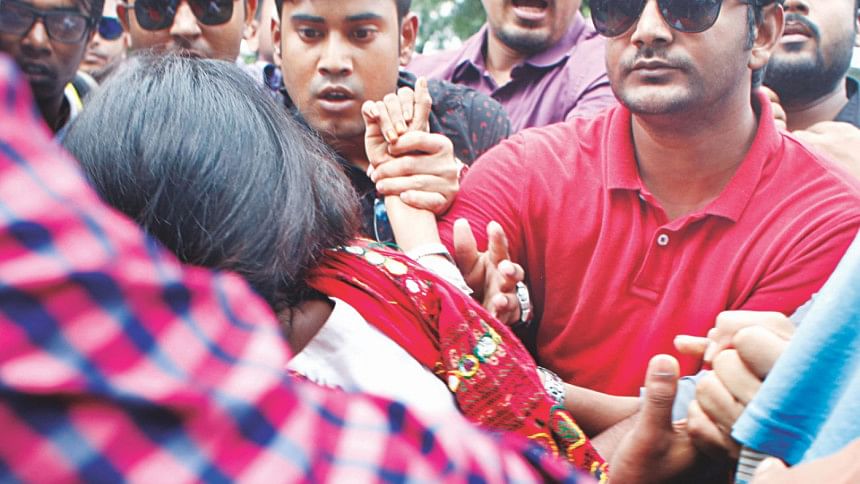 Her eyes were full of fury and voice quivered with rage. She looked frustrated and also a little traumatised while narrating the physical assault, verbal abuse and mental torture she allegedly endured at the hands of a group of rowdy men and police.
All these happened because she tried to save one of her fellow protesters, she said at a briefing in front of Dhaka University's Ruqayyah Hall yesterday.
 "I thought the police station would be safe for me, but it was like a second hell," said Moriom Mannan Farah, a first year student of political science at Tejgaon College, who described "every moment" of her immediate past encounter with that group of people "as like hell".
A resident of Bashundhara Residential Area, Farah had joined a human chain on the premises of Central Shaheed Minar on Monday, demanding quota reforms in civil service. She said she has been with the movement since it began under the banner of Bangladesh Sadharan Chhatra Odhikar Sangrakkhan Parishad in February.
But the moment the programme started around 11:00am on that day, a group of BCL men swooped on the protesters, snatching away their banner and beating them up.
As the attackers started assaulting Faruk Hasan, one of the joint convenors of the platform, Farah tried to save him. A photo of the incident went viral.
Faruk was beaten up at the spot. Later, he was picked up by the attackers and handed over to Shahbagh Police Station.
Little did Farah, who hailed from Khulna, know about the danger that was lying ahead.
"I got into a CNG-run auto-rickshaw to go home. As I crossed the Shaheed Minar intersection, around 200 motorbikes surrounded my vehicle," she said at the briefing yesterday.
"I was scared as some of them entered my CNG, snatched my cell phone and purse and started shoving me," she told reporters, accompanied by her fellow protesters.
"And then they started hurling abuses which I cannot even utter. They started touching me.
"To me, every moment inside the CNG was like hell."
The men took her to Shahbagh Police Station, she said.
"Right after I was taken there, they [police personnel] opened my purse and started yelling that I took yaba. I just had a bottle of water and two makeover kits inside my purse."
The policemen allegedly took out a knife from her bag and asked her about it.
"Why would I keep a knife? I just went to the demonstration," she said at the top of her voice.
The policemen also allegedly took out a lighter from the bag and accused her of being a yaba addict.
Farah repeatedly told the law enforcers that her purse was taken by the boys and returned later. She said she had nothing but the water bottle and the makeup kits in it.
Then, the cops kept her waiting inside the police station, she said.
During that time, she said, some female police members kept forcing her to admit that she was an addict, which she did not.
"I cried and kept begging them to let me call my family and go home. But, they told me that [you] want to be a leader. You need to stay in jail and do many other things to be a leader."
"I had to endure the torture just because I was out there to save him [Faruk]," she said.
According to Farah, the law enforcers also forced her to admit that she belonged to the central committee of the platform seeking quota reform and that she knew some "secret information". Otherwise, why anyone would dare save a leader like Faruk, they doubted.
"People even try to save a dog if it is beaten. Here a human being was dying and shouldn't I go [to save him]?"
After Farah's photograph went viral, her family members rushed to different hospitals in the city, looking for her. She said she had uploaded a status on Facebook before leaving home to join the quota reform programme on the Shaheed Minar premises.
Later around 9:00pm, someone showed up at the police station and asked for her address and contact number. The person said they would release her.
"Then, the person told me that 'you are going home and will get some sleep. You are not going to come and join here again".
"I kept mum," Farah said.
The person then said they needed an undertaking from her before her release. But they did not release her.
Later, someone from her family came to the police station, she said. Her brother-in-law, who is also a policeman, had called one of the officers at the police station over the phone.
She said the officer told her brother-in-law that "Your sister-in-law is ill-mannered. Since you are a policeman we are letting her go. Otherwise many things could have happened to her."
The officer hung up, she said, adding that he then told her "Had your brother-in-law not been a policeman, we would have sent you to the court. There would be none to save you".
Even the female constables misbehaved with her, saying that, "They could not watch a world cup football match because of her."
"Whenever I was falling asleep, they came and woke me up," she said.
She said the police did not release her that night. Instead, they kept her in a filthy room along with thieves. Later, they kept her in another room with a woman who is accused of stealing a mobile phone.
"The woman told me that your family members came and that I would now be released. I asked how she knew that. She said you did not commit any crime. Waging a movement is a not crime."
"If a woman like her could understand that waging movement is not a crime, then why the so-called well-educated people like us are branding us as children of Razakars and traitors...."
Farah was released the next day.
"Everyone asks me what I want ... I will be given honour ... but if they want to honour me, bring me the gazette [on the reforms of the quota system]. If they want to honour me, lift the tag of Shibir and Jamaat off me. I want to be called a general student," she said.
Contacted, Abul Hasan, officer-in-charge of Shahbagh Police Station, refuted the allegation brought against the police station.
"I just saw the photo that went viral. The girl who came to the police station did not seem to be the same.
"Her guardians were late in coming to the police station. I said how I can release a girl without her guardian. The girl is from Khulna. Please match her identity," he said.
The OC claimed that the girl was not kept in their custody. "She was sitting at the Help Desk. We kept her to hand her over to her guardians."
Asked how she reached the police station, he said, "You saw how she came. I have no information without this."
This week, BCL activists attacked quota reform activists for three days, injuring many at Dhaka University, Jahangirnagar University and Rajshahi University.
The incidents sparked outrage on social media.