Arrest admitted after daylong DMP denial
Quota reformist picked up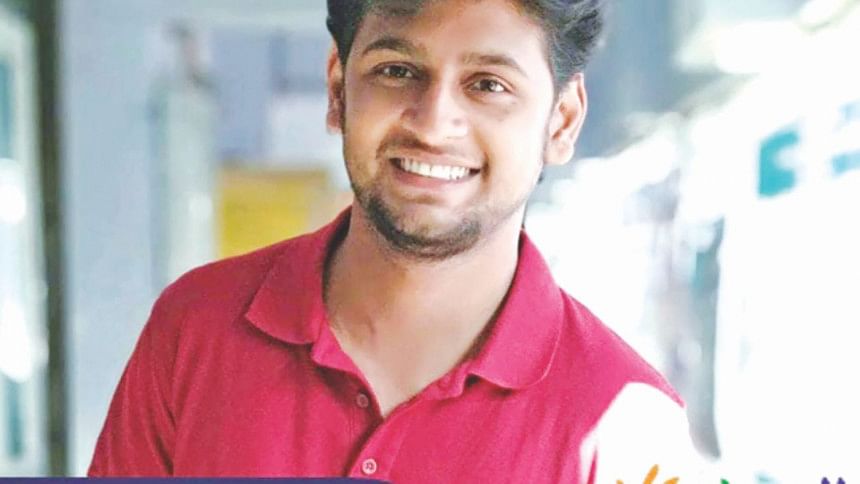 Following denial throughout the day, police yesterday evening admitted arresting a quota reform leader from the capital's Shantinagar.
Legal action was being taken against arrestee Suhel Islam, said DMP Deputy Commissioner (media) Masudur Rahman. He, however, did not mention the case in which the arrest was made.
Suhel, a third-year student of English department at Jagannath University, is a joint convenor of Bangladesh Shadharan Chhatra Odhikar Sangrakkhan Parishad, the platform that spearheaded the quota reform movement.
Yesterday's incident happened at a time when four other central leaders of the platform had already been arrested in different cases and many quota reform protesters had come under attack by Bangladesh Chhatra League (BCL) men across the country.
Suhel, 23, was also beaten up allegedly by some leaders and activists of the pro-Awami League student body near his campus on May 23 for participating in the movement, said his friends and other quota reform leaders.
Later, he filed a general diary with Sutrapur Police Station in this regard, they said.
In a Facebook post, Lucky Akter, a former president of Bangladesh Chhatra Union, wrote that a group of men introduced themselves as detectives and picked up Suhel from her house around 5:45am yesterday.
Throughout the day, detectives, however, kept denying detaining Suhel, said his younger brother Sumon Islam, a college student.
Sumon said he along with some of Suhel's friends stayed in front of the DB office on Mintu Road from 9:00am to 5:00pm. They repeatedly asked those stationed at the gate about Suhel's whereabouts but they said he was not there.
Talking to The Daily Star around noon, Devdas Bhattacharya, additional commissioner (DB) of Dhaka Metropolitan Police, and Najmul Islam, additional deputy commissioner of the cyber security unit of the DMP, also said they did not pick up anyone named Suhel.
"As far as my knowledge goes, no one named Suhel has been detained. The information [regarding Suhel] is probably incorrect," Devdas told this correspondent over the phone around 11:40am.
While speaking, he took a small pause to recheck what he just said and reconfirmed it.
Suhel's arrest was disclosed on DMP's news portal dmpnews.org around 6:30pm. "The Detective Branch of Dhaka Metropolitan Police has arrested one of the members of anti-quota movement. The arrestee is Suhel Islam," the portal said.
In the Facebook post, uploaded at 8:41am, Lucky said, "DB police raided my home around 4:15am. They were a team of eight to 10 men … at one point, they threatened that they will break open my door. I told them to come in the morning. I opened the door after they arrived along with the landlord uncle around 4:30am."
As the law enforcers came inside, they handcuffed Suhel and took him to another room for interrogation, she said.
"… They seized all our phones. They checked my phone as well … while they were taking Suhel away, I asked them about the charges against him. They said they were taking him for interrogation over the quota reform protests.
"Before leaving [along with Suhel] they checked the [browsing] history of the computer at the house. They also thoroughly checked the room where Suhel was staying. They did not get anything apart from Suhel's [mobile] phone," added Lucky, also a leader of Gonojagoron Mancha, a platform that spearheaded the Shahbagh Movement in 2013.
She said Suhel requested her not to disclose anything about the incident to his mother as the death of his father took a toll on her health.
As the news spread, Sumon along with four of Suhel's friends went to the DB office. One of the four, who wished to remain unnamed fearing police repression, told this correspondent, "When Rashed [joint convenor of the reform movement platform] got arrested, Suhel was afraid that he would be arrested as well. That's why he started staying outside his home".
He said Suhel was appearing in his third-year final exams and the next test would be held on Sunday.
Hailing from Atowari of Panchagarh, Suhel is third among his five siblings. His father was a farmer, who died last year. 
One of Suhel's elder brothers runs a grocery shop in Panchagarh while the other is currently unemployed. Around four months ago, Suhel brought his mother and Sumon to the capital and started living together in a rented house.
He runs the family and bears his educational expenses by tutoring other students, added his friend. 
Among other leaders of Bangladesh Shadharan Chhatra Odhikar Sangrakkhan Parishad, joint conveners Muhammad Rashed Khan has been placed on 10-day remand while Jashim Uddin Akash, Moshiur Rahman and Faruk Hassan on two-day remand each. Later, they were shown arrested in different cases filed in April.
On June 30, Nurul Haq Nur, a joint convener of the platform, was beaten up mercilessly by some Chhatra League men. Later, he was taken to Dhaka Medical College Hospital where he was allegedly denied treatment.
While under treatment at a private hospital, he was allegedly forced to leave the hospital in the dead of night on July 2.
Four quota protesters were beaten up in front of the National Museum in Shahbagh on July 1.
The next day, the BCL men appeared more aggressive when they beat up some protesters who had gathered on the Central Shaheed Minar premises to form a human chain.
They beat and picked up Faruk and handed him over to Shahbagh Police Station. Moments before the attack, three on-duty police members were seen leaving the Shaheed Minar premises, said witnesses.
Later at a press conference, a female protester, Moriom Mannan Farah, alleged she was also assaulted by a group of youths who picked her up from the Shaheed Minar area on that day and handed her over to Shahbagh Police Station. She alleged she faced harassment at the police station as well.
On July 2, Chhatra League men attacked Toriqul Islam, another quota reform leader, with a hammer and sticks near the Rajshahi University campus. Later, Toriqul was allegedly forced out of Rajshahi Medical College Hospital.
All the attackers, meanwhile, roam freely.