HSC exams start today
Examinees are to get lottery-picked questions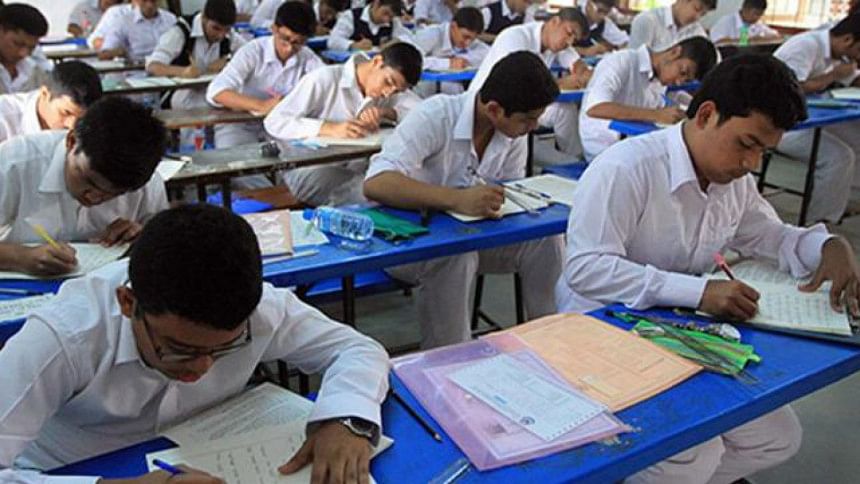 More than 13 lakh students sit for the Higher Secondary Certificate (HSC) and equivalent examinations this morning with the government taking various measures to prevent question leak.
Shutting all the coaching centres till the end of the exams, setting the question sets through a lottery 25 minutes prior to the test, monitoring excessive financial transactions through electronic means and banning cellphones around the vicinity of the centres are some of the steps taken to ensure fair environment.
The education ministry has taken the measures hard on the heels of widespread allegations of question leak in the SSC examinations held in February.
During a press briefing on March 28, Education Minister Nurul Islam Nahid said, "From the experience of the SSC examinations, we have taken stricter measures this time. We have also taken stricter strategies. So, we can say that we have done everything humanly possible to prevent question leak."
But the guardians and the students are still sceptical.
"During the SSC examinations, we saw how all the steps of the government turned out to be futile as the question papers, especially the MCQs, were leaked out and spread in the social media. We can only hope that the government takes better measures," said Shawkat Alam, a guardian of an HSC examinee.
"Question leak destroys the morale of the students. There must be a solution to stopping this menace," he said.
Some Facebook groups are already active and alluring people to collect what they mentioned as question papers.
The SSC examinations were marred with widespread allegations of question leak that drew fierce criticism.
Arrests were made and cases filed, but the root cause and people behind the leak remained undetected. The education ministry formed a probe committee that came up with a report that the MCQs of a few question papers were partially leaked out.
The written tests of the HSC examinations will be held till May 13, while the practical exams will be taken on May 14-23.
As many as 1092,607 examinees are going to sit for the examinations under eight general boards, 100,127 under the madrasa board and 117,754 under the technical board from 8,943 education institutions in 2,541 exam centres.
Among the candidates, 692,730 are male and 618,727 are female.
Besides, 299 students will appear in the examinations from seven overseas centres.