Better this time
Eid holidaymakers' journey home relatively hassle-free; no major tailback on road; trains,launches leave Dhaka mostly on time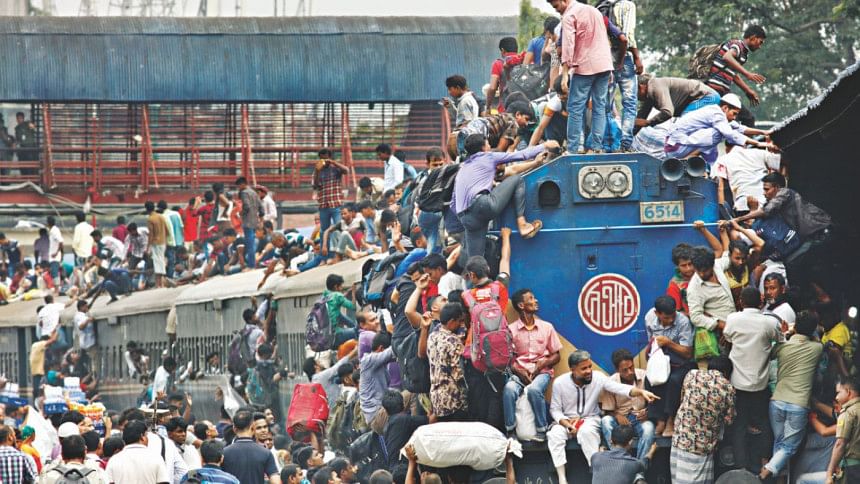 With the Eid-ul-Fitr just around the corner, holidaymakers' journey home was largely hassle-free yesterday as they did not have to endure major tailbacks either at the exit points of the capital or on the highways.
Most of the long-haul buses left Gabtali, Sayedabad and Mohakhali terminals on time and no major traffic congestion was reported from any highways.
However, people heading for southern districts faced some problems at Paturia ferry terminal due to huge pressure of vehicles. Many passengers accused bus operators of charging extra fares.
Kamalapur Railway Station in the city saw a large number of passengers scrambling to board trains since morning. Although the departures of several trains were delayed by 20 minutes to one and a half hours, others left the station on time, authorities said. 
Holidaymakers bound for southern districts left Dhaka through Sadarghat Launch Terminal as around 100 launches struggled to deal with the huge pressure of homegoers since morning.
Transport operators said more people would hit the streets today, the last working day before the Eid vacation. The Eid-ul-Fitr will be celebrated in Bangladesh on Saturday if the Shawwal moon is sighted anywhere in the country tomorrow.
According to recent estimates, around 80 lakh people leave the capital to celebrate the Eid at their village homes. But their journey turns bitter largely due to traffic jam, overpricing of tickets and delays in bus and train schedules.
This year, the authorities said adequate measures have been taken to ensure hassle-free Eid journey.
Visiting the Gabtali Bus Terminal, Road Transport and Bridges Minister Obaidul Quader yesterday said his ministry took special measures to make sure that homegoers' trips were hassle-free and the measures worked.
Condition of roads across the country was much better than in the previous years, he claimed, adding that he did not receive any complaint from passengers about extra fares.
TRAIN JOURNEY
A large number of people started gathering at Kamalapur Railway Station since morning to catch trains.
Many passengers came to the station with advance tickets they had bought in the first week of this month. Others had to buy standing tickets and travel on the roof of coaches.
Visiting the station yesterday, Railway Minister Mazibul Hoque said out of 30 trains, 29 left the station on time till 3:00pm. The departure of Khulna-bound Sundarban Express was delayed by 55 minutes due to technical glitches.
However, railway officials said several other trains could not operate on time. The Lalmoni special train was late by an hour and forty-five minutes, Rajshahi Express by an hour and twenty minutes, Dewanganj special by 45 minutes, Nilsagar Express by 30 minutes, Rangpur Express by an hour and ten minutes and Isha Kha Express by 45 minutes.
A passenger of the Chapai-nawabganj-bound Rajshahi Express, Helal Uddin said, "I opted for a train journey to avoid possible traffic jam on the highway. Although my train is late by more than an hour, I am happy because I will reach home in a certain time."
Shitangshu Chakrabarty, station manager at Kamalapur Railway Station, said some trains ran behind schedule due to huge pressure of passengers.
"But we don't bother about delays by 10 to 20 minutes. Safety of passengers is our main concern," he told this correspondent.
The railway minister said they were trying their best given their limited resources to take holidaymakers to their homes so that they could celebrate the Eid with their family members.
About travelling on train roofs, he said although it was illegal many people were taking the risky option. "Our people are working to make sure so that nobody can take the risk of such a journey."
BUS TRIP
Most of the buses left Gabtali terminal on time since morning.
Mohammad Titu, counter in-charge of Dhaka-Rajshahi bus operator Tisha Paribahan, said traffic was tolerable on the highways which enabled them to maintain the schedule.
Shihab Hossain Saran, an employee of a consultancy farm, left Dhaka for Gaibandha by a bus at 10:30am yesterday.
"It is unbelievable that it took me only seven hours to reach Gaibandha just about a couple of days before the Eid," Saran said.  He was mentally prepared for a 15-hour journey keeping in mind his previous experience.
However, buses from Sayedabad and Mohakhali had to endure traffic congestion at some points of the highways, said Rashidul Islam Mamun, counter master of Nabil Paribahan at Gabtali.
Some passengers complained about bus operators charging extra fares.
"I have bought two Dhaka-Gopalganj tickets for Tk 1,100 which usually costs Tk 700," said Emon, who purchased tickets of Comfort Line (Pvt) Ltd at Gabtali.
However, Anis Munshi, counter in-charge of the bus operator, refuted the allegation.
Faruk Talukder Sohel, chairman of Bangladesh Bus-Truck Owners' Association, said the overall traffic situation on the highways was good yesterday and they were able to maintain the schedules.
He said there were some problems at the Paturia terminal in Manikganj in the morning, but those were solved following intervention by police. "If the situation remains the same, we will be able to take people home smoothly," he told The Daily Star.
Passengers had to wait for around one and a half hours at the ferry terminal due to huge pressure of vehicles, especially small ones, reports our Manikganj correspondent.
The situation improved in the afternoon.
LAUNCH JOURNEY
Ninety-five launches left Dhaka till 7:30pm yesterday and the vessels were operated on 43 routes, said Alamgir Kabir, joint director of Bangladesh Inland Water Transport Authority. Forty more launches were expected to leave the capital till midnight, he added.
"There was a rush of passengers today [yesterday], but it will grow bigger tomorrow [today] after the closure of garment factories," he said.
According to him, a mobile court fined a Barguna-bound launch Tk 30,000 for overloading and a boat Tk 5,000 for loading goods on a running launch.
BUS OPERATORS FINED
A mobile court of Bangladesh Road Transport Authority yesterday closed three inter-district bus counters at Saidabad bus terminal for allegedly charging passengers extra fares.
The counters are of Himachal Paribahan (Dhaka-Brahmanbaria) and Ekushey and Royal paribahans (Dhaka-Noakhali).
The mobile court, led by Executive Magistrate Abdur Rahim Shujan, also fined Shanti Paribahan (Dhaka-Jhalakathi) and Dola Paribahan (Dhaka-Bagerhat) for the same reason.
All the operators were charging passengers an extra Tk 100 to Tk 150 for each ticket.
While visiting the Saidabad terminal in the evening, Minister Obaidul Quader informed reporters about the actions by the mobile court.