Bodi won't be spared if found guilty: Quader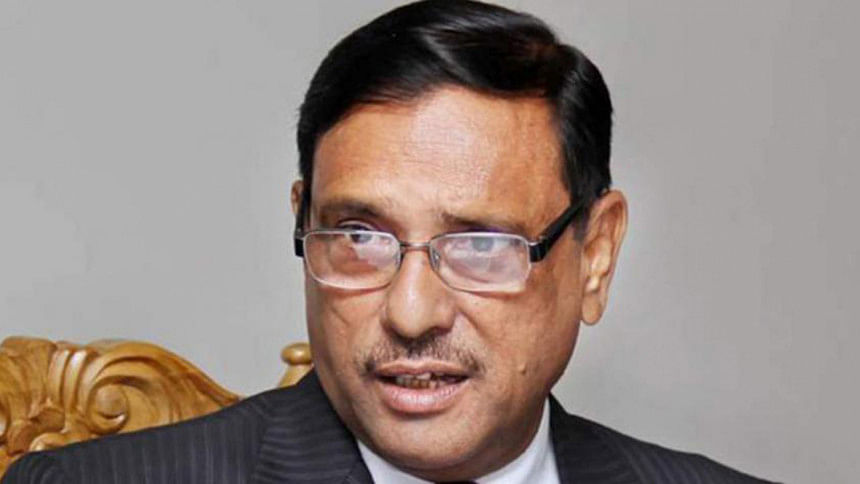 Abdur Rahman Bodi, the lawmaker from Cox's Bazar-4 (Ukhia-Teknaf), will not be spared if proof of drug dealing is found against him, Awami League General Secretary Obaidul Quader warned today.
"Bodi's distant relative Akter Kamal, a member of Sabrang Union Parishad in Teknaf, was not spared. The drug dealers will not be spared, no matter whatever the political party they belong," Quader said.
Quader, also road transport and bridges minster, came up with the warning while examining the overall condition of Nabinagar-Chandra highway at Ashulia this noon.
The body of Akter Kamal, a member of Sabrang Union Parishad in Teknaf, was found lying beside Cox's Bazar-Teknaf Marine Drive road in Darianagar area yesterday, said Monirul Islam, in-charge of Himchhari Police Outpost.
Kamal was a distant relative of local Awami League lawmaker Abdur Rahman Bodi, said locals.
The police official said Kamal, a listed yaba dealer, died from bullets wounds he sustained during a "gunfight" between two groups of yaba traders. 
Kamal is also a former president of Sabrang union Jubo League. His relatives said some plainclothes men had picked him up from Sabrang area on Thursday evening.
Claiming that the narcotic items entered Bangladesh from Myanmar and then being spread out across the country, Quader said the youths of the country are being spoiled due to drug addiction.
"Such a big scale of drive against drug traders was very imperative under the prevailing circumstances," Quader said.
Pointing finger at BNP, Quader also criticised the vested quarters as they did not become happy with the anti-narcotics drive across the country.  
'No gridlock on Dhaka-Tangail highway ahead of Eid'
Quader said there is no possibility of gridlock on the Dhaka-Tangail highway as the road condition is much better than other years ahead of Eid-ul-Fitr this year.
"The construction works have already been completed and all the potholes are also repaired on Bypile-Abdullahpur highway," said Quader.
Asked about the Nabinagar-Chandra highway, he said, "Construction work of the four-lane highway is almost done. Whatever is left will be completed before Eid."
The minister also expressed his hope that the construction work of Abdullahpur EPZ Elevated Expressway will begin this October.