Take care so that each people can enjoy Eid festivity: President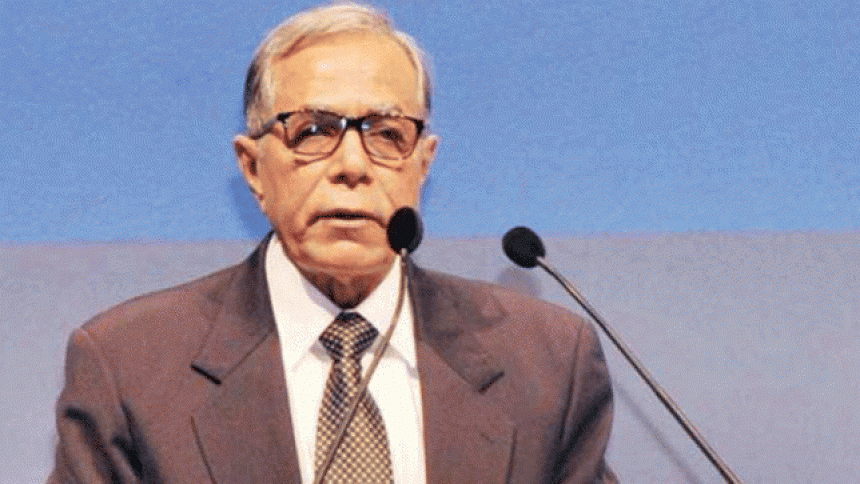 President M Abdul Hamid today urged all so that each people in the society can enjoy the festivity of the Eid-ul-Fitr, the greatest religious festival of the Muslims.
"Eid means joy. Eid-ul-Fitr brings the message of happiness after the month-long fasting and practice of self-restraint. Let the joy spread amongst all and parts of the Bengal," he said while speaking at a reception on the occasion of the holy Eid-ul-Fitr, at Bangabhaban here this morning.
The president said the appeal of Eid-ul-Fitr is unique to build a peaceful and friendly society as it brings people of all professions and classes under the same umbrella and help share the joys amongst all.
President Abdul Hamid and his wife Rashida Khanam hosted the reception that continued till noon from 10:00am.
The president also extended his greetings and good wishes to the countrymen and all the people in the world on the occasion of the holy Eid-ul-Fitr.
He said people irrespective of their classes and professions living in the big cities return to their loved ones in the villages to develop bond of harmony, amity and unity amongst themselves.
"Let the teaching of Eid-ul-Fitr spread among all people and build prosperous Bangladesh," President Hamid added.
Noting that Islam is a religion of peace and welfare, the president said, "There is no place for hatred-spite, violence and localism in Islam. Islam upholds the spirit of human values, mutual coexistence, absolute tolerance, equality and universal welfare."
He expected that the essence and inherent significance of Islam for the human emancipation would widen further and the world be filled with peace and amicable behaviors.
Speaker Dr Shirin Sharmin Chaudhury, Chief Justice Syed Mahmud Hossain, several ministers, advisers to the prime minister, members of parliament, judges, leaders of different political parties, academics, the chiefs of three services, Inspector General of Police (IGP), representatives of the business community, religious personalities, vice chancellors of different private and public universities, editors, senior journalists, artistes, high civil and military officials attended the reception.
The dean of the diplomatic corps, ambassadors and high commissioners of different countries in Bangladesh and the head of international agencies also took part in the programme.