'Tree Man'
First surgery successful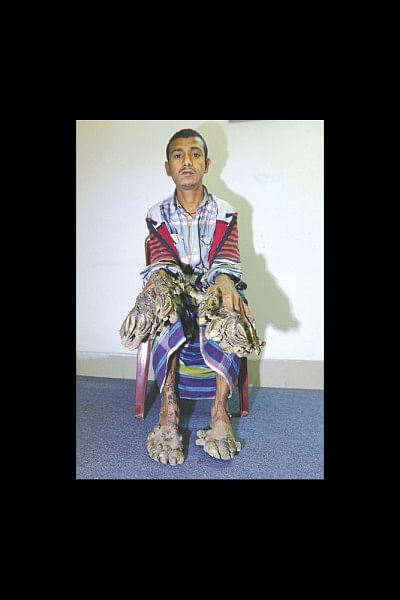 What looked like a tree trunk a day before took the shape of a human hand yesterday after doctors of Dhaka Medical College Hospital successfully conducted the first surgery on "Tree Man" Abul Bajandar's right hand.
Bajandar, 26, has been suffering from epidermodysplasia verruciformis, a rare skin disorder commonly known as the tree man illness, which covers limbs with warts, making it look like a tree branch.
With no use of his limbs, Bajandar, believed to be the fourth man in the world with tree man illness, got admitted at the National Institute of Burn and Plastic Surgery of DMCH on January 30.
Yesterday, a nine-member team of doctors performed the three-hour-long surgery that started from 9:30am, and removed the warts from all five fingers of his right hand.
"We operated on Bajandar's right hand. After three weeks, we would decide on the next operation," Samanta Lal Sen, a noted physician and coordinator of the Burn & Plastic Surgery Unit, said at a press briefing after the operation.
Since he was suffering from malnutrition, anaemia, and jaundice, we had to wait for him to be fit for the surgery, said Sen.
Diagnosis of the warts had shown that those were not cancerous, he added.
Prof Abul Kalam, head of the institute, led the team. Kalam said the decision to operate on Bajandar's left hand and clear the warts would be made after three weeks.
He said modern electronic medical equipment were used during the surgery and the bleeding was low. The doctors used regional anaesthesia. "We even had light conversation with him during the surgery."
"Since it is an inherited skin disease, there is a high risk of relapse," Kalam said, adding that samples of Bajandar's blood and saliva were sent to the US to have the genetic anomaly, that caused the condition, detected and to know if that can be treated.
If the anomaly can be identified and treated, then there would be no chance of a relapse, he added.
Bajandar's mother Amena Begum and wife Halima were happy to see and talk with him.
"It feels good that his hand is clean now," said Amena.
Sen emphasised on rehabilitation of the patient after his recovery. Warts began to develop on Bajandar's limb when he was 15.
Son of a day labourer and father of a child, Bajandar, before coming to the DMCH, had already spent about Tk 2 lakh for his treatment by borrowing from different sources.
According to information found on the Internet, a Romanian man was first diagnosed with the disease in March 2007. Another case was reported in Indonesia in November the same year in a 35-year-old fisherman. The last reported case also occurred in Indonesia in 2009.