Bone Marrow Transplant Unit at DMCH: Shortage of funds, staff making its job difficult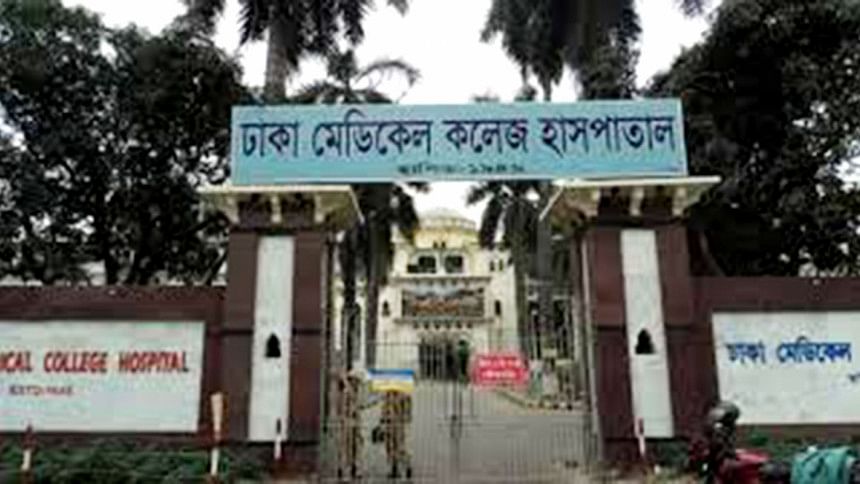 Haizur Rahman Himel, a first-year student of Bangladesh University of Engineering and Technology, might have had a very different life if not for the doctors at the Bone Marrow Transplant (BMT) unit of Dhaka Medical College Hospital (DMCH).
Haizur had been suffering from acute myeloid leukaemia, a type of cancer in the blood-forming cells of the bone marrow that could turn fatal if not treated.
However, doctors at the hospital replaced Haizur's damaged bone marrow -- the soft and spongy tissue inside the bones -- with healthy bone marrow stem cells.
Bangladesh's first BMT unit was established on October 20, 2013, following the model of US' Massachusetts General Hospital (MGH) of Harvard Medical School, making it an international standard BMT facility. 
"I am doing fine, and doing my classes," said Himel, 20, a student of civil engineering, who came from a lower middle-income family in Pirojpur.
Himel, who was diagnosed with acute myeloid leukaemia in 2012, struggled to finance his treatment. However, his family learned of the BMT facility at DMCH in 2014. They took him there and the hospital treated him at a comparatively lower cost.
"In India, the cost of my treatment would be more than Tk 25 lakh and much more in other countries. Here, we could do it for around Tk 10 lakh," he told this correspondent recently.
Himel is one of only 35 patients who availed BMT at the DMCH.
AN UNFOLDING CRISIS
However, the facility, recognised by Indian third party inspectors as the best BMT facility in South Asia in 2014, now finds itself in a crisis.
Doctors said at least nine physicians, five technologists and 75 nurses for the BMT unit have been trained in collaboration with the MGH and AK Khan Healthcare Trust.
The facility has the capacity to conduct BMT of at least 50 patients a year provided that all the logistics, machinery, maintenance and finance are arranged regularly. But, that has not been the case for DMCH's BMT unit.
"You need to have a regular flow of supplies, maintenance and the staff. Sadly, certain things are lacking here," said Professor MA Khan, head of the Department of Haematology and BMT, at the DMCH.
For example, Hepa filters, which are important to free the cabins of bacteria, need replacements at least every six months, but were not replaced for the last three years, he said.
All the six infusion pumps, a medical device used to deliver fluids into a patient's body for transplanting bone marrow, have remained dysfunctional for the past six months, the physician added.
However, an alternative is being used for the transplantations, although the infusion pumps are considered to be more effective.
"We are issuing demand letters to the health ministry every year, but in vain," MA Khan said.
The BMT Unit had a three-year contract with a maintenance company that expired. Shortage of funds is holding back the unit's maintenance works, he added.
"Cleanliness is a fundamental element in the BMT unit, but it has no regular cleaning staff. For now, the unit has borrowed four cleaners from the DMCH Burn Unit," he said.
Meanwhile, two of the physicians trained for BMT were transferred from the department, he said.
The blood cancer patients coming to the BMT unit need to stay for at least three months in Dhaka after the transplantation but they often fail to do so because they cannot afford it, MA Khan said. A dormitory is required, Prof MA Khan noted.
WHY IS IT SO IMPORTANT?
Physicians said the only treatment for various types of blood cancer and thalassemia is a bone marrow transplant.
According to Bangladesh Thalassemia Foundation, seven percent of people in Bangladesh are thalassemia carriers. Every year 7,000 new babies are born with the condition which is a very common blood disorder caused by a genetic mutation which results in defective haemoglobin production.
There are no official data about people needing bone-marrow transplants in Bangladesh but doctors say many go abroad, mostly to India and Singapore, for it.
They also said it was crucial that authorities took immediate measures and updated all the facilities required and allocated funds to fully utilise the BMT unit.
ALLOGENIC TRANSPLANTS A NEED OF THE DAY
All the bone marrow transplants conducted at the DMCH were autologus, meaning the healthy stem cells of the patients themselves were used for the transplant. 
However, the procedure is not suitable for the more critical patients of leukaemia, thalassemia and aplastic anemia. Such critical patients require allogeneic procedure needing stem cells from donors.
Dr Bimalangshu R Dey, associate professor of medicine at the MGH, Harvard Medical School, who played a critical role in establishing the BMT unit of DMCH, said many young boys and girls in Bangladesh are dying in their 20's and 30's for thalassemia though it is curable.
"We have the capacity to conduct allogeneic transplant here. We have trained physicians, nurses and technologists for allogenic transplant. However, there are some infrastructural issues to be addressed," he told The Daily Star during his recent visit to Dhaka.
The requirements for allogeneic transplant are a technical lab, a drug lab, immunological assessment, medicines, renovation of BMT cabin, patients' day-care room and third party inspection, which was supposed be done last year, he said.
"It is a matter of only a few months," Dr Bimalangshu said. 
Physicians of the BMT unit said they had a plan to start allogeneic transplant by 2017, but shortage of funds has been a serious bottleneck.
"This is the best international collaboration in the field of medical science in Bangladesh...it is our responsibility to continue the high level of cooperation for the people of Bangladesh," said Dr Bimalangshu.