Rezia walks again
For five years, she could not move as her right leg weighed 60kgs due to a rare medical condition; DMCH docs succeessfully operated on her in September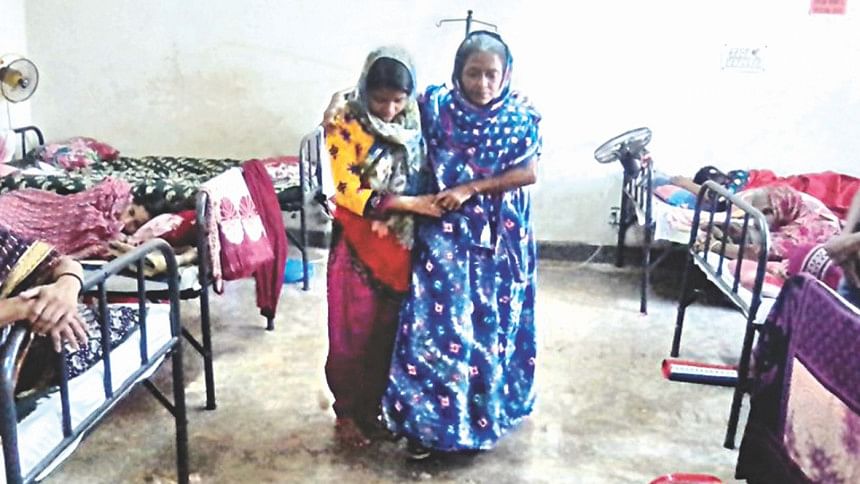 For the first time in five years, Rezia can walk.
The 40-year-old woman had been struggling with her severely swollen right leg that weighed almost 60kg for years. She did not think that she would walk again.
"It feels incredible to walk with my daughter again," she told this correspondent at Dhaka Medical College Hospital (DMCH) yesterday.
The wife of a landless farmer in Sylhet had been suffering from elephantiasis, commonly known as elephant's foot disease, doctors said.
Physicians had been able to get rid of much of the swelling through surgeries. The leg is still swollen, but doctors hope the condition would improve.
Rezia was like any other ordinary hardworking woman in her village. It was after she gave birth to her second daughter 18 years ago that she noticed something was wrong with her right leg.
The leg started to swell and at one point it rendered her unable to walk. As the conditioned worsened it took at least three people to move her.
"I was almost immobile for years. I could not even move an inch. I had been a burden on the family," she said.
Her husband, Abdul Malek, of Osmaninagar village, took her to different doctors over the last 18 years, but it helped little.
Her hopes rekindled when she heard success stories of Muktamoni and Abul Bajandar's treatment at the DMCH. Rezia was brought to the burn and plastic surgery unit of the hospital on August 22.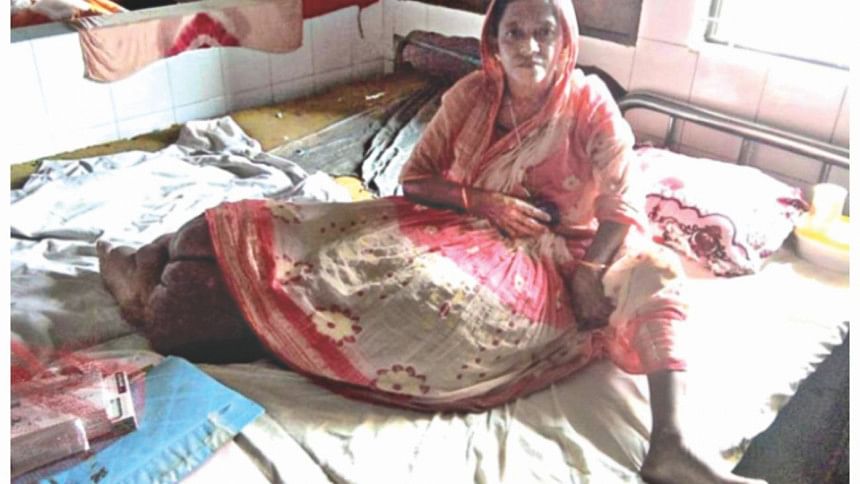 Doctors conducted a debulking surgery on her about a month later.
She had been kept at the intensive care unit for over a month after the surgery and needed 40 bags of blood.
She would go home today.
Samanta Lal Sen, national coordinator at burn units at government hospitals, said she would be able to walk with support now, and that the condition would improve.
An eleven-member medical team headed by Prof Abul Kalam conducted the surgery.
"We told her to come back after two weeks. She has to be under regular follow-ups," Sen added.
Rezia, dreaming of going back home, said, "I am not feeling any pain now. I hope I would be able to walk on my own soon."
Her daughter Shayla Akhter said most of her father's earnings were spent for her treatment over the years. Moreover, the family is in Tk 2 lakh debt now.