First phase of Biswa Ijtema begins in Tongi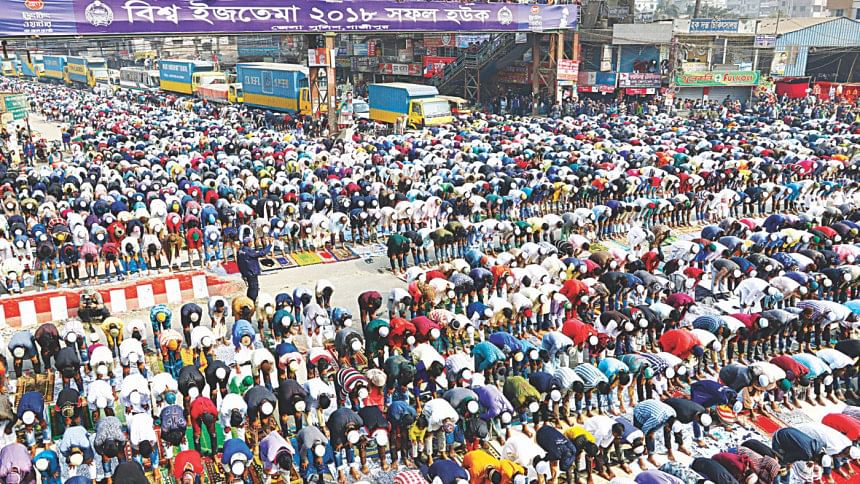 The three-day first phase of Biswa Ijtema, the second largest congregation of Muslims after Hajj, began on the banks of the Turag at Tongi after Fazr prayers yesterday.
The Ijtema began with "a'm bayan" (general sermons) by Jordanian Islamic scholar Maulana Sheikh Umar which was interpreted in Bangla by Maulana Abdul Matin, reports UNB.
Thousands of Muslims attended the Juma prayers conducted by Hafez Mohammad Jubayer, the imam of Kakrail mosque in the capital.
Maulana Mohammad Hossain gave sermons after Juma prayers and Maulana Mohammad Rabiur Haque after Maghrib prayers.
Meanwhile, a devotee, Kazi Azizul Haque from Magura's Shalikha, died at Tongi Government Hospital on Thursday night after he fell sick at the Ijtema ground.
The first phase of the 53rd Biswa Ijtema will end tomorrow with the Akheri Munajat (final prayers). The second phase of Ijtema will be held from January 19 to 21.
"Muslim devotees from 32 districts across the country will take part in the two phases of the Ijtema. The first phase will be attended by the devotees from 16 districts and devotees from the other 16 districts will attend the second phase," said engineer Gias Uddin, an organiser of the Ijtema, adds BSS.
Some 3,919 devotees from 79 foreign countries have already reached the Ijtema ground, said the deputy commissioner of Gazipur.
Police have taken a five-tier security measure to ensure safety of the devotees.
Besides, special measures have been taken to ease the traffic. Some 50 CCTVs have been installed to monitor the situation in and around the Ijtema venue.
Meanwhile, Bangladesh Railway has made arrangements to operate special trains on different routes of the country to facilitate the movement of the devotees.
Earlier, a problem arose over the joining of Indian scholar Maulana Saad Kandhalvi in the first phase of the Ijtema.
In the face of stern opposition from a faction of Tabligh Jamaat, it was decided at a home ministry meeting on Thursday that Maulana Saad would not join the Ijtema.
On Wednesday, the demonstrators, mostly belonging to radical Islamist group Hefajat-e Islam-run Qawmi madrasas, blocked the busy Airport Road to protest his arrival. They also chanted slogans against him for what they claimed were his "controversial comments about the Koran and Sunnah" to audiences in India.
The Biswa Ijtema is being arranged by the Turag since 1967.