Second phase of Biswa Ijtema underway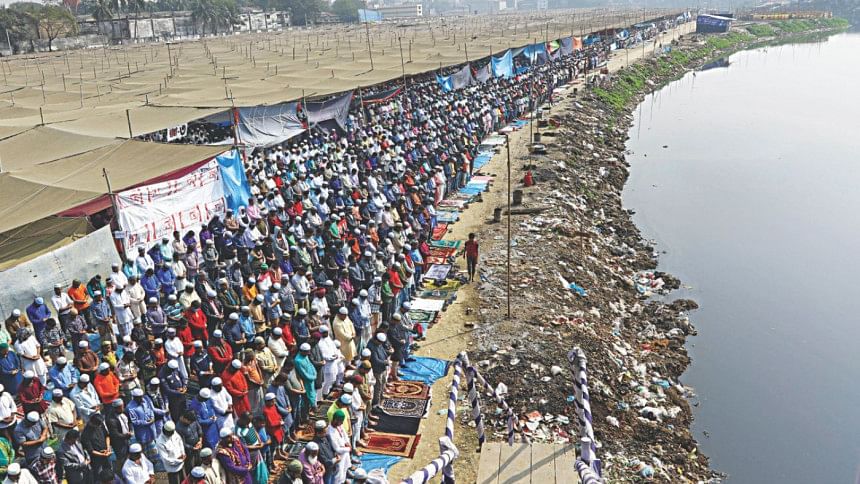 Prayers and sermons marked the first day of Biswa Ijtema, one of the largest congregations of the Muslims, as it began on the Turag in Tongi yesterday morning.
Thousands of devotees from home and abroad are taking part in the second phase of the congregation this year. The banks of the Turag, around 20-km off the capital, turned into a human sea as they assembled for Juma prayers conducted by Hafej Mohammad Jobayer, the imam of Kakrail Mosque.
This year's first phase of the Ijtema concluded with the Akheri Munajat (final prayers) on January 14, while the second and final phase will end tomorrow.
Visiting the Ijtema ground yesterday, Home Minister Asaduzzaman Khan said they have ensured all kinds of security arrangements.
Talking to journalists at Shaheed Ahsanullah Master Stadium in Gazipur, the minister said more than 4,000 foreign devotees were taking part in the Ijtema.
The Tabligh Jamaat has been organising the annual programme since 1946.
The three-day congregation will see delivery of sermons on fundamental matters of Tabligh, prayers for spiritual adulation, exaltation and welfare of the Muslim Ummah, recitation from the holy Quran and Hadith.
As the Ijtema committee last year decided to hold the event in four phases in two years, devotees of 32 districts attended the Ijtema in two phases last year and those from other districts are taking part in the congregation this year.
Among the districts participating in the final phase are Dhaka, Jamalpur, Faridpur, Kurigram, Sunamganj, Comilla, Feni, Rajshahi, Thakurgaon, Pirojpur, Khulna, Chuadanga and Jhenidah.
Thousands of volunteers are working round the clock to ensure smooth management of the event. A good number of law enforcers have been deployed at the venue.
Observation towers and CCTV cameras have been installed to keep  the venue under surveillance. Besides, special measures have been taken to ensure uninterrupted power supply.