Malaysian devotee dies at Biswa Ijtema
Ijtema moves into 2nd day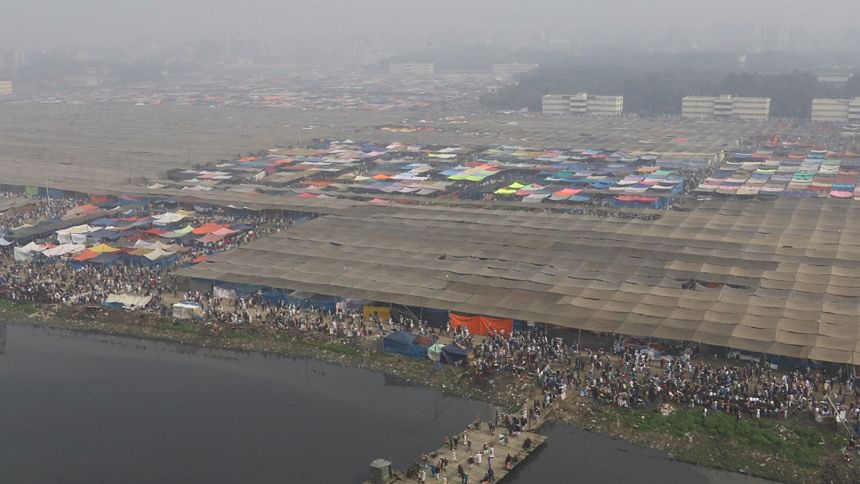 A Malaysian devotee died at Biswa Ijtema ground in Tongi on Friday night.
Giyas Uddian, another devotee, said Nurhan Bin Abdur Rahman, hailing from Malaysia, fell sick on completion of his ablution for players at night.
He later died on the way to hospital.
Ijtema moves into 2nd day   
The first phase of Biswa Ijtema entered the second day today at Tongi on the outskirts of Dhaka.
The three-day Ijtema, the second largest congregation of Muslims after the hajj, began after Fazr prayers on Friday.
Thousands of devotees, both from home and abroad, have gathered at the congregation venue, and are taking part in prayers and discussions.
Many of them offered prayers on roads and footpaths having failed to manage places at the Ijtema venue, disrupting traffic on Dhaka-Mymensingh highway.
The first phase of the Ijtema will end tomorrow (Sunday) with the Akheri Munajat (concluding prayers).
Maulana Md Zubayer, the Imam of Kakrail Mosque here, will conduct the Akheri Munajat, said the Ijtemaorganisers.
Meanwhile, two devotees, including a Malaysian citizen, have so far died at the Ijtema ground on Thursday and Friday due to old-age complications and illness.
The second phase of Ijtema will be held from January 19 to 21.
Tabligh Jamaat has been organising the Ijtema at the venue since 1967. But, the Ijtema is held in two phases since 2011 to ease the accommodation problem.