Fear of Fatal Fungal Disease: Wheat cultivation withheld in 8 dists
Tight screening of seeds used in other districts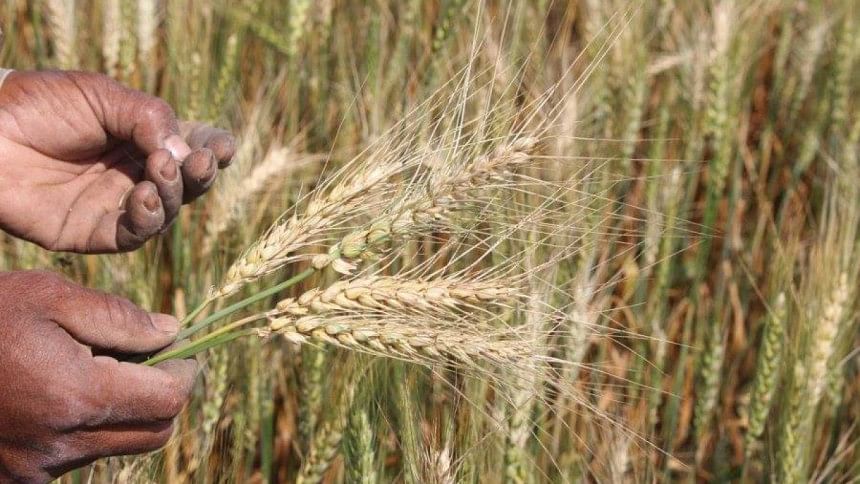 This season, the government is withholding wheat cultivation in eight south and southwestern districts to prevent the recurrence of wheat blast. The districts were hit hard by the fungal disease last season.
And some 60,000 metric tonnes (MT) of seeds, which are to be sowed in 23 other wheat-growing districts from early this month, are currently going through a screening process to check fungi resurgence in new areas.
Talking to The Daily Star, officials at the Ministry of Agriculture, Department of Agricultural Extension and Wheat Research Centre have confirmed that there would be no supply of seeds and demonstration plots of wheat in Jessore, Kushtia, Chuadanga, Meherpur, Jhenidah, Magura, Barisal and Bhola this season beginning this month.
And wheat growers in these districts would be encouraged to go for alternative winter crops like maize, oilseeds and pulses, the officials said.
The first ever attack of wheat blast in Bangladesh cost the country a financial loss of at least Tk 1,800 crore in terms of lost yield last season, said Prof Dr M Bahadur Meah, a preeminent plant pathologist who heads the national core committee of experts that the government had formed in the aftermath of the fungal disease. 
The blast affected over one lakh hectares of wheat fields in the eight districts, causing up to 40 percent of crop damage.
Caused by a fungus -- Magnaporthe oryzae -- wheat blast is one of the most fearsome and intractable wheat diseases in recent decades, according to the International Maize and Wheat Improvement Center (CIMMYT).
Mostly confined within the continent of South America since 1985, the disease's attack in Bangladeshi wheat fields last season was the first case of wheat blast in Asia. The blast directly strikes the ears of wheat and can shrivel and deform the grain in less than a week from the first symptoms are noticed, leaving farmers no time to act.
The blast attack came at a time when wheat production in Bangladesh had just started picking up to 13 lakh MT in two previous years after remaining stagnant at as low as 8 to 9 lakh MT for past one decade. 
Better wheat breeds developed by Wheat Research Centre (WRC) contributed a lot in increasing domestic wheat output in recent years. Yet, Bangladesh has to import as high as 40 lakh MT of wheat from the international market to meet growing domestic demand.
Wheat production had hit a record high at 19.08 lakh MT in fiscal 1998-99. But later the acreage and production began to fall gradually as many farmers shifted to other winter crops like maize, potato and vegetables that promised higher profits.
Agriculture Minister Matia Chowdhury told The Daily Star that the government would ask farmers in last season's affected districts not to cultivate wheat in the coming season. Meanwhile, she said, process is underway to turn the WRC into an independent institute having the mandate to develop varieties resistant to wheat blast. 
In the aftermath of blast attack in Bangladesh's wheat fields, world's premier wheat and maize research institute, Mexico-based CIMMYT, feared that, "The consequences of a wider outbreak in South Asia could be devastating to a region of 300 million undernourished people, whose inhabitants consume over 100 million tonnes of wheat each year."
CIMMYT Director General Martin Kropff also visited Bangladesh for a better understanding of wheat blast's first Asia attack.
Naresh Chandra Deb Barma, director of the country's lone public sector Wheat Research Centre in Dinajpur, told The Daily Star that farmers in last season's wheat blast affected areas are being advised not to go for wheat in this November. Besides, he said, farmers are being made aware in other wheat growing regions about treating seeds with fungicides, and not to sow wheat late.
The WRC director explained that last time weather was erratic in February with high temperature and too much of rainfall, creating conducive environment for dormant fungi to attack the late-sowed wheat at flowering stage.
Prof Dr M Bahadur Meah, who teaches plant pathology at Bangladesh Agricultural University (BAU), Mymensingh, and heads the wheat blast advisory body, also insisted that the government agencies must ensure wheat growers do not sow the seeds beyond November 20 to minimise blast recurrence probability.
Field Service Wing's Director of the Department of Agricultural Extension (DAE) Chaitanya Kumar Das told The Daily Star that seeds are not supplied or extension services are not being provided for wheat in this season in last season's affected districts. Rather, he said, the farmers are being motivated to do alternate crops for a change.
He said seed samples, collected from government agencies as well as farmers' saved ones, from across the country have been sent to BAU for screening to ensure those are free of fungus (Magnaporthe oryzae).
General Manager (Seed) of Bangladesh Agricultural Development Corporation (BADC) told this correspondent that treating seeds with fungicides would help farmers protect their wheat fields from blast attacks.  
Wheat growers meet up two-third of 60,000 MT annual seeds requirements from the ones that they themselves save in their stock while BADC provides the remaining one-third.
In a paper published in the August issue of Plant Disease, an American Phytopathological Society journal, said a lab test carried out by the United States Department of Agriculture (USDA) confirmed that Bangladesh's affected wheat samples had fungus of South America identity.
CIMMYT Bangladesh Representative TP Tiwari and WRC scientists PK Malaker and Naresh Chandra Deb Barma along with other researchers coauthored the paper.
Published in British journal BMC Biology last month, another paper, coauthored by 31 renowned scientists, researchers and experts from across the world, also stated that the blast emergence in Bangladesh was caused by a South American lineage.
M Tofazzal Islam, one of the authors, who teaches biotechnology at Bangabandhu Sheikh Mujibur Rahman Agricultural University, told The Daily Star that emphasis needs to be given on developing wheat varieties resistant to blast-causing fungi.