Another RU Teacher Killed
Enemy of none, lover of sitar
Say family, colleagues; he never spoke against religion; 'IS claims responsibility'; 4th RU teacher killed in 12yrs; cops see blogger-killing hallmark
He was a sitar player.
All his life, he was devoted to music, culture and peace.
His family members and colleagues don't believe he had enmity with anyone. He never said or wrote anything against any religion or hurt anybody's religious sentiment.
Yet, Prof AFM Rezaul Karim Siddiquee of Rajshahi University was brutally murdered in the city's Shalbagan area yesterday in an attack that police say bears the hallmark of the previous blogger killings.
The 58-year-old professor of English was on his way to the university when he was pushed to the ground from behind and hit in the neck with a scissor-like sharp weapon about 7:40am, police say.
Two killers reportedly came on a bike when the teacher was waiting for his university bus. It took them less than a minute to complete their mission. They sped away, taking the weapons with them, according to police and witnesses.
Prof Rezaul, who was in white check shirt and blue pants, died on the spot. He was almost beheaded.
The body, recovered by police at 11:00am, was sent to Rajshahi Medical College for autopsy.
The attack follows the killing of another RU teacher, Prof KM Shafiul Islam of sociology department. He was stabbed dead near his residence on November 15, 2014.
Shafiul too was an avid music lover. A follower of mystic bard Lalon, he used to invite Baul singers to his house every week.
Two other RU teachers -- Prof Muhammad Yunus of economics and Prof S Taher Ahmed of geology and mining -- were killed on December 24, 2004 and on February 1, 2006.
An unknown group, calling itself Mujahideen fi Sabilillah, had claimed responsibility for Shafiul's murder in a post on its Facebook page Ansar Al Islam Bangladesh-2.
Given three hours after the murder, the post had also warned "atheists" of similar consequences.
This time, militant group Islamic State claimed responsibility for the attack on Prof Rezaul, according to US-based SITE Intelligence Group.
"#ISIS' 'Amaq Agency reported the group's responsibility for killing Rajshahi Univ. prof Rezaul Karim for "calling to atheism" in #Bangladesh," SITE tweeted at 4:49pm.
Prof Rezaul, however, is known to have never written or spoken anything propagating atheism. 
Some colleagues told The Daily Star that he could have been targeted by extremists since his work promoted folk music and culture in his village.
"He used to organise folk music programmes in his Dargamaria village under Bagmara upazila, once a nest of militants," said a teacher.
Prof M Shahidullah, president of Rajshahi University Teachers Association, said, "It is beyond our imagination that he can be a victim of such gruesome killing. He was never engaged in writing against any person or religion."
Another colleague, Prof Ananda Kumar Saha, said, "Rezaul never engaged in any type of argument regarding any political or religious affairs".
According to people of Dargamaria, Rezaul contributed to building of a mosque and a madrasa in the village. He also established a music school for kids there. 
Rezaul's brother Sazedul Karim Siddiquee, an upazila education officer of Shingra, Natore, rushed to the scene hearing the news. He told reporters that Rezaul was a progressive-minded person but had no affiliation with any political party.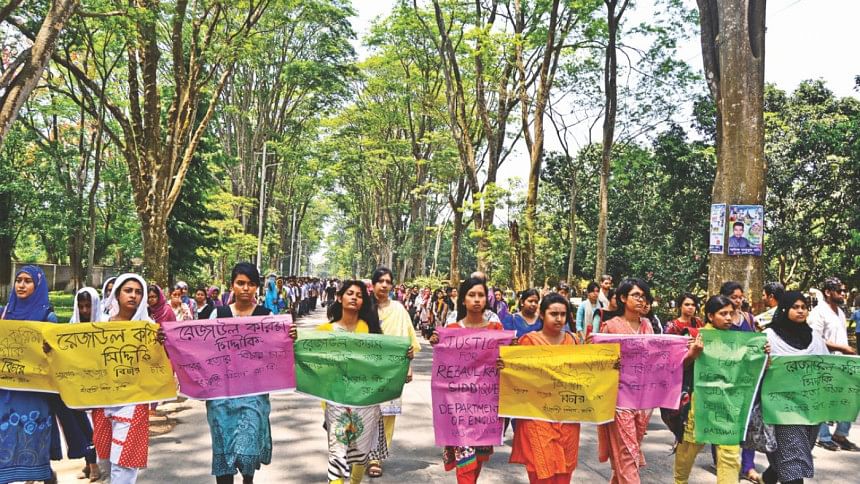 The killing sparked off angry protest on the RU campus.
Hundreds of teachers and students took to the streets with placards and banners protesting the murder.
They blocked Dhaka-Rajshahi highway for 30 minutes while teachers cancelled all classes, demanding immediate arrest of the killers.
The teachers association announced a three-day boycott of classes and exams from today. 
Agitating teachers said the murder of Rezaul was the result of authorities' failure to arrest and try the killers of three other teachers.
They also alleged that police poorly handled the murder cases. Sometimes law enforcers tried to cook up stories, adding political colours, instead of finding out the real culprits.
For example, they said police after monitoring Facebook pages and posts arrested three suspected militants from Bogra in connection with the Shafiul murder.
On the other hand, Rab arrested six members of BNP and its front organisations from Rajshahi. At a press briefing, Rab members claimed the arrested ones "confessed" their link to Shafiul killing.
However, the BNP men in court denied their involvement, saying they were forced to confess their link while in the Rab custody.
Visiting the spot around one hour after the murder of Rezaul, this correspondent saw the victim lying in a pool of blood with his face down near the wall of a three-storey building, some 10 yards from the Rajshahi-Naogaon highway in front of Shalbagan Bazar.
A young girl living near the spot said, "I rushed to the veranda hearing a hue and cry. I saw a man lying upside down with blood sprayed on the wall and ground."
Talking to The Daily Star, Rajshahi Metropolitan Police Commissioner M Shamsuddin said, "His injury was similar to those the bloggers sustained."
Earlier this month, Nazim Uddin Samad, a secularist online activist, was hacked and shot to death in the capital.
And four bloggers and a publisher were brutally murdered last year. It is believed that they all came under attacks because of their writings and views against religious bigotry.
Reacting to the killing of Prof Rezaul, Amnesty International said the attackers must be brought to book.
Champa Patel, Amnesty International's South Asia director, said, "The vicious killing of Rezaul Karim Siddiquee is inexcusable and those responsible must be held to account."
"This attack sadly fits the gruesome pattern established by Islamist extremist groups in Bangladesh who are targeting secular activists and writers."
The authorities must do more to put an end to these killings, Patel said.
"Not a single person has been brought to justice for the attacks over the past year," she pointed out in her statement.
SITAR FALLS SILENT
"Reading books and playing Sitar were his life," said the victim's wife Hosne Ara Shira at her house.
"He was dedicated to music and cultural activities. Who would kill him? He was so good as a father and a husband."
At the victim's house, there was a sitar on the bed of Rezaul. There were some other musical instruments like harmonium and dugi-tabla in his room.
"He had a great fascination for sitar from the very beginning of his life," the slain professor's son Riyasat Imtiaz Sourav quoted his grandfather as saying.
As if he was talking to the sitar, taking it in his hands, Sourav said, "How can you lose your best friend? Can you say who killed your best friend?" 
Sourav's sister Rizwana Hasin Shotovi said her father used to play sitar almost every night before sleep. "Whenever I felt bored, my father played sitar for me. Who will play it for me now?" she said as tears rolled down her cheeks.
Prof Rezaul's sister Jahanara Begum, headmistress of Dorgamaria Government Primary School, said her brother came to the village quite often. He loved children. Roaming here and there, he collected folk music and took photos.
According to villagers, Rezaul was an "open-minded person". He organised kite festival and sports competition in village. He paid winners from his pocket.
Rezaul joined RU in 1983. He was the founder president of Komolgandhar, a cultural organisation of youths, and an adviser to RU-based cultural organisation Arani Sangskritik Sangsad.
He published a journal on behalf of Komolgandhar to promote cultural activities.
His son filed a murder case with Boalia Police Station accusing unnamed persons.
Rajshahi police formed a six-member team headed by the additional commissioner to monitor the murder probe.