Attackers free, victims in fear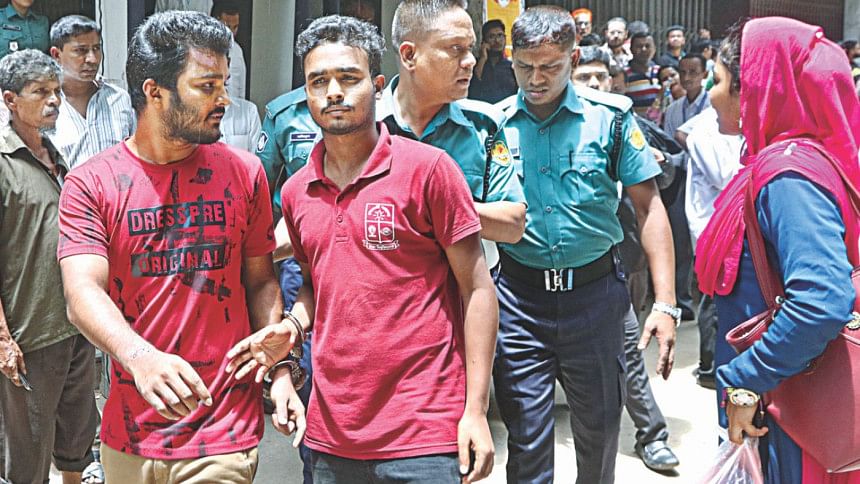 BCL men have attacked quota reformists at least 13 times in the last three months, injuring around 68 students of four universities. But neither police nor the university authorities took action against any of the attackers.
What's even worse is some of the injured were arrested by police or allegedly driven out of hospitals while the perpetrators roamed freely on the campuses.
Some central quota reform leaders were allegedly picked up by members of Bangladesh Chhatra League and handed over to police. They were shown arrested in different cases and sent to remand.
Besides, the authorities of those universities are apparently treating the quota reformists as trouble-makers, leaving them in fear of further assault and arrest.
On July 2, Toriqul Islam, a Rajshahi University student, was brutally beaten up with a hammer, a dagger and bamboo sticks in front of the RU main gate.
The Daily Star published a report on Monday identifying 11 of the attackers, 10 of them leaders and activists of the pro-Awami League student organisation.
Shocking images of the incident are still doing the rounds in social media. It happened in broad daylight and several policemen, some of whom later took a bleeding Toriqul to hospital, were nearby during the incident.   
Yet the officer-in-charge of nearby Motihar Police Station says the student was hurt in a "mere scuffle" with some members of the public. Asked if police took any action against the attackers, the OC said they did not because the victim was yet to file any complaint.
On condition of anonymity, a top official of Rajshahi police told this newspaper that no officer wants to put his career at stake by filing a case against BCL men.
Asked what steps he would take against the attackers, RU VC M Abdus Sobhan yesterday said he was now in Dhaka and didn't see the news report. He then hung up the phone.
This correspondent contacted RU Proctor Lutfor Rahman and wanted to know what he was doing about it. "I told you earlier and again I am saying that the incident took place outside the campus, and so it is the responsibly of police," he said in reply.
When told that it was his students who were involved in the incident, he said, "The victim didn't file any complaint yet." 
According to Barrister Jyotirmoy Barua, it's not necessary that the victim himself has to file an FIR when any cognisable offence has taken place.
"The police can file an FIR relating to any cognisable offence. In such instances, a police officer has the authority to make an arrest without a warrant and start an investigation with or without the permission of a court."
The Supreme Court lawyer explained, "Let's assume that a police officer was beaten up with a bamboo stick and got killed. And his poor family didn't go to a police station to file a case. Does that mean police would not take any action?
"What's most important is whether you [police] are informed about the crime or not. If you are informed that a crime has taken place, you will take action."
About the inaction of the university authorities, he said, "If your student commits any murder or rape but no complaint is filed, wouldn't you take action?"
On the role of RU proctor, Jyotirmoy said, "The protector claimed the university authorities cannot take action as the incident took place outside the campus, and again he said he would take action if the victim files a complaint."
That means his first argument is flawed, he added.
With the authorities turning a blind eye or showing reluctance to take action, most of the quota reform leaders have left the campuses fearing further attacks and harassment.
"Many of us like me are staying outside the campus. We did nothing wrong. But those so-called BCL leaders who beat us up like dogs are moving freely on the campus," said a quota movement organiser of RU, wishing not to be named.
At Dhaka University, BCL activists swooped on quota reformists at least four times. Three attacks were carried out in three consecutive days from June 30.
The first attack took place when the quota reform leaders were preparing for a prescheduled press conference in front of the DU Central Library. It left seven injured.
Nurul Haq Nur, a joint convener of Bangladesh Sadharan Chhatra Adhikar Sangrakkhan Parishad, was beaten up mercilessly and taken to Dhaka Medical College Hospital where he was denied treatment.
While under treatment at a private hospital, he was allegedly forced to leave the hospital in the dead of night on July 2.
Four quota protesters were beaten up in front of the National Museum at Shahbagh on July 1.
The next day, the BCL men appeared more aggressive when they beat up the protesters who gathered on the Central Shaheed Minar premises to form a human chain.
They picked up Faruk Hassan, a demonstrator, and handed him over to Shahbagh Police Station. Before the attack, three on-duty police members were found leaving the Shaheed Minar seeing the BCL men.
Later, a female protester, Moriom Mannan Farah, alleged at a press conference that she was also physically assaulted by a group of youths who picked her up from the Shaheed Minar area on that day and handed her over to the Shahbagh Police Station. She also described awful harassment in police custody.
Earlier on May 16, some BCL men allegedly threatened Nur and Muhammad Rashed Khan, another joint convener of the platform, with death.
They immediately contacted the DU proctor and dialled the national emergency helpline (999), but the proctor did nothing to those BCL men and only asked the hall provost to visit Nur's room at Muhsin hall.
The next day, they went to Shahbagh Police Station to file a general diary but police refused to register any complaint.
Instead of taking steps against the errant BCL men, the university administration is allegedly asking students to stay away from quota protests.     
"Our provost asked us not to take part in the quota reform movement," a female protester and resident of a DU hall, told The Daily Star yesterday.
"The provost said he won't take any responsibility for any untoward situation and that the hall authorities are under pressure."
Contacted, DU Proctor AKM Golam Rabbani, said, "When we, the university authorities, consider taking any action, we do not serve the purpose of any orgainsation. We are here to serve the general students."
He added, "A seven-member probe body led by a pro-vice chancellor has been formed. It will look into the matters. You have to wait until the probe is over."
In Chittagong University, at least five quota reformists and a campus correspondent came under attacks by the pro-government student body in the last three months and many others received threats on Facebook.
CU Proctor Ali Asgar Chowdhury said they did not get any complaint from any student. Belal Mohammad Jahangir, officer-in-charge of Hathazari Police Station, echoed the same.
Terming the present quota reform movement illogical, the proctor said those who want to hamper development initiatives of the incumbent government and those involved in Jamaat-Shibir politics have been trying to create unrest on the campus in the name of movement.
Quota reformists at Jahangirnagar University came under attacks at least four times since April.
One of the incidents took place on April 11 in the presence of Vice Chancellor Prof Farzana Islam and other teachers, as 40 to 50 BCL men led by JU BCL President Jewel Rana and General Secretary SM Abu Sufian swooped on the protesters with sticks, injuring at least 15.
JU Proctor Shikder Md Zulkarnine then said steps will be taken after analysing footage of the incident. But there is no visible action till date.
This correspondent could not contact Inspector General of Police Javed Patwary despite several attempts yesterday.
Masudur Rahman, deputy commissioner (media) of DMP, denied the allegation against police of bias. Asked about the allegation brought by Moriom, he said they will probe it if there is a written complaint.  
Saifur Rahman Sohag and SM Jakir Hossain, president and general secretary of BCL central committee, could not be reached over the phone last night. 
In April, students of public and private universities across the country took to the streets demanding reforms in the quota system.
In the wake of the protests, Prime Minister Sheikh Hasina in parliamentary on April 11 announced abolishing quotas.
After the government's failure to issue a gazette notification on the PM's announcement, the quota reform platform on May 14 started an indefinite boycott of classes and examinations at all universities and colleges.
They issued an ultimatum for the publication of the notification by May 13.
On May 21, they postponed their decision of boycotting examinations considering the month of Ramadan and at the prospect of "session jams" caused by the strike.
However, on June 26, the PM suggested continuation of the existing freedom fighter quota in civil service.
SWISS, DUTCH MISSIONS CONCERNED
The Switzerland and Dutch embassies in Dhaka yesterday expressed concerns over the recent attacks on peaceful demonstrations in the capital and other cities, reports UNB.
"The Embassy of Switzerland observes with great concern the recent attacks on peaceful demonstrations in Dhaka and other cities," reads a message on the embassy's official Facebook page.
The Dutch embassy in a separate message says it has noted with great concern the recent attacks on people exercising their right to engage in peaceful protests.
Protection of these rights is a cornerstone of the Netherlands' foreign policy and their engagement with partners, including Bangladesh, it says in a Facebook post.
[Our DU, RU, CU and JU correspondents contributed to this report]