Editorial
Give proper treatment to Toriqul
Everyone is entitled to medical care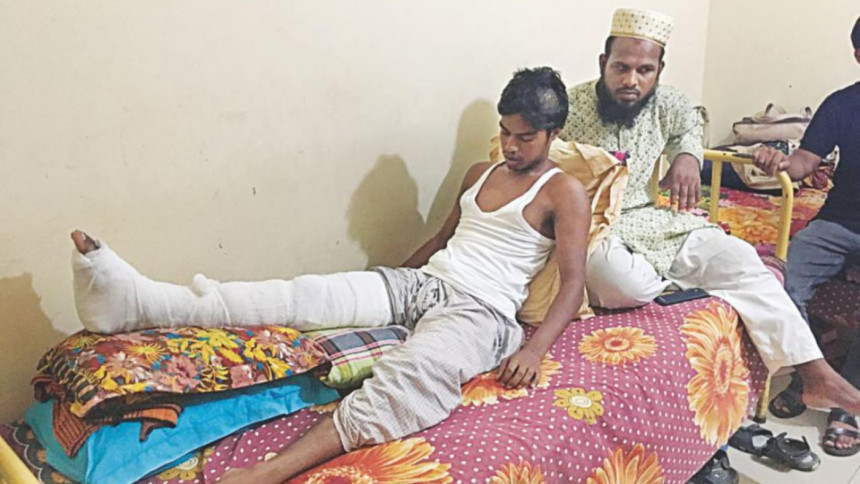 We join our voice with Toriqul's family to request the prime minister to come to the aid of this suffering young man and to help him get the necessary medical treatment for his broken leg and other injuries, inflicted upon him by BCL men who attacked him with hammers, sticks and other weapons. Toriqul is a victim of a crime and the terrible ordeal that he and his family are going through right now in trying to get him the treatment that he needs is an injustice on top of an injustice.
It is the right of every human being in any civilised society to receive proper medical care. That someone would be denied such a right for protesting is simply unheard of and should have never happened. It goes beyond belief that a hospital would refuse to provide treatment to a patient, or kick him out, leading to his injuries aggravating because of him having to move from one hospital to the next.
As this newspaper reported, bearing the cost of Toriqul's treatment has been hard enough for his family and friends as it is, without the added difficulty of hospitals refusing to give him treatment and BCL men visiting his home to interrogate his family. Given all that this young man has already been put through, helping him and his family now is the least that the government can do.
It should be remembered that this incident will greatly affect our image as a nation. As a society, our national ethos is displayed on occasions like this, which is why it is so important for the government to step up and help Toriqul and his family.