Dengue cause for alarm now
Cases of the mosquito-borne fever five times that of last year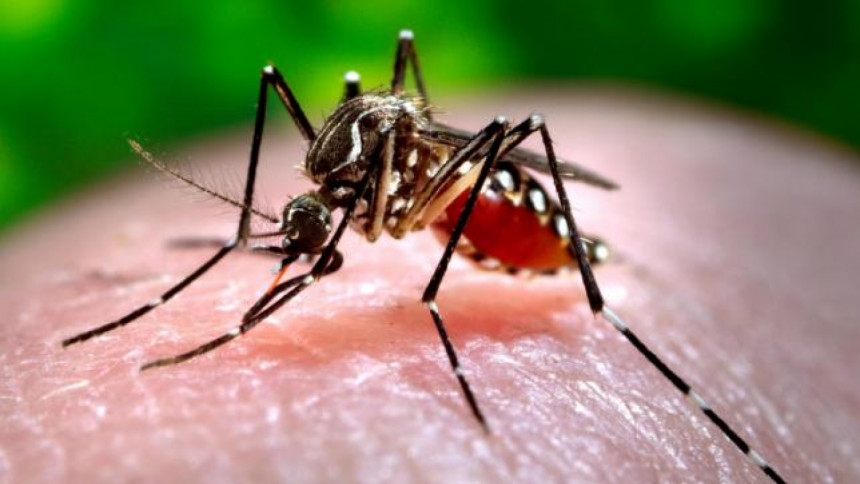 The number of recorded dengue fever cases in May and June was more than five times that of the corresponding months of last year, and things are getting even worse.
Only 347 people were infected in the two months of last year, but this year 1,864 got infected in May and June, according to Directorate General of Health Services (DGHS).
What's more alarming is that in the entire month of July last year at least 946 people were infected but only nine days into this month, 1,182 people have already been diagnosed with dengue.
Three people have died of dengue so far this year.
However, Dhaka South City Corporation Mayor Sayeed Khokon yesterday sought to played it down.
The situation "is under control", he said, adding that there was no reason for panic.
Admitting that infection rate was higher this year, Khokon citing the Health Department said about 2,100 patients came from outside Dhaka to get treatment for dengue in the last few months and over 1,800 of them were cured.
"The medicines we are using to kill the mosquitos are slightly less effective than promised ... overall, the outbreak is relatively higher," he told reporters after attending a workshop at the Sonargaon Hotel.
"Such stats prove that dengue has not become an epidemic. Otherwise, we would have informed the people," he said, adding that mobile medical teams would be active in city wards from July 15 to treat patients for free.
Health and Family Welfare Minister Zahid Maleque yesterday said, "As dengue outbreak is a little worse this year than previous years … I would like to advise people to take the necessary measures on their own to save themselves from the mosquito-borne disease."
He told journalists this after a meeting at his ministry's conference room.
People are getting admitted to different hospitals with mosquito-related diseases, especially dengue fever, as mosquito breeding has increased this rainy season, he said.
Authorities of all hospitals concerned have been given directives to take necessary measures to combat dengue, he said, adding, "Our doctors and nurses have been informed and trained to this end so that they can treat patients properly."
The minister also urged city corporation officials to intensify mosquito control and cleanliness drive in the city to protect the city dwellers from the mosquito menace.
Experts, however, blamed intermittent showers and lack of proper cleaning of areas for the increased dengue infections.
The disease sometimes turns into myocarditis, also known as inflammatory cardiomyopathy, and this has been a cause for concern since last year.
Prof Mahmudur Rahman, former director of Institute of Epidemiology, Disease Control and Research (IEDCR), said myocarditis affects the lungs and hearts within a short time.
Myocarditis causes inflammation of heart muscles, and complications may lead to cardiac arrest.
Prof Mahmudur said a study on this was of great importance since some dengue patients suffered myocarditis last year.
MM Akhtaruzzaman, manager of the malaria and dengue programme at the DGHS, said they have found patients who were suffering from myocarditis that changes the way kidneys and liver function. "But there is no need to panic if one is infected with dengue. It is a viral fever, and fluid therapy is very important."
He urged patients to see only registered doctors and to go to registered clinics and hospitals. "We have trained 1,800 doctors on dengue management this year."
HM Nazmul Ahsan, associate professor at the Shaheed Suhrawardy Medical Hospital, said a new serotype of dengue has been seen in Bangladesh since last year.
He said three serotypes were found in a 2017 survey. Ninety percent of the infections were of serotype-2. But last year the number of serotype-3 cases was higher than others and this year it is likely to be the same as last year, he said.
Serotype-2 and -3 are dangerous for Asian people, he said. "What makes this dangerous is that we now have more chances of cross infection of dengue. Suppose you have type-1 and the next time you get type-2 or type-3, this increases the risk of fatality manifolds," he said.
Such cross infections lead to haemorrhagic dengue, in which patients bleed from organs.
DENGUE
Dengue fever is a mosquito-borne tropical viral disease. Typically, symptoms, including fever, headache, vomiting, muscle and joint pains, and skin rash, start to show three to 14 days after infection from mosquito bites.
Dengue cases have grown dramatically around the world in recent decades. An estimated 3.9 billion people in 128 countries are at risk of dengue infection, according to the World Health Organisation.
Across the globe, the number of cases reported increased to 3.2 million in 2015 from 2.2 million in 2010.
Sanya Tahmina, line director (communicable disease control) at the DGHS, said the number of deaths in Bangladesh this year was still lower than that in countries like the Philippines, Indonesia, and Thailand.
In Malaysia, 46,607 people were infected and 74 died as of May 11. In the Philippines, 72,076 were infected and 300 died as of May 4. Until June 11, 26,000 people were infected in Thailand and 41 of them died. In Vietnam 59,959 people were infected and four died as of May 23. In India, 6,807 people were infected and seven died until June 24, she said.
It is very important to destroy Aedes mosquitoes to reduce the number of infections, she said.
DENGUE IN BANGLADESH
The first case of dengue in Bangladesh was recorded in 2000. Until 2018, at least 50,176 people suffered from the fever and 296 died. Most of the patients were from Dhaka or its neighbouring districts and they took treatment in hospitals and clinics in the capital, according to the directorate of health.
The number of patients exceeded 6,000 a year only three times in the last 18 years -- 6,232 in 2002, 6,060 in 2016, and 10,148 last year.
Experts at the Institute of Epidemiology, Disease Control and Research (IEDCR) said Aedes aegypti, which also carries chikungunya, Zika, and yellow fever viruses, spreads all three serotypes of dengue. Once detected in a country, the virus never goes away, they said.