Death count tops 100 in 15 days
12 more 'drug dealers' killed in 'shootouts'; number of arrestees crosses 10,000 as raids continue
So-called shootouts in the ongoing anti-narcotics drive keep claiming lives with the number of deaths standing at 108 until last night.
Twelve more alleged drug dealers were killed in Dhaka and eight other districts yesterday.
Although the "extrajudicial killings" in the "gunfights", mostly involving law enforcers, are drawing criticisms from rights activists, the police headquarters yesterday extended their 10-day special anti-drug drive, beginning on the first day of Ramadan on May 18, until further notice.
The Rab drive has also been continuing since May 4, raising concerns that the number of the "shootout victims" may rise.
During the nationwide drive for the last 15 days, law enforcers have arrested around 10,000 people over their alleged involvement in drug peddling while mobile courts have jailed and fined at least 3,276 others.
Of the arrestees, 70 were held by police in drives in Uttara and Lalbagh areas of the capital yesterday. 
Law enforcers also claimed to have seized around 23 lakh yaba tablets, 2,700 kgs of cannabis, 23,000 bottles of phensedyl, 26kgs of heroin, and 2,08,000 litres of local liquor.
Yesterday, two alleged drug dealers were killed in Comilla and two others in Kushtia while one each in Dhaka, Mymensingh, Thakurgaon and Borguna in what law enforcers said were gunfights with them.
Two other "drug dealers" got killed in "gun battles" between rival groups of drug peddlers in Jessore and one each in similar incidents in Brahmanbaria and Satkhira.
Police officials claimed to have seized hauls of phensedyl bottles, hemp, yaba pills, firearms and bullets from the crime scenes.
According to the police, each of the 12 deceased was facing multiple cases filed under the anti-narcotics act. They claimed several cops were also injured during the alleged gunfights in some districts.
The "shootout" narratives remain the same -- law enforcers go for drives taking along arrested drug dealers, or on secret information about gathering of drug dealers or to recover drugs waiting to change hands. However, the law enforcers come under attack and they retaliate by firing back. It triggers a gunfight, leaving the drug dealers dead.
In Comilla, two suspected drug dealers -- Liton alias Kana Liton and Baten Mia -- were killed in a "shootout" with police in Gunjor Beribadh area of Muradnagar upazila.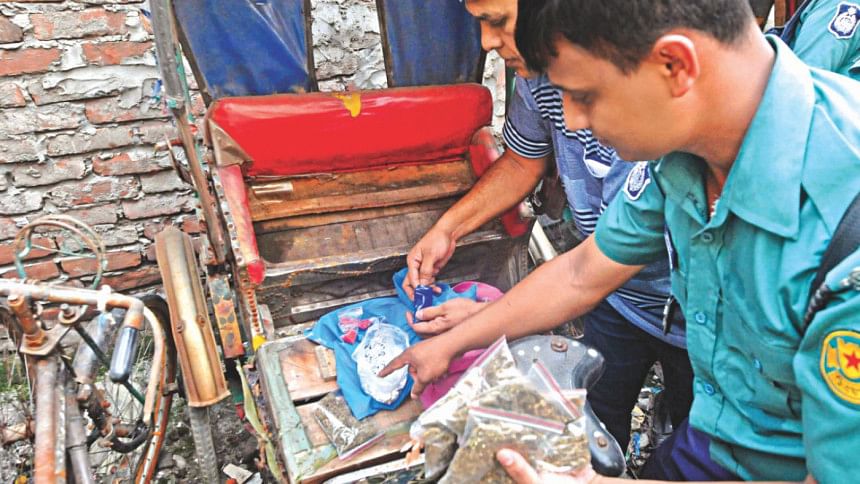 Police also claimed to have recovered the body of another "listed peddler", Aktar Hossain, 30, along the Comilla-Chandpur highway in the district yesterday. He was facing at least four drug cases filed with Barura Police Station, according to law enforcers. 
Police claimed that a CNG-run auto-rickshaw was found near the spot and Aktar's head was badly damaged.
The two people killed in Kushtia were identified as Mokaddes Hossain, 30, son of late Reazul Haq, and Fazlur Rahman alias Title, 50, son of late Yakub Ali of Daulatpur upazila.
Suspected drug dealer Sumon Miah alias Khuku Sumon was killed in Dakkhin Khan area of the capital around 12:10am.
In similarly narrated incidents, Md Mizan was killed in Bhaluka of Mymensingh and Harun, 45, in Haripur upazila of Thakurgaon.
Firoz Mridha, 45, was killed in a "gunfight" with Rab in Borguna's Kajirabad Betagi municipality area. 
Jessore police said alleged drug dealers -- Manik Mia, 35, and Asar Ali, 45, -- were killed in a "gun-battle" between two groups of drug peddlers in Chachra Raipara area of Sadar upazila.
Brahmanbaria police claimed that alleged drug dealer Jony Mia, 30, was killed in "gunfight" between two groups of drug peddlers in Khalajora area.
Jony's wife Jotsna Akter, however, said eight to 10 men in plainclothes went to their home on May 21, handcuffed her husband and took him along with them. She said her husband was never a drug trader.
In Satkhira, police recovered the body of one Anisur Rahman from Kolaroa upazila and claimed that he was a drug dealer who got killed in a "gunfight" between two groups of drug dealers.
THE RAIDS IN DHAKA
Around 600 policemen, along with members of the Detective Branch (DB) of police, a special armed force and a dog squad, conducted a three-hour drive in Baunia of Turag area.
Police held 31 people in the drive from 11:00am, said Shafikur Rahman, inspector (investigation) of Turag Police Station, adding that 5,100 yaba pills and around five kgs of cannabis were recovered from there.
Locals said police, divided into groups, gathered in the area around 10:00am and started the drive an hour later.
In another drive in Islambagh area of Lalbagh, police arrested 39 people, said Ibrahim Khan, deputy commissioner of DMP (Lalbagh Division).
Around 500 policemen, along with a special armed force and a dog squad, took part in the two and half hours drive, which started around 2:30pm.
Police claimed to have recovered 370 yaba pills, 800gms of heroin, 2kgs of cannabis and 50 litres of locally-made alcohol from the spot.
[Our district correspondents contributed to the report]