Anti-narcotics Drive: 75 held in capital's Jatrabari, Mirpur
Two Rohingyas are among six 'drug peddlers' arrested in Dakkhin Khan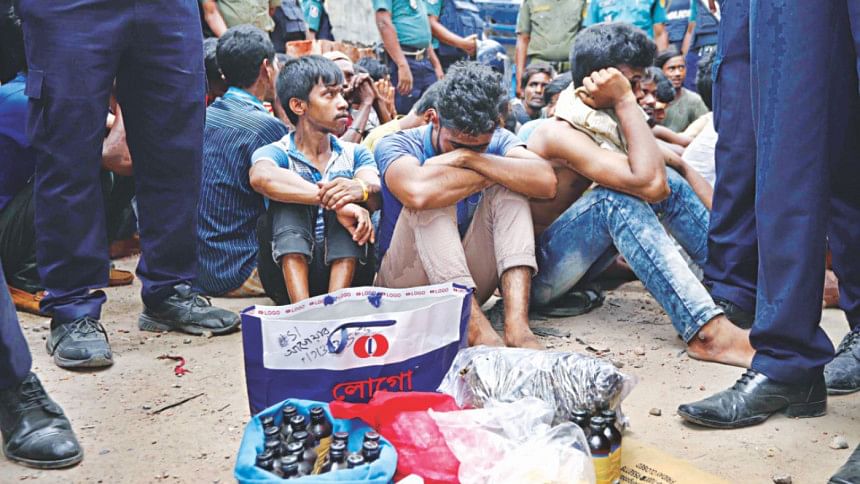 A total of 75 people were arrested by police in separate anti-narcotics drives at Jatrabari and Mirpur area yesterday, increasing the tally of arrests in the drive to around 400 over the last three days.
Several hundred policemen, along with members of the Detective Branch (DB), a special armed force and a dog squad, conducted the three-hour drive at Dhalpur City Palli area of Jatrabari, starting from 10:00am.
Police arrested 56 persons, including three women, on suspicion of dealing and taking drugs, said Iftekharul Islam, senior assistant commissioner of Dhaka Metropolitan Police (DMP), adding the team also recovered 6,500 yaba tablets, 45 bottles of phensedyl, 10 kgs of cannabis and 14,500 small packets of heroin from the area.
The slum is home to mostly cleaners and workers of the city corporation.
In another drive at Jhilpar slum on Haji road in Mirpur, police arrested 19 people on the same allegation, said Anwar Hossain, officer-in-charge of Shah Ali Police Station.
Around 500 policemen, along with a special armed force and a dog squad, took part in the two-hour long drive, which started at 2:00pm. Some cannabis, yaba pills, and heroin were recovered from the spot.
Police arrested some "drug addicts" but could not arrest any real drug traders, locals claimed.
Locals alleged that a group of eight to 10 drug traders had been dealing drugs there for over a decade but they were tipped off. 
In both drives, it was alleged that police picked up a number of "innocent" persons. Locals in both areas also alleged that actual drug traders were already tipped off by law enforcers or their sources before the raid.
Dadon, 28, a private car driver, who has been living in the slum for the last two months, was picked up from a rented room.
"Dadon came for lunch in the afternoon and police took him away forcefully," a neighbour, wishing not to be named, told The Daily Star. Several others said the same.
The nationwide anti-drug drive was launched by Rab on May 4 on the prime minister's instructions. Police have been carrying out their own drive since May 18. 
Two Rohingyas also held
Detectives arrested six persons, including two Rohingyas, on charges of supplying yaba pills. They apparently ingested the drugs after wrapping them in scotch-tape.
A team of DB of police (DB North) arrested them from Dakkhin Khan in the capital area on Sunday, Devdas Bhattacharya, additional commissioner of DB, said at a press briefing at the DMP Media Centre yesterday.
Of the detainees, Mamun Sheikh, Shariful, Fahim Sarker and Razib Hossain were Bangladeshis while Selim Molla and Afser alias Babul, a minor, were Rohingyas, the DB official said.
During primary interrogation, it was found that they ingested yaba tablets, after wrapping them in scotch tape, to easily transfer them from one area to another.
Mamun and his associate Rezwan, who is a fugitive, have been in the yaba trade for a long period of time. Rezwan collected the tablets in Cox's Bazar and sent them to Mamum in Dhaka, the DB official said quoting Mamun.
The Rohingya detainees-- Selim and Afser-- told police that Rezwan lured them into carrying yaba tablets in exchange for money, the official said.
They ingested the scotch tape wrapped yaba provided by Rezwan and came to Dhaka by train or bus three to four times every month to deliver them, he added.