One or two 'mistakes' may happen
Quader says on drives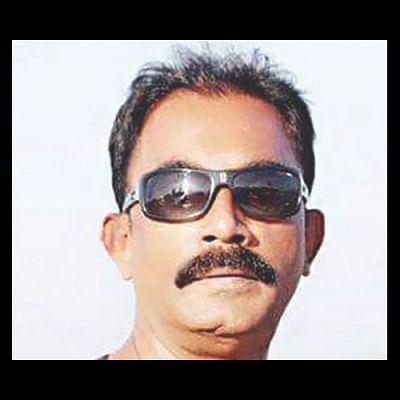 Apparently defending the "gunfight" that left Teknaf ward councillor Akramul Haque killed, Road Transport and Bridges Minister Obaidul Quader yesterday said one or two "mistakes" may happen during such drives.
"I don't know whether an innocent has been killed or not. The matter can be clarified only after an investigation. Nothing can be said before the investigation is done," he told reporters after attending a programme in the city.
"Akram was our party man. The home minister has talked on the issue. I should not say anything after his comment," he said.  
Asked whether the May 27 "crossfire" incident has brought the anti-drug drive under question, Quader said, "That is not so at all."
His comments came amid widespread criticism from rights defenders, politicians, civil society organisations and different other quarters over the "gunfights" during the anti-drug drive.
At least 129 people whom the law enforcers claimed to be drug traders were killed during the drive in the last 18 days. More than 13,000 people have been arrested and convicted by mobile courts during the same period.
Meanwhile, Home Minister Asaduzzaman Khan yesterday said the government would take legal steps if anyone, being tempted, had killed Akramul deliberately and willingly.
"None is above the law. A magistrate will investigate the incident," he told journalists at his Dhanmondi home.
Speaking at a press conference at Cox's Bazar Press Club on Thursday, Akramul's wife Ayesha Begum alleged that her husband was murdered in cold blood. She also gave journalists four unverified audio clips of chilling conversations in support of her claim.
The Rapid Action Battalion, however, refuted the allegation saying Akramul was killed in a "gunfight" during an anti-drug raid early on May 27.
Yesterday, the home minister said they were yet to receive the audio clips officially. "We will investigate the audio clips and do everything what we need to do."
Asaduzzaman said "people welcomed" the anti-narcotics drive and it would continue. Besides, steps would be taken if anyone did anything intentionally and with an ill motive during the drive, he added.
Echoing the home minister's view, Obaidul Quader said the prime minister has instructed the officials concerned not to spare anyone if found guilty of harassing an innocent during the drive.
Replying to another question, the road transport minister said, "We have not found any evidence of an internal feud within the Awami League here [in Akramul's murder]…. It is being investigated whether he [Akramul] has been victimised. The government will not let anyone off the hook if any innocent becomes a victim."
Quader said people from all walks of life have praised the anti-narcotics drive. "A vested quarter was opposing it only because of political reasons…. But those who have been benefited by the drive are happy."
LAW MINISTER ASSURES UN
Law Minister Anisul Huq has assured the United Nation High Commissioner for Human Rights Zeid Ra'ad Al Hussein of probing any alleged use of excessive force by the law enforcement agencies and bringing the perpetrators to book if anyone is found guilty.
During a meeting with Zeid in Geneva on Friday, he also said the ongoing drive was a temporary measure to curb the drug problem, and it would end once the situation comes under control.
The minister and the UN human rights chief discussed protection of human rights in Bangladesh and beyond, said a press release of the law ministry.