3 killed in 'shootouts'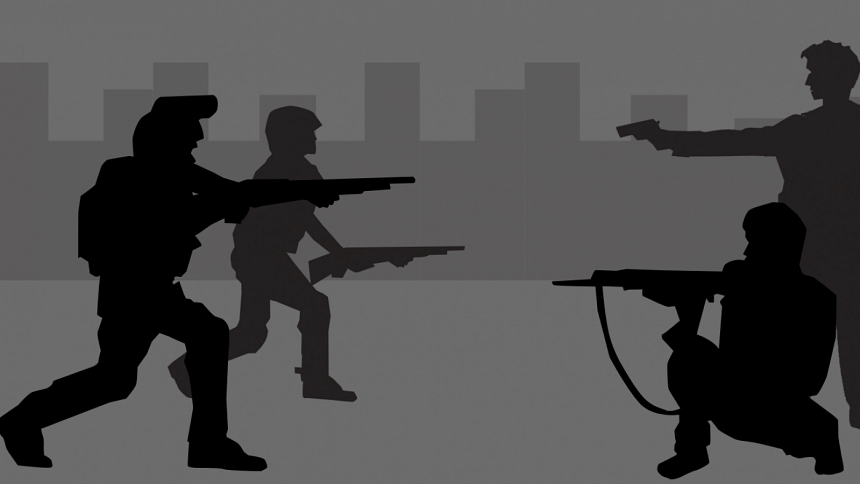 Two alleged drug dealers including a former Jubo League leader were killed in a "gunfight" between police and criminals in Satkhira Sadar upazila early yesterday, hours after police picked up both men.
The deceased were identified as Delwar Hossain, 41, son of Abdul Goni and Abul Kalam Azad, 45, son of Abul Hossain of Kolaroa upazila. Azad was a former president of Keragachi union unit Jubo League.
With these, at least 184 alleged drug peddlers have been killed since the ongoing countrywide anti-narcotics drive began on May 4. Most of them were killed in so-called shootout incidents involving police and Rab.
Faruk Ahmed, officer-in-charge of Sadar Police Station, said police picked up both men around 5:45pm on Saturday. They had two kilogram of Cannabis.
The shootout took place at Koker Beel area around 2:30am when a police team took the two men along to recover a consignment of drug that was supposed to have come from India.
Sensing presence of law enforcers, criminals opened fire on the police forcing them to retaliate and triggered a "gunfight", leaving the duo injured, our local correspondent reports quoting police. 
They were rushed to Satkhira Sadar Hospital where doctors declared them dead, the OC said.
Five policemen were also injured in the "gun battle", he claimed.
Police also claimed to recover three kilogram hemp, 20 bottles of Phensedyl and a firearm from the spot.
Our Bogra Correspondent reports, Police claimed an alleged drug dealer was shot and injured during a "gun battle" when the law enforcers carried out an anti-narcotics drive on the Kalai Khamarpara road of the Kahaloo upazila 3:00 am yesterday.
Bakul Sardar, 36, son of the Bulu Sardar, village, Kalai Guhunpara, upazila Kahaloo was receiving treatment at Bogra Shaheed Ziaur Rahman Medical College Hospital for bullet injuries on his left Knee, police said.  He is accused in eight cases including seven for drugs.
Alleged robber killed in shootout
In another incident an alleged 'robber' was killed in a "gunfight" in Bhaluka upazila of Mymensingh early yesterday.
The deceased was identified as Murad Hossain Akanda, 30, son of Md Shahjahan Akanda of village Bogajaan in Bhaluka upazila of Mymensingh.
On information that a gang of robbers had been preparing for a robbery at Uthura area on Bhoraduba-Uthura road in Bhaluka, police raided the area around 2:15am, said Mazharul Islam, inspector (Investigation) of Bhaluka Police Station.
Sensing police presence, the criminals fired bullets at police forcing them to retaliate.
Murad sustained bullet wounds in the ensuing "gun battle" and was immediately rushed to Mymensingh Medical College Hospital (MMCH) where the doctors declared him dead, the OC added.
Police recovered five sharp weapons from the spot.
Murad is accused in some six cases related to robbery, police said.