4 killed in 'shootouts'
2 of them alleged drug peddlers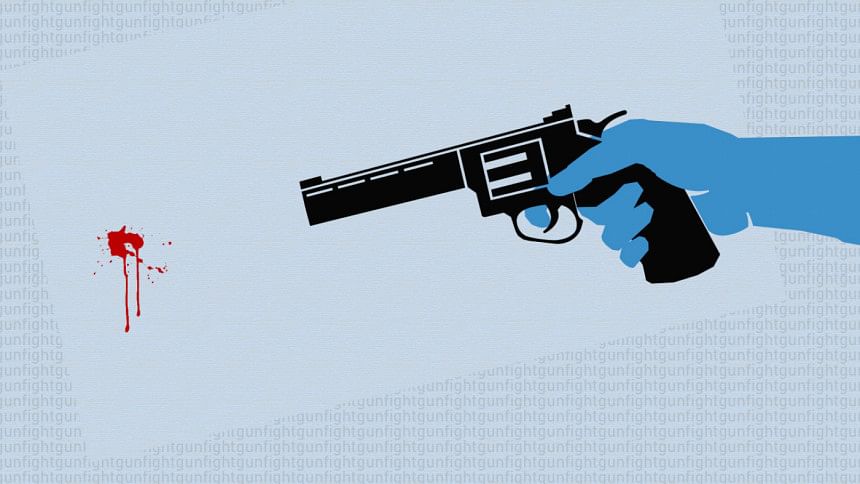 Two alleged drug peddlers and two suspected robbers were killed in separate incidents of "shootouts" in three districts early yesterday.
The "drug peddlers" were killed in Khulna and Rajshahi in so-called gunfights with Rab, while Jessore police claimed that the suspected robbers were killed in "shootouts" between two robbery gangs in the district.
In Khulna, the "drug peddler" killed was identified as Imran alias Rocky.
Hasan Emon Al Razib, commanding officer of Khulna's Rab-6, told The Daily Star that Rocky was killed in a "shootout" that took place at around 1:25am in Daulatpur area, when a Rab team signaled a moving motorcycle to stop. The men on the motorcycle attempted to flee and when Rab officials began chasing them, they opened fire which forced the law enforcers to retaliate.
Rocky was left injured while the others managed to flee. He was sent to Khulna Medical College Hospital where doctors declared him dead, he said.
Rab claimed it recovered a revolver, three bullets and 308 yaba pills from the spot.
Rocky's family, however, claimed that he was picked up by Rab more than two weeks ago, a claim that Rab denied.  
Mizanur Rahman, Rocky's father, yesterday told our Khulna correspondent that Rab had detained his son on July 7 from Rampal Power Plant area where he worked and many workers had even witnessed it.
Rocky's mother, Nasrin Begum, had lodged a general diary at Rampal Thana on Sunday in this regard.
"We had been searching for my son since then. I went to over 15 police stations to look for him. Today we came to know that he was killed," Mizanur said.
Mostaq Ahmed, officer-in-charge of Daulatpur Police Station, said Rocky was accused in seven cases, including two for drug peddling.
The other alleged drug peddler, Sazzad Ali, was killed in a "gunfight" with Rab at Paba upazila in Rajshahi.
Maj Ashraful Islam of Rab-5 in Rajshahi alleged that the gunfight began when a Rab team ordered a group of suspected drugs peddlers to surrender in Kosba area at around 1:00am. The criminals opened fire on the Rab officials who retaliated. Ali was left injured as the others managed to flee.
He was declared dead after he was taken to Rajshahi Medical College Hospital.
Rab claimed that 50 bottles of phensedyl, a pistol and a bullet were recovered from the spot.
Ali had at least seven cases for drug peddling filed against him, Maj Ashraful said.
With the two, the number of drug peddlers killed since the anti-narcotics drive began on May 4 rises to 199. Most of them were killed in incidents of "shootouts" with police or Rab.
In Jessore, police recovered the bullet-hit bodies of two "robbers" from Jessore-Manirampur road in Sadar upazila at around 2:55am.
The identities of the dead could not yet be known, reports our Benapole correspondent.
Apurba Hasan, officer-in-charge of Kotwali Police Station, said a team of police, upon information, went to Jessore-Manirampur road where two robbery gangs were exchanging bullets.
Police recovered the two bodies from the scene and sent them to Jessore General Hospital for autopsy, he added.