Deadly wheat blast came from Brazil
Show findings of scientists at Swiss university of technology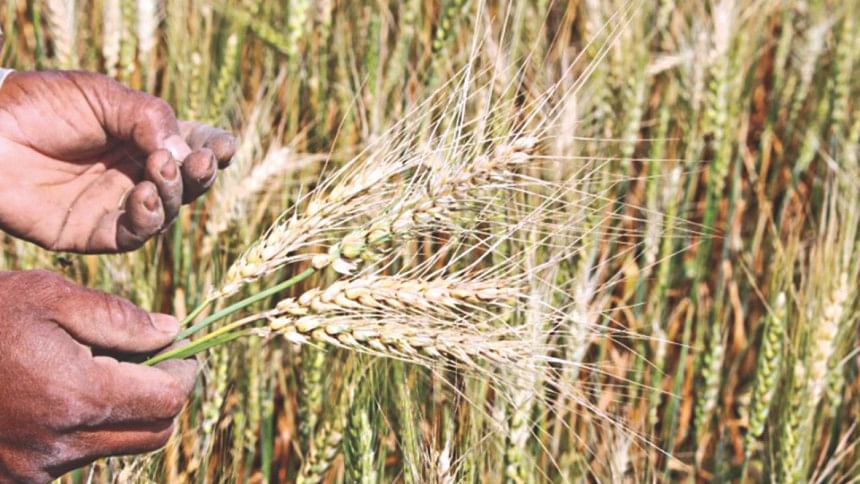 Wheat blast disease, which struck the crop fields in southwestern Bangladesh this year in its first outbreak in Asia, came from Brazil, according to two scientists in Switzerland.
The scientists at ETH Zurich, a premier Swiss university of technology and science, came up with the findings recently after analysing genome sequences of the Brazilian and Bangladeshi strains of pathogens responsible for the disease.
Caused by a fungus -- Magnaporthe oryzae -- wheat blast is one of the most fearsome and intractable wheat diseases discovered in Brazil in 1985.
The strong similarities between the wheat blast strains from Bangladesh and Brazil suggested that the disease came to Bangladesh from Brazil, said plant pathologists Daniel Croll and Bruce McDonald.
"Many fungal diseases can be transmitted via grains and previous research indicated that wheat blast can be seed-transmitted.
"A transmission of the disease from Brazil is plausible because Bangladesh is one of the largest Asian importers of wheat, and Brazil is one of the major suppliers of wheat to Bangladesh."
The findings of Croll and McDonald are available on -- wheatblast.org – an website dedicated to the cause of fighting wheat blast.
Tofazzal Islam, who heads the biotechnology department of Bangabandhu Sheikh Mujibur Rahman Agricultural University (BSMRAU) in Bangladesh, teamed up with UK-based Sainsbury Laboratory, led by Sophien Kamoun, and The Genome Analysis Centre (TGAC), led by Diane Saunders, to float the collaboration.
Croll and McDonald are part of the plant pathology group at the Institute of Integrative Biology of ETH Zurich. The group works on genome evolution in pathogenic fungi and uses genomics tools to identify how plant pathogens cause diseases. 
Their findings come at a time when the authorities in Bangladesh have recently burnt down many blast-affected wheat fields as farmers struggled to contain the disease that periodically devastated crops in South America.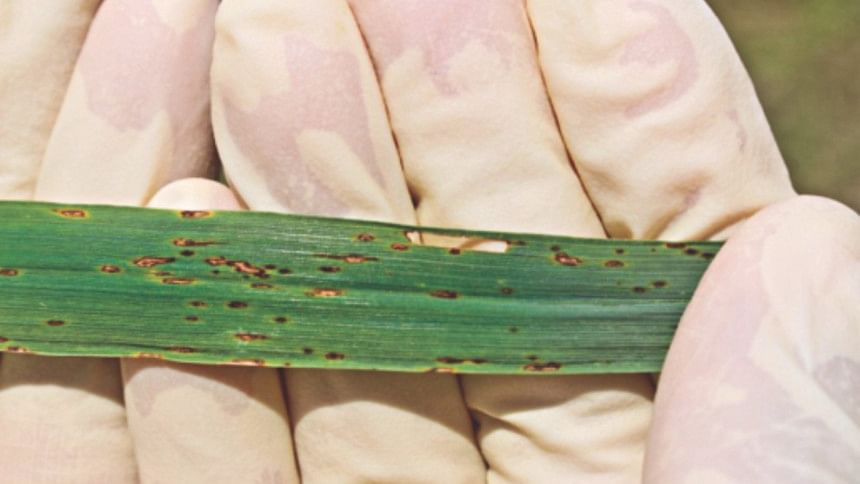 Blast affected 1.08 lakh hectares of wheat fields in Jessore, Kushtia, Chuadanga, Meherpur, Jhenaidah, Magura, Barisal, and Bhola causing up to 40 percent of crop damage, according to official estimates.
Farmers all over the country cultivated wheat in 4.3 lakh hectares of land in 2015-16 fiscal.
According to farmers, they noticed yellow and black spots on the leaves and sheaves of the wheat infected with the disease. After a few days, the spots got larger and spread over the entire plant.
At one stage, both the sheaves and flowers turned yellow and white, and finally the plant withered without producing any grain.
After 1985 when scientists discovered the disease in Brazil's Paraná state, wheat blast spread across South America and a US state -- Kentucky -- but never made it to Asia till this February when it struck many wheat fields in Bangladesh. 
BSMRAU's Prof Tofazzal told The Daily Star that their teams collected infected leaves from the affected fields, sequenced a significant portion of the pathogen's genome and made the data instantly available, giving the scientists in Zurich a scope for analysis. 
The Zurich scientists collected 47 samples of rice blast strains, 32 Brazilian wheat blast strains, five strains from various additional hosts from across the world and four crop samples from Bangladesh's affected wheat fields.
Wheat blast and rice blast are closely related pathogen lineages. While all rice blast pathogen strains are genetically very similar, wheat blast pathogen strains are genetically diverse and distinct from rice blast. 
According to the ETH Zurich scientists, the wheat blast outbreak in Bangladesh was not caused by any rice blast strain. They found that the wheat blast strains in Bangladesh are genetically very similar to the wheat blast strains previously identified in Brazil. 
Apart from Bangladesh, other Asian countries that import wheat from Brazil include Thailand, the Philippines and Vietnam.
These countries should increase surveillance efforts to learn if wheat blast has already entered their wheat fields, the scientists said.
They also noted that the disease had already caused huge yield losses in Bangladesh and there was a significant worry about its rapid spread to wheat production areas in India and beyond.
R K Gupta, who heads the Indian Institute of Wheat and Barley Research, recently told the local media, "Quarantine facilities in Bangladesh might not be very good. Hence, infected wheat might have sneaked in the country [India], but we have very strict quarantine norms, which is why there is no possibility of any infected wheat coming into the food chain." 
The quarantine issue came up prominently against the backdrop of this year's blast attack as many pointed fingers at government procurement of wheat from Brazil last year, which caused a huge uproar in Bangladesh.
Ilahi Dad Khan, director (procurement) at the Directorate of Food, however, rejected the notion that the wheat import from Brazil had anything to do with the outbreak of wheat blast this year.
"The wheat we had imported from Brazil went through due quarantine process before those were kept at the silos."
However, BSMRAU's Prof Tofazzal did not negate the idea that some food-grade wheat might have been used as seeds in Bangladesh.
Eminent plant pathologist Prof M Bahadur Meah, who is now heading a national committee on tackling wheat blast, emphasised on putting a proper quarantine protocol in place.
Wais Kabir, a consultant to Food and Agriculture Organization and a former executive chairman of Bangladesh Agricultural Research Council, said there was no alternative but to work on the existing weaknesses in quarantine system to fight the outbreak of the disease. 
Talking to The Daily Star recently, Moin U Salam, principal research officer at the Department of Agriculture and Food, Western Australia (DAFWA), said, "In Australia, no movement of food grains takes place without the proper quarantine process."    
The fungi responsible for wheat blast could have already been there in the seeds and the disease spread this year due to an ideal weather for the proliferation of the pathogen, said Salam who has the experience of playing a role in tackling the attack of yellow rust in wheat in Australia in 2004-05.
"This February had some untimely rains and the night temperature in Bangladesh was three to five degrees higher than the usual February temperature in the last 10 years."
Meanwhile, Mexico-based International Maize and Wheat Improvement Center (CIMMYT) recently expressed fear that wheat blast could spread to other hot and humid wheat-growing regions in South Asia, China and beyond.
An outbreak of the disease would threaten the food security and livelihoods of hundreds of millions of disadvantaged farmers and consumers, it said.