Biman goes for drastic measures
Cancels routes, trips to ensure hajj flights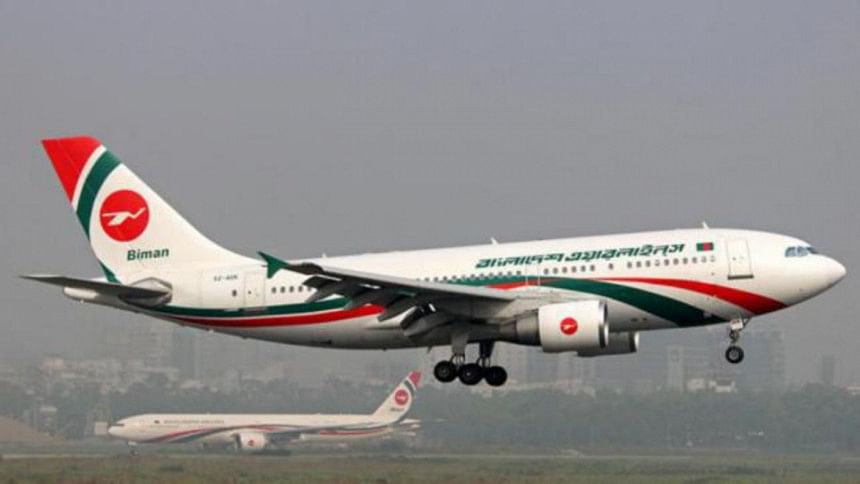 Biman yesterday took a number of emergency measures including suspending operations on Dhaka-Doha and Dhaka-Kuwait City routes until August 26 to ferry the hajj pilgrims who could not fly due to flight cancellations.
Meantime, despite repeated show-cause notices and warnings, at least 16 hajj agencies have yet to complete visa process of around 15,000 pilgrims, creating uncertainty about their performing hajj, sources at the Ashkona Hajj Camp office said.
The camp's Director Saiful Islam yesterday warned the agencies of taking punitive actions including cancelling their licences and confiscating bank deposit if they failed to complete the necessary processes, including ensuring flight booking by today.
The agencies have been asked to appear before the director by 10:00am today and show evidence of ticket booking.
A top official of Biman yesterday said after an emergency meeting at its Balaka Bhaban, they had taken a decision to cut short weekly flight frequency on a number of destinations, including London, to engage more wide-bodied aircraft for hajj operations.
Speaking anonymously, the Biman official added the national flag carrier also cancelled two Bangkok-bound flights scheduled for August 17 and August 24.
"We are also planning to cancel flights on some other routes where comparatively fewer passengers travel," the official said.
Asked, General Manager Shakil Meraj of Biman's public relations yesterday said passengers who have bought ticket on Dhaka-Doha and other suspended routes would be sent to their respective destinations through other airliners.
Insiders said until the end of the hajj flights, Biman would use its Airbus and narrow-bodied aircraft on different routes and utilise its wide-bodied Boeings for hajj flights.
Since the start of hajj flight operations on July 24, Biman has so far been forced to cancel 21 dedicated hajj flights as hajj agencies showing utter neglect failed to bring in pilgrims due to visa complexities.
At least 8,400 pilgrims could have been sent to Saudi Arabia if those hajj flights were not cancelled, Shakil Meraj said.
Until 8:00am yesterday, 59,122 pilgrims were sent to Saudi Arabia, he informed in an email.
Biman and Saudia would need to ferry 68,086 pilgrims by August 27.
There are 14 aircraft in Biman's fleet. Of those, Biman is using seven wide-bodied Boeings to operate hajj flights, Shakil Meraj said.
Besides, another Boeing aircraft would be brought from Malaysia on lease and would join the hajj flight operation tomorrow, he added.
Currently, Biman operates flights on 20 international routes, according to the national flag carrier's website.
It operates weekly three flights to Doha and Kuwait City using one airbus, insiders say.
The sources said if necessary, Biman would suspend flights and cut flight frequencies to Abu Dhabi, Dammam, Dubai and Riyadh for a week to make aircraft available for additional hajj flights.
Biman has recently got permission from the Civil Aviation Authority of Saudi Arabia to operate 14 additional hajj flights.
However, Biman Managing Director and CEO AM Mosaddique Ahmed on August 9 said it might not be possible for Biman to operate all the additional hajj flights due to availability of required aircraft.
"We have no alternative to suspending or cancelling flights on a number of routes in a bid to supply aircraft to operate the additional hajj flights," said a Biman official.
Biman General Manager (marketing and sales) Syed Ahasan Hossain Kazi said Biman station or country managers abroad would be informed about suspension of flights until August 26.
Meanwhile, the High Court yesterday directed the foreign ministry to communicate with the Saudi Arabian government to resolve the visa complexities within 48 hours.
It also directed the authorities concerned of the government to operate additional flights to ferry the pilgrims.
The court also issued a rule asking the government to explain as to why it should not be directed to form an enquiry commission to find out those responsible for the hajj flight mess.
The bench of Justice Syed Muhammad Dastagir Husain and Justice Md Ataur Rahman Khan came up with the order and rule following a writ petition filed by Human Rights and Peace for Bangladesh (HRPB).