Hajj flights from May 31, ticket price Tk 1.40 lakh: State Minister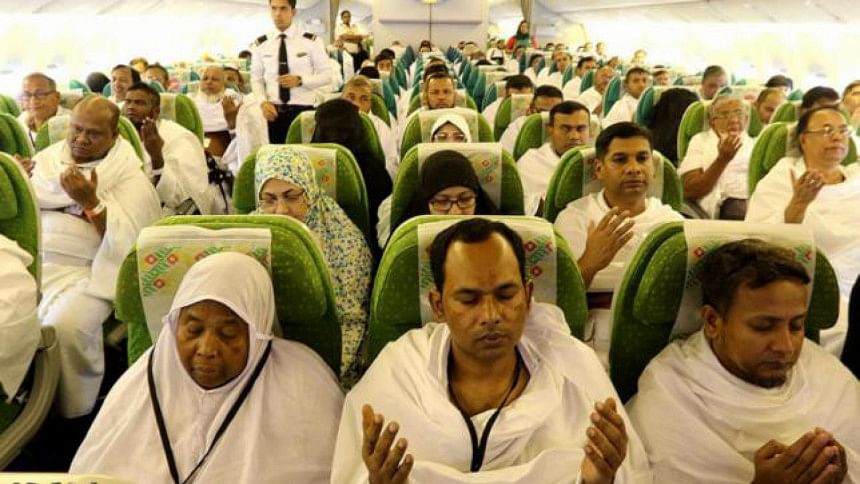 This year's Hajj flights will start from May 31, State Minister for Civil Aviation and Tourism M Mahbub Ali said today.
This year, the airfare for Hajj flights will be Tk 1,40,000, the state minister said.
This time around, airfare is somewhat higher due to the increase in fuel prices but the government has set a reasonable price for Hajj pilgrims, he said.
Biman Bangladesh Airlines will carry 31,000 passengers while Saudi Arabian Airlines will take an equal number of passengers.
This year, Biman will conduct the Hajj flights through 75 dedicated flights.
The Ministry of Civil Aviation set the airfare at a meeting today following discussion with different stakeholders.
Hajj Agencies Association of Bangladesh (HAAB), a platform of over 1,500 agencies to operate hajj under private initiative, said the airfare is higher compared to what they have recommended which will increase the cost of the hajj package.
"We as well as the religious affairs ministry had recommended setting the hajj airfare at Tk 1.25 lakh. But the ministry didn't pay heed to our demand," M Shahadat Hossain Taslim, president of HAAB, told The Daily Star.
He also demanded that the government set the airfare at a reasonable level.
In the last two years, the biggest annual congregation of Muslims was held on a very limited scale with no one allowed to perform hajj from outside Saudi Arabia.
In 2019, a total of 1.27 lakh Bangladeshis were allowed to perform hajj and the airfare was Tk 1.28 lakh.
About 57,585 people will be able to perform hajj from Bangladesh this year.