Death of Passenger: 'Plane denied priority landing'
ATC made delays despite medical emergency, pilots say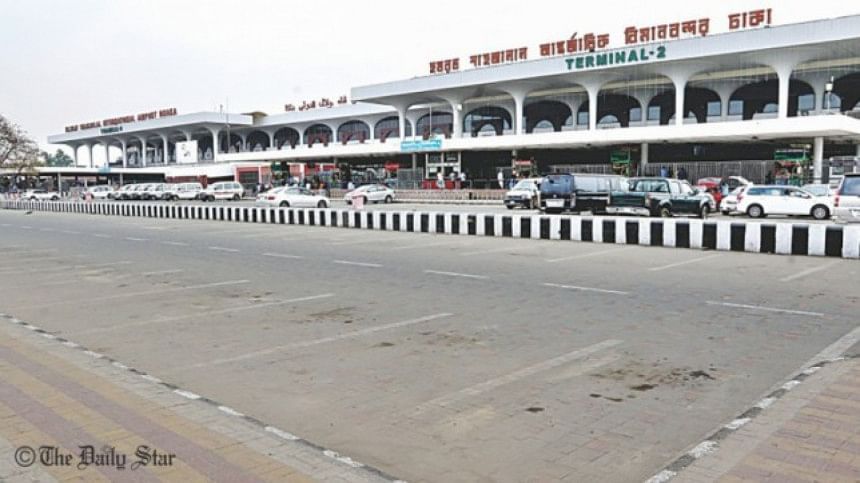 A passenger who fell ill on board a Biman flight died in the early hours yesterday after his treatment was delayed due to Dhaka airport's air traffic control putting the plane's landing on hold, according to the cockpit crew.
About an hour before landing at the Hazrat Shahjalal International Airport, Md Shahajalal, 42, a migrant worker from Chandpur, became sick and later fell unconscious, a cockpit crew of the BG350 flight from Dammam, told The Daily Star.
"As the Dhaka airport was the best option for us rather than Kolkata, we continued to fly to Dhaka. Before entering into the Bangladesh airspace, the issue was well communicated with the Dhaka ATC and medical assistance was sought upon arrival."
As per protocol, a flight with a critically ill passenger should get priority for landing.
But the Dhaka tower sent the Biman plane for holding to make way for a foreign airline's landing. A video from Flightradar shows the Biman flight circling the sky as it awaits clearance for landing.
Then upon landing, there was no doctor available for the patient despite clear communication to the air traffic control.
According to the protocol, the sick passenger was supposed to come out of the flight first. Since no doctor showed up, the sick passenger could not be brought out of the flight.
The aircraft landed at 3:25am and a doctor attended Shahjalal at 4:00am and pronounced him dead.
Apparently, a doctor had arrived at the scene only to find no Biman flight at the aerobridge. Since the foreign airline was given landing priority, the doctor left.
"For the first time in our lives, we were at a loss about what to do," said another cockpit crew.
The HSIA authorities denied any negligence or mishandling of the situation.
"The passenger died two hours before the flight's landing as per the doctors," said Kamrul Islam, executive director of HSIA.
Asked if there was any negligence by the ATC, he said there was not.
The ATC informed the doctor. The doctor was available. There was another outbound plane at the same gate area. The doctor saw the passenger but he died on board the plane.
No doctor was on board the flight when Shahjalal complained of breathing problems and excessive sweating; the cabin crew gave him medical assistance as per protocol.