Do not drop off Madinah-bound Hajj pilgrims in Jeddah: Ministry warns Biman, Saudia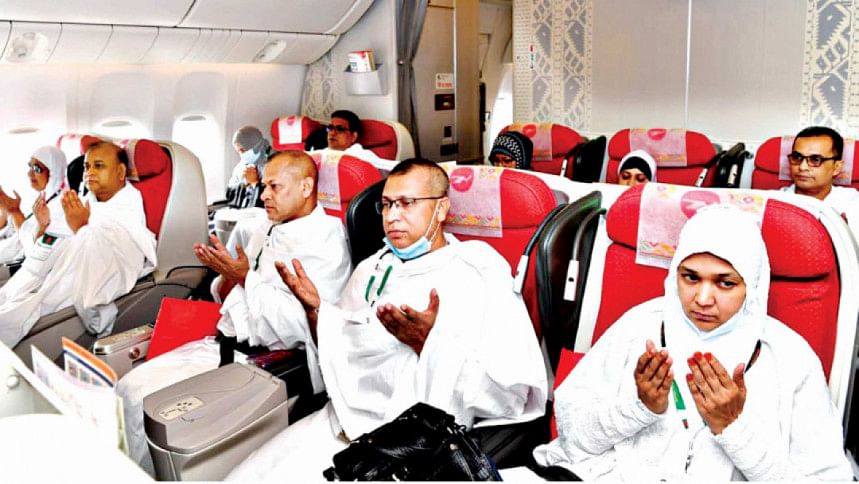 The Ministry of Religious Affairs has warned Biman Bangladesh and Saudia airlines over carrying hajj pilgrims to Jeddah, instead of taking them to their scheduled destination, Madinah, causing them immense difficulties.
The ministry issued a letter on Thursday (June 16, 2022) in this regard, saying that the hajj pilgrims from Bangladesh are facing unbearable suffering as they are taken to Madinah by road after Biman and Saudia are flying them to Jeddah.
In the letter to the two airlines, the ministry said that the Saudi Ministry of Hajj and Umrah was also upset over the suffering of the pilgrims as they were taken to Madinah – around 450 km from Jeddah – by road.
The ministry has asked the two state run airlines of Bangladesh and Saudi Arabia to refrain from such activities in order to alleviate the suffering of the pilgrims and to protect the country's image abroad.
The ministry said, a number of Madinah-bound pilgrims are being taken to Jeddah almost every day on scheduled flights of Biman Bangladesh Airlines and Saudia Airlines.
The Saudi Ministry of Hajj and Umrah summoned the Bangladesh Hajj Office Counsellor in Jeddah, Jahirul Islam, and informed that the "route to Makkah" initiative was taken to lessen the suffering of the pilgrims.
Meanwhile, a total of 15,724 hajj pilgrims arrived in Saudi Arabia by 42 flights till June 16.
Biman Bangladesh Airlines has so far operated 24 hajj flights, Saudia Airlines 13 and Flynas 5 flights.
The first flight of hajj pilgrims left Bangladesh for Saudi Arabia on June 5.
Hajj will be held on July 8 this year, subject to the sighting of the moon.
This year, a total of 57,585 Bangladeshis will be able to perform hajj. Of them, 4,000 will perform hajj under the government management and the rest 53,585 will perform hajj under private management.