Communal Attacks Over FB Posts: Instigators still on the loose
Those whose accounts were hacked to incite violence stand in the dock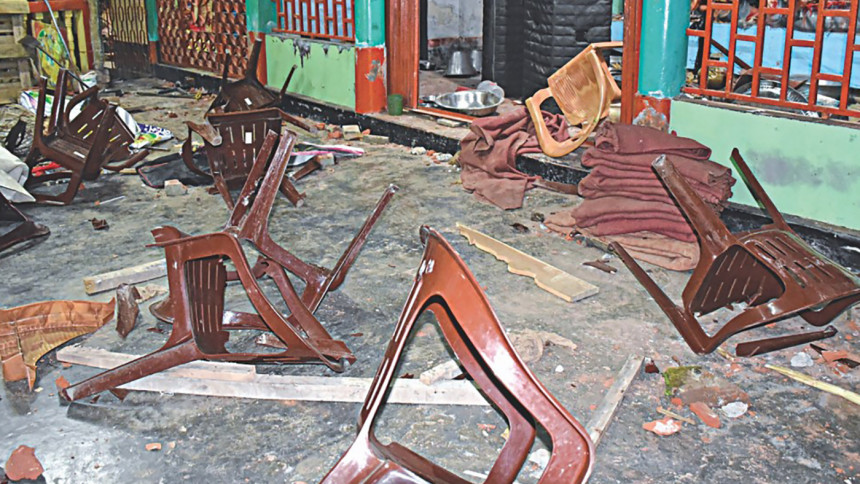 It is always the same story – a Facebook image, post, or message hurting religious sentiments, an outpouring of rage both on social media and on the streets, ending in attacks on minority communities.
In each incident, a member of one of these communities, whose account was hacked into and used as a medium, found himself at the centre of the violence.
In 2012, it was Uttam Kumar Barua, an assistant of a deed writer in Cox's Bazar's Ramu; in 2016, Rasharaj Das, a fisherman of Brahmanbaria's Nasirnagar; and last year, Sanju Burman, a local salon worker of Brahmanbaria's Nabinagar.
Such violence also broke out in 2013 and 2017.
None of the police investigations that followed could find enough evidence to prove that Uttam, Rasharaj, and Sanju had made the posts.
Yet, the cases against them have not been dismissed; rather, charge sheets had been submitted with Uttam and Sanju named as an accused in their respective cases.
Belonging to minority communities and lower-income groups, they were unable to do anything in their defence. On the other hand, police have failed to bring to book those who instigated the attacks that led to destruction of religious temples and vandalism on the homes of minorities.
Sunday's clash between police and religious zealots in Bhola, following another such social media propaganda, could be seen as a consequence of the administration and police's failure in previous incidents.
This time 25-year-old Biplob Chandra Baidya is in the spotlight.
A screenshot of anti-religious messages that he allegedly sent through Facebook messenger was circulated, and it touched off fierce reactions across Borhanuddin upazila.  
Police took Biplob in custody and promptly arrested two others for hacking his Facebook account. However, that did little to tame the religious bigots who attacked police and local administration officials.
The fire opened in retaliation, as police put it in a statement, caused deaths of four and injured over 100 others.
The wait is now on to see if police finally identify those who wrote and sent the messages, who took the screenshot and circulated it, and who the attackers were.
The previous incidents, however, do not offer much to hope for.
"MAIN CULPRITS NOT CHARGE-SHEETED"
In 2012, Uttam's Facebook profile picture was doctored to make an anti-religious post, which spread like wildfire before mobs took to the streets.
Nineteen Buddhist temples and more than a hundred homes of the minority community in Ramu, Ukhia, Teknaf and Cox's Bazar Sadar upazilas and Chattogram's Patia were torched and razed to the ground.
As many as 18 cases are now at the trial stage, including the one filed against Uttam under the Information and Communication Technology (ICT) Act.
Most of the cases were either under the ICT Act or in connection with the violence. The police had submitted seven charge sheets to a court in Cox's Bazar, accusing 385 people in the cases filed with the Ramu Police Station.
Prime accused Tofail Ahmed, chairman of Bandarban's Naikhyangchhari upazila, was detained in January 2016 in an arson attack case. He is now on bail.
Locals and witnesses, however, say that the main attackers have not been charge-sheeted and many of the cases filed over the violence are yet to see any progress.
Tarun Barua, a Buddhist community leader and vice president of Ramu Sima Mahabihar managing committee, claimed the main culprits who played major roles in the attacks on Buddhists were not named in the charge sheets. 
"Police were careless in preparing the charge sheets in all the cases," he added.
Uttam fled on the night of the attacks. Police could not find him but submitted a charge sheet in December 2014 accusing him of posting the image on the social media.
2016 INVESTIGATION INCOMPLETE 
Four years after the Ramu attacks, fisherman Rasharaj Das found himself in a similar situation on his way back home after work.
Speaking to The Daily Star later, he said he had no idea as to how and why a violent mob had turned against him.
An image demeaning the holy mosques of the Muslims was posted on Facebook from Rasharaj's profile.
Enraged, people attacked Rasharaj and vandalised his house, in Harinber village of Nasirnagar upazila, before police took him into custody.
According to a research by the Centre for Advanced Research in Arts and Social Sciences of Dhaka University, a local computer operator had created the Facebook profile for Rasharaj.
The operator was a college student and the younger brother of Jahangir Alam, owner of a cyber-café, who was made an accused in the case initially filed against Rasharaj.
Police arrested more than 100 locals, including Union Parishad Chairman Atikur Rahman Akhi and Jahangir, followers of lawmaker RAM Obaidul Muktadir Chowdhury. Both of them are now out on bail.
They were suspected of creating communal tension in the area.
In a letter to Brahmanbaria's Chief Judicial Magistrate, police spoke of finding evidence that Jahangir had saved the image in a computer in his cyber-café and posted it on Rasharaj's Facebook profile on October 27, 2016.
It was done to create communal tension in the area, read the letter.
A forensic exam did not find the image in Rasharaj's mobile phone or the memory card attached to it. Police on October 10 failed to submit an investigation report in the case against Rasharaj.
Research Fellow Towhidul Islam Nitol said the reason the masterminds are yet to be brought to book is that the ruling party doesn't want to expose its members as among those responsible for attacks on religious minorities.
Nitol, who is going to present his research paper on religious tolerance in the South Asian Fraternity annual conference next month in Kerala, India, also said that every time religious extremist groups had active roles in creating a violent environment, other political parties took advantage of the situation in their own interests.
The Sanju Barman case filed in October last year had similar backdrop.
A post hurting religious sentiments of the Muslims was made from his Facebook profile.
Nasir Mia, from Ekattorer Ghatak Dalal Nirmul Committee, who is representing Sanju in court said his client was innocent and was "incapable of committing the crime he was accused of".
Nitol said that police could not unearth what had actually happened in any of the instances and so the easier thing to do was implicate the minority targets like Uttam, Rasharaj.
He further said the government's current position is not enough to maintain religious harmony and protect minorities, adding that it should give priority to bringing the instigators to book if such attacks are to be prevented in the future.  
The cases filed in connection with similar incidents in Pabna in November 2013 and again in Rangpur in November 2017 also saw little to no progress.  
(Our Cox's Bazar correspondent contributed to this report.)