Poor service despite huge investment
Railway making loss every year; passengers see little improvement in quality of service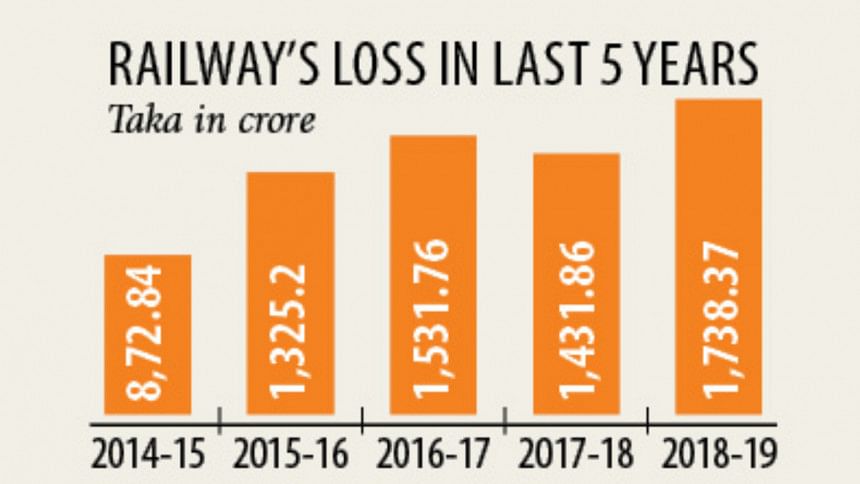 Despite increasing government investment in Bangladesh Railway over the years, railway services have not shown much improvement and the entity is continuing to rack up losses.
Bangladesh Railway (BR) authorities, meanwhile, claim that their priority remains on improving services for citizens and not cutting losses. Yet, people are not getting the expected service from the railways, considered a safe public transport system.
Plagued by shabby compartments, dirty toilets, long delays, unfriendly-access to stations and platforms, ticketing issues, and lack of security, the services offered by BR leave much to be desired.
At the same time, there has been a number of fatal accidents and derailments due to poorly maintained lines and carriages.
Against this backdrop, the BR is going to observe service week from today to mark the eighth anniversary of the formation of the railways ministry.
During the week, 10 taskforces will take action against ticket scalping and check passengers' suffering.
The taskforce, comprising officials of BR and the ministry, will also "closely monitor" some important issues like train schedules and condition of toilets and compartments.
The BR operates 360 passenger and some 30 freight trains on its 3,000km network across the country, divided into eastern and western zones.
While the number of passengers has risen over the years, the sector has failed to ensure expected service quality.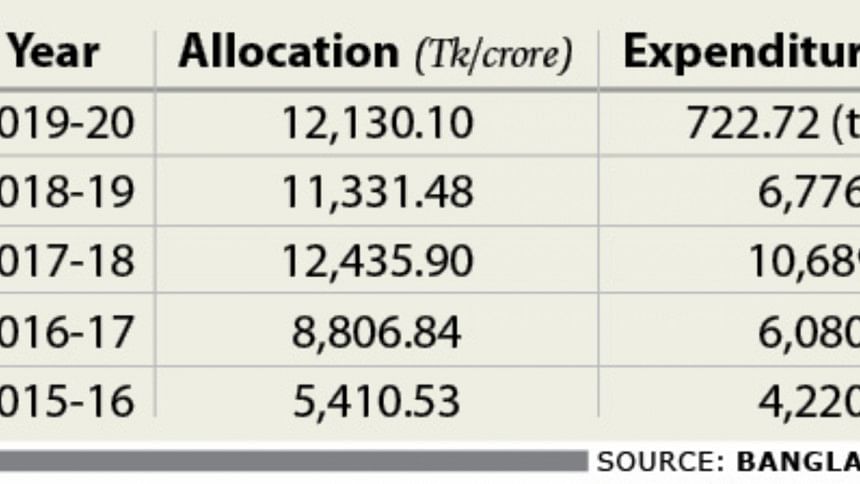 PASSENGERS' SUFFERINGS
Abu Sadiq late Friday went to Kamalapur Railway Station to go to Dinajpur by Panchagarh Express -- a semi-nonstop intercity train from Dhaka.
His train, scheduled for 10 past midnight, was delayed by 30 minutes but he could only reach Santahar of Bogura by 7:00am, whereas he was supposed to reach Dinajpur by 7:30am.
"The train is supposed to stop only at Parbatripur station before Dinajpur, but it stopped at almost every station. I finally reached Dinajpur at 10:30am," he told The Daily Star.
His return journey to Dhaka on Monday was no better. He boarded the same train from Dinajpur at 3:00pm and was supposed to reach Kamalapur at 10:30pm.
But he reached the airport station at 1:00am.
"It was a very tiring journey. Besides, the train was very dirty, with cockroaches everywhere," he said.
This was even more worrying because the BR had launched the train only in May. The state of disrepair had set in in only a few months.
Abu Sadiq, however, was lucky in one way; he had booked his tickets online.
Unlike him, many people in district towns fail to buy tickets online and have to resort to scalpers, where tickets are sold at higher mark ups.
"Most of the time, I have to buy tickets from touts and have to pay them Tk 100 to Tk 500 more," said Mohammad Jahid, who hails from Jamalpur and works in Dhaka.
Additionally, except the Tista Express, all trains that operate on the Jamalpur-Dhaka route suffer delays of about two hours, passengers claim.
"The condition of the carriages and toilets is very pathetic and, in many cases, it is not possible to use the toilets," he said.
HUGE INVESTMENT, HUGE LOSS
After decades of neglect, the railway started getting increased allocations when the Awami League-led alliance assumed power in 2009.
In the last five fiscals, including the current one, the government allocated Tk 50,114.85 crore from different development and technical assistance projects. But BR could spend Tk 28,489.75 crore until November this year, according to its data.
Currently, BR is implementing 36 projects involving TK 1,347,67.51 crore, their documents show.
Experts, however, alleged that the government was focusing more on developing infrastructure, including railway lines and stations, instead of ensuring proper maintenance and creating skilled manpower.
Even though the number passengers increased over the years, the railway is facing growing losses.
The number of passengers was 77.80 million in the 2016-17 fiscal, while it was 90.05 million in 2017-18, according to BR.
Conversely, the BR incurred a loss of Tk 1,432 crore in fiscal 2017-18, which shot up to Tk 1,738.37 crore in 2018-19.
Transport expert Prof Mizanur Rahman, also the director of Accident Research Institute (ARI) at Buet, blamed lack of professionalism, manpower, and proper monitoring for the poor rail services in most of the routes.
He said willingness of railway officials and proper monitoring could change the situation.
Another transport expert, Shamsul Haque, however, said giving proper services to passengers was not possible under the current system.
He said the government should allow private investment to change the situation.
"The government can build necessary infrastructures, but if you want proper service, you have to involve private service providers and the authority could just monitor them," Shamsul, also a former director of ARI, said.
WHAT THE AUTHORITY SAYS
Asked about the continuous losses, Md Shamsuzzaman, director general of BR, said the railways were a state entity and not a business organisation.
"... there might be a loss or profit. If we want to make it [railways] profitable, we have to increase fare. The train fares in our country are a lot lower than that of many other countries," he said.
The DG, however, said they would work to seal the "leakages" causing losses and reducing their revenue.
About the train delays, he said there was no scheduling problem in the eastern zone or for those operating within the western zone, such as trains on the Khulna-Rajshahi route.  
He, however, admitted that most of the trains running in the country's northwestern and southern regions from Dhaka face delays mainly due to inadequate railway lines from Joydevpur-Ishwardi, which connects the capital to the western zone via Bangabandhu Bridge.
Projects for doubling the lines from Joydebpur-Ishwardi and a new rail bridge over the Jamuna have already been undertaken. The work for them is to start soon, he said. 
The DG also blamed the delays on speed restrictions on the Bangabandhu Bridge. "It would take time and major investment to change the situation," he told The Daily Star yesterday.
Shamsuzzaman also said there was a huge difference between the demand and supply of train tickets, which lead to ticket shortages.
Asked about the black-market for tickets, he said they would take strict action if allegations of such practice was brought before them and hold their staffers accountable if they were found involved.
The DG also admitted that there were problems in the catering services, because the recruitment process of service providers was "defective".
"We are trying to regulate them," he said.
Shamsuzzaman said they had undertaken several projects to improve services and once they were implemented, things would get better.