BR's test run: Special train from Dhaka reaches Bhanga via Padma Bridge
A special train operated by Bangladesh Railway on a test run reached Bhanga after a journey on the 82-km Dhaka-Bhanga line via the Padma Bridge today.
The train reached Bhanga from Dhaka with Railways Minister Nurul Islam Sujan and a number of senior railway officials around 12:20pm, reports our Faridpur correspondent
The train was scheduled to leave Dhaka at 9:00am today. But the train left Kamalapur for Munshiganj after a one-hour delay, our Munshiganj correspondent reports quoting project officials.
The test train crossed Mawa Railway Station of Munshiganj at 11:20am when the enthusiastic passengers waiting for their trains waved their hands and welcomed the train.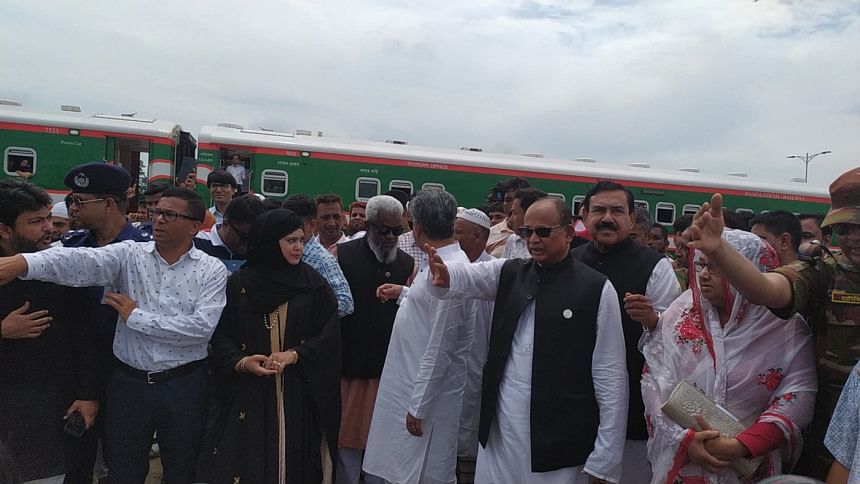 Brigadier General Ahmed Jamiul Islam, the project manager of Padma Bridge Rail Link, said the test train left Dhaka at 10:12am and crossed Mawa station around 11:20am.
Railway Minister Nurul Islam Sujan was scheduled to speak as the chief guest at a press conference organised by Bangladesh Railway and Bangladesh Army at the Bhanga railway junction.
The minister would then take the same trial train back to Dhaka in the afternoon.
A new 172-km railway line from Dhaka to Jashore via Padma Bridge is being constructed under the Padma Bridge Rail Link Project. But the entire route is yet to be constructed, so for now, about 82-km of the new broad gauge railway line from Dhaka to Bhanga is ready to run trains.
Prime Minister Sheikh Hasina will inaugurate this section of the railway line on October 10 after the success of today's trial train operation. Passenger commercial trains are scheduled to run on this route from next week.
Director General of Bangladesh Railway Md Kamrul Ahsan told UNB news agency that the plan is to run the train on a trial basis using seven new coaches imported from China.
Earlier, Bangladesh Railways ran a trial train from Bhanga to Mawa end of Padma Bridge on April 4 after the completion of the stoneless railway line on the Padma Bridge.
On October 14 last year, Prime Minister Sheikh Hasina inaugurated the construction work of the rail link between Dhaka and Jessore under the 'Padma Bridge Rail Link Construction Project'.