Improve safety at 2,000 level crossings
Suggests BR-LGED survey to prevent accidents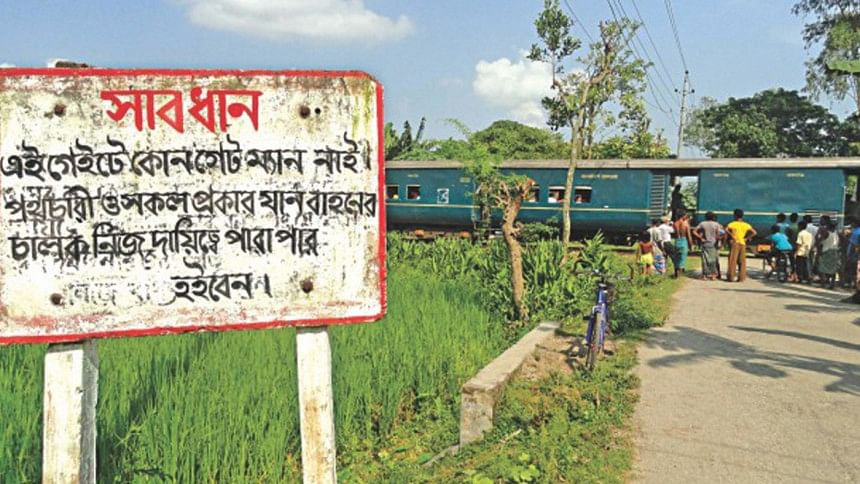 With more than two-thirds of the 3,111 level crossings in the country considered unsafe, a government survey has recommended improving safety features of around 2,000 rail crossings.
It also recommended building overpasses or underpasses at 47 level crossings, and introducing an automated system at 194 unmanned crossings so that a warning bell goes off when a train approaches.
Other recommendations include setting up gate barriers, putting in place electricity and telephone lines and other basic facilities at 1,436 more crossings.
The survey, jointly conducted by Bangladesh Railway (BR) and Local Government Engineering Department (LGED) last year, also suggested shutting down 62 crossings located close to one another.
They surveyed 2,083 level crossings, of which 1,080 were unauthorised, BR sourcessaid.
It recommended recruiting 5,772 people to ensure safety at level crossings, where many accidents occur.
After receiving the survey results, BR sent it to the railways ministry recently to take the necessary steps.
The development came as accidents at unmanned level crossings continue to claim lives, with around 70 percent of the crossings under the country's 3,093km railway network being either unauthorised or without dedicated manpower.
According to BR data from August, 2022, there are 3,111 level crossings in the country.
Of those, 1,886 are authorised, but 948 are unmanned.
A total of 1,225 level crossings are both unauthorised and unmanned. With the unmanned authorised crossings, there are 2,173 level crossings without dedicated manpower in the country.
Different government agencies have been involved in constructing unauthorised level crossings, with LGED having constructed 510, the highest, show BR documents.
According to the Road Safety Foundation, at least 37 people were killed in 36 rail-related accidents in the first two months of this year.
Last year, at least 326 people were killed and 113 were injured in 354 such accidents, the foundation said, adding that most of them had taken places at level crossings.
Safety issues at level crossings took centrestage after 11 people died as a train hit a microbus at a level crossing in Chattogram's Mirsharai upazila on July 29 last year. Two more succumbed to their injuries later.
After the incident, the railways ministry held an inter-ministerial meeting and asked both the BR and LGED to complete the survey as soon as possible.
The survey was completed last year but the report was given to BR headquarters last month, BR sources said.
Another recommendation made in the survey was to upgrade classes of 108 level crossings.
There are several grades of level crossings -- Special, A, B, C and D -- based on train movement frequency and locations; and staffers are deployed on the basis of the grade.
Contacted, BR Director General Quamrul Ahsan said they have sent the survey result to the railways ministry, which will send it to the LGRD ministry.
As per the previous decision, LGED will take up projects to ensure safety at level crossings with the help of BR in terms of implementation.
He said BR will have to talk to the Roads and Highways Department about constructing the overpasses and underpasses at level crossings, because they will have to be made on roads built by RHD.
Replying to a question, Ahsan on March 16 told The Daily Star, "We have taken initiatives to establish automated level crossings. We are going to close some level crossings on insignificant roads."