Aromatic cheers
Public university develops first hybrid rice variety
Scientists at a public university have developed the country's first aromatic hybrid rice variety which is twice as productive as its low-yield indigenous counterparts.
Most of the cultivated aromatic rice varieties have low yield potentiality of two to three tonnes per hectare, but the hybrid one, approved recently by the National Seed Board, would give more than six tonnes per hectare, the scientists have confirmed.
The development came at a time when Bangladesh has been struggling in aromatic rice export market due to lack of price competitiveness owing to low-yield potentials.
Aromatic rice is there in Bangladesh's export basket since 2012 fetching a yearly earning of Tk 80 crore. But further growth is being hindered due to the farmers' reluctance in growing fragrant rice, which yields less compared to non-aromatic fine varieties.
"If the farmers are given more productive aromatic rice varieties, it would give us an edge in the export market," said Shah Alam Babu, president of Bangladesh Rice Exporters Association.
To make the aromatic rice more competitive and also to meet the demand of domestic and international market, scientists Dr MA Khaleque Mian and Dr Nasrin Akter Ivy have developed the first aromatic hybrid rice variety -- BU Aromatic Hybrid Rice-1.
Mian and Ivy, both of whom teach genetics and plant breeding at Bangabandhu Sheikh Mujibur Rahman Agricultural University (BSMRAU), have developed the variety after six years of hybridisation process applied to different locally available rice breeding lines.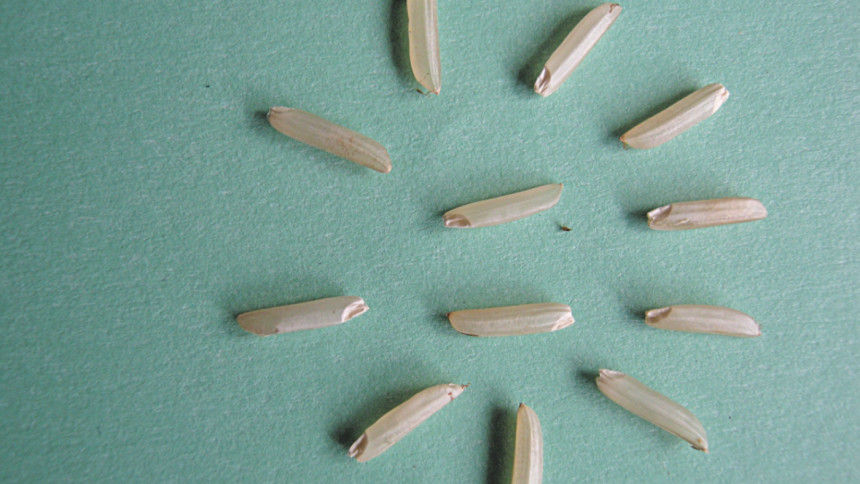 "This rice [new variety] has long and slender grains with wonderful aroma and can be grown in both Aman and Boro seasons with five and six tonnes yield potentials respectively. Unlike most of the hybrid rice varieties, which are susceptive to lodging, this one has an erect plant type having non-lodging habit," Dr MA Khaleque Mian told The Daily Star.
Dr Ivy said the newly developed hybrid aromatic variety is also rich in high zinc and iron contents. It has got 22mg/kg zinc and 10mg/kg iron compared to 15mg of zinc and 7/8mg of iron in most other available rice varieties.
Zinc deficiency causes stunting, while iron deficiency is a leading cause of anaemia. More than one-third of under-five children in Bangladesh are stunted, while more than 43 percent women of reproductive age are anaemic.
Since release of the world's first zinc-enriched rice -- BRRI dhan62 -- in August 2013, Bangladeshi rice breeders have so far developed four high-zinc rice varieties. The BU Aromatic Hybrid Rice-1, however, is the first fragrant rice that is rich in both zinc and iron contents.
In Bangladesh, farmers mostly cultivate low-yield traditional aromatic rice varieties like Kalijira, Kataribhog, Rasulbhog, Badshabhog, Chinigura, Basmati, Dulabhog and Radhunipagol. These are grown in Aman season. The only Boro season aromatic rice variety -- Banglamoti (BRRI dhan-50) -- developed by the Bangladesh Rice Research Institute (BRRI) has gained huge popularity among farmers for its fragrance and high productivity.
Dr MA Khaleque Mian and Dr Nasrin Akter Ivy said BU Aromatic Hybrid Rice-1 can be grown both in Aman and Boro seasons with a promise of high productivity.
The scientists got the funding from the Sponsored Public Goods Research (SPGR) programme under the government's National Agricultural Technology Project (NATP).
The GETCO Agro Vision Ltd, a private agribusiness company, has recently struck an agreement with BSMRAU for seed developments of BU Aromatic Hybrid Rice-1, GETCO's Chief Operating Officer Md Abdus Samad Mondal told The Daily Star.
"We've grown the variety in last Boro season in our research station in Bogra and got 6.4 tonnes [per hectare] of production. The rice quality is fine, fragrance is excellent and tastes good as you consume the cooked rice," said GETCO's Head of Rice Research and Development Dr Md Ali Azam.
Dr Azam, who previously served Bangladesh Institute of Nuclear Agriculture (BINA) and led breeding of some of Bangladesh's best performing rice varieties Binadhan-7, 9 and 14, expressed the hope they would be able to produce seeds of the new aromatic rice variety starting later this year.
Talking to this correspondent, Bangladesh Rice Exporters Association (BREA) President Shah Alam Babu said farmers' income would boost up from aromatic rice cultivation if they get more yield per hectare. "Besides, we'll be able to source aromatic rice in a competitive price and be able to increase export."
Babu, who exports aromatic rice to the USA, said Bangladesh has lost several traditional markets to competitors when the government banned rice export in 2008. After export resumption in 2012, the flow of aromatic rice export is gradually peaking, he added. 
Export market apart, a good quantity of aromatic rice is also consumed at home as people cook Polau, Biryani, Khichuri, Firni and Kheer delicacies as well as plain rice with the fragrant varieties.